The new Mac OS X Lion operating system is a fascinating collision of traditional OS X tools with the iOS style app launcher found on iPhones and iPad tablets. On the whole, however, the latest version of Apple's operating system offers little that is strikingly different from a visual point of view, although there are plenty of new features hiding in the background that you'll probably still be discovering when the next version is released!
In many cases a Mac user is going to be on their own home network, perhaps with one or two other Apple products connected. But what if someone in your home has a Windows computer with a shared network folder that might hold photos that you wish to view on your Mac? The sensible solution would be to connect to this computer across the network and open the folder, but how is this done?
Similarly, you might be running a Mac on a Windows network in the workplace. How might you connect Mac OS X Lion to a Windows share in this environment?
Accessing a Windows Share

This can prove to be quite a drawn-out process, so there are a couple of things that you will need to check. The first is that both devices are connected to the same network; the second is to configure sharing on your Windows computer.
Begin by going to Start and right-clicking Computer, then select Properties. From here, find the Computer name and Workgroup, and take a note of these for use on your Mac later on. Next open Start > Computer and select Network, then click the yellow information bar and select Turn on network discovery and file sharing.
Your Windows computer is now correctly configured for network file sharing, so we can now turn our attention to your Mac.
Open the Apple menu and find your way to the System Preferences > Internet & Wireless > Network folder, then select Advanced… – note that you may need to click the lock in the lower left corner and enter your password to access this screen.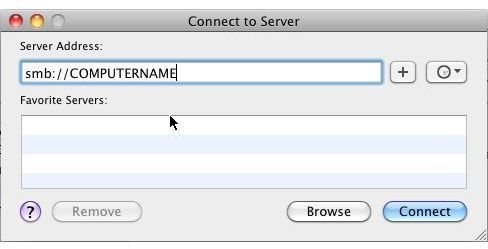 You should see the WINS tab so click this and in the Workgroup field insert the workgroup name from your Windows PC that you jotted down earlier. With this entered, click OK and Apply, and then open the Go menu and select Connect to Server…
The next step is to enter the name of your Windows computer in the Server Address field, in the format:
smb://COMPUTERNAME
(You can also use an IP address in this field, in the format smb://IPADDRESS).
With the details entered, click on Connect, and wait for the prompt to enter your Windows username and password.
Configuring Your Folder Share
Once you have connected, you will see the folder that you are trying to access listed, ready to be mounted. Simply click OK to continue and shared folder on your Windows computer will be displayed on your Mac, ready to be opened and the contents viewed.
Accessing Your Mac Folders from a Windows Computer
As well as connect to a Windows share from your Mac, you might like to access files and folders stored on your Mac from a Windows computer.
To do this, open the Apple menu and go to System Preferences > Internet & Wireless > Sharing, and then click the padlock in the lower-left corner and enter the administrator password when prompted. Once you have done this, in the left-hand pane check the File Sharing option, and then under shared folders find the folder you want to share with your Windows PC and click the + button to add it to the list.
Under Users, select the user who is currently logged in and change their access rights to Read & Write; meanwhile, change the rights of Everyone to No Access.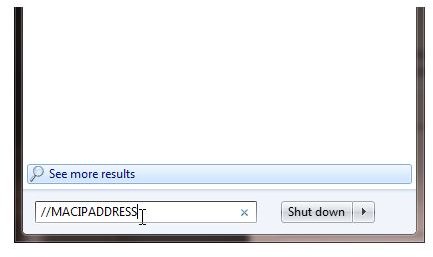 Next, click the Options… button at the top of the screen and check Share files and folders using SMB (Windows) as well as the currently logged-in username. You will need to input the corresponding password and click OK. You should then see your Mac's IP address displayed, under the File Sharing: On notification, along with the device name, so take a note of these and then close the Sharing window.
On your Windows computer, click Start and enter the IP address for your Mac in the following format:
\\IPADDRESS
You will then be prompted for your Mac's username and password, as selected above, and click OK – you should then see the folders that you are sharing from your Apple Mac listed on your Windows PC!
References
Screenshots by author.
Author's own experience.