When Default Isn't Good Enough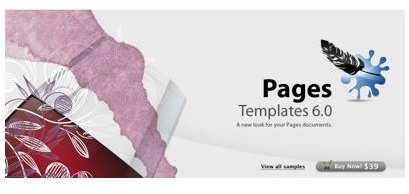 The default templates that ship with iWork are usually good enough to last you a while but if you work in an office where the Mac is the primary computer that people use, you will soon find that pretty much everyone begins to use the same template to put out not only spreadsheets but all of their memos as well.
Add to that the fact that pretty much most of the templates that are available in Pages are made for the home user and a substantial section of them is dedicated to letters and envelopes and a whole slew of templates for presenting school reports and college papers.
All of this makes it a bit difficult for your presentations to stand out which is why you should invest in a set of professionally designed iWork business templates that will make it easier for you present your work in a much more attractive package.
After all, if you've got the aesthetics of a presentation whether you're putting up a slide show or putting in your business proposal for a new department then atleast half of your work is done. Imagine giving you boss a spreadsheet that looks exactly like the spreadsheet that legal sent across. It would be a terrible way to make a first impression which is why you need to look at options as far as Pages templates are concerned.
Here Are Some Awesome Sources For Apple iWork Pages Business Templates
As far as price is concerned nothing beats free which is why the oneeyedgoldfish templates will be something that you will fall in love with. They are decent to look at and offer a good change from the humdrum of standard Pages themes and templates. Check them out at https://oegf.co.uk/oegf/
Keynote Pro And Jumsoft To The Rescue!
A quick note about Keynote themes which can be procured from Keynote Pro. Even though there are no Pages templates in this pack, the Keynote themes will blow your audience away with the crisp look that they bring to the table.
If you wan the best of aesthetics and ease of use all rolled into one then you should check out the Pages Templates 6.0 as well as the Pages Templates Pro which are in my opinion the best templates that you can get for your money if you are looking to come out as someone who has an understated but effective style. They look like they were freshly minted out of a Fortune 500's art department and will help you connive your message with poise without appearing as someone who puts style over substance. They are not the cheapest templates on the lost but are definitely something you should be considering.
Have a look at another article about 5 must have iWork templates and check out the best resource for flyer templates for Pages!
Image courtesy: Jumsoft