The First Step To Solving Problems With The Login To iTunes account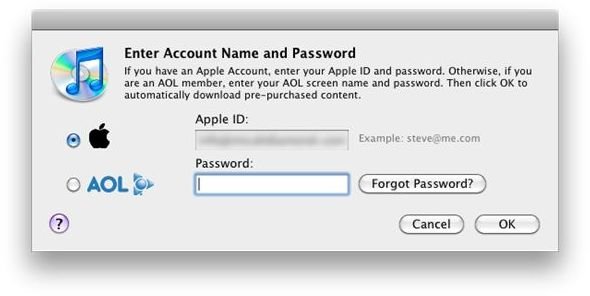 First things first, before you get down to fixing problems with your iTunes account login not working anymore what you have to do is make sure that it is your login information that is wrong and that there are no other factors that might be causing this problem. A quick search of MacRumors as well as iLounge came up with a number of problems that you might end up experiencing when using an iTunes account. So here's my quick troubleshoot:
1. Have you upgraded to Vista recently (if using Windows)?
2. Is your iTunes up to date?
3. Have you connected a new iPod/iPhone or tried syncing a new device to the iTunes app on your computer?
Answered Yes To Any Of The Above?
If you have answered Yes to any of the questions listed above then you might need to use your login on another computer to make sure that something is actually wrong with your iTunes account. Make sure you uncheck the Remember me on this computer checkbox when trying out your login info on a friend's iTunes account (most internet cafés won't let you mess with their software, but your school or college computer might do).
Try Logging In From Another Computer
If you are able to login from another computer or iOS device then you will probably need to check whether everything is alright with the iTunes install on your computer.
To reset iTunes, update the application first and then move the "com.apple.iTunes.plist," "com.apple.iTunes.eq.plist," as well as the "com.apple.iTunesHelper.plist" files located in the /username/Library/Preferences/ folder to your trash can.
Once that is done restart your computer and iTunes will start up with the default factory settings. This often solves most problems for people.
My Login Info Still Won't Work
If your login information doesn't work on a borrowed computer then you will probably have to reset the password for your account which is pretty simple to do. Just follow the iForgot link – https://iforgot.apple.com (i'm not kidding) and you'll be walked through the process of resetting your password there.
You can easily have you password sent to your email or answer the security questions that you set up when you actually made the account. Quick. Easy. Painless.
Are You Getting The Dreaded (-44119) error?
If you get the dreaded iTunes Activation Error: Could not authorize this computer because either your user name or password are invalid (-44119) then try entering the password in the login field again after checking if your caps lock key isn't active. A number of people have reported having this error even when using the right Apple ID and password combination and the most common solution is to remove any illegal characters from your password such as !, @, #, $, or a space.
Have a look at the forgotten iTunes account password article as well as the Quickest way to create an iTunes account without a credit card article.
Image courtesy: forums.startly.com