Introduction
Remote Desktop connection enables you to make a connection to the remote computer and use your keyboard and mouse to control it as if you are sitting right in front of it. There are many benefits of using remote desktop connections- you can offer technical assistance or you can connect to and work with multiple computers and operating systems- just to name the top uses.
Remote Desktop connection uses either the Remote Desktop Protocol (RDP) or Virtual Network Connection (VNC) Protocol. There are many other protocols, but they are either too specific or rarely used. Therefore in our article we will analyze the programs that support RDP and/or VNC.
Common Features of Linux Remote Desktop Connection Programs
Since all the applications are focused on one thing, which is to initiate, keep, and terminate remote desktop sessions in Linux, they share common features, listed as follows:
Support for multiple resolutions, color depths,
SSH Tunneling in Linux/UNIX Systems
Saving last and/or most used connections
Connect to multiple computers at the same time
Bitmap caching
Remmina (formerly GRDC) Remote Desktop Client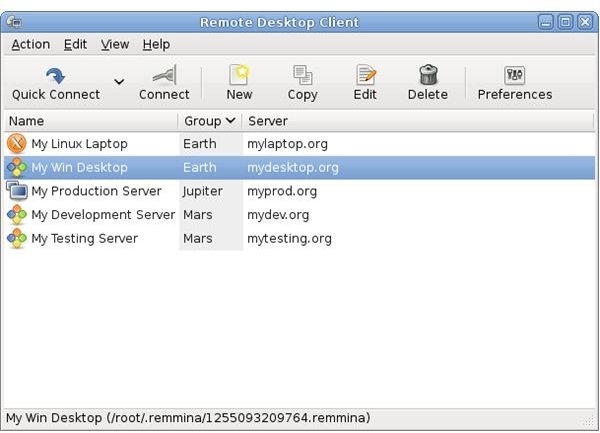 Remmina supports both RDP and VNC connections and it is written in GTK, meaning that it will match perfectly to your Gnome desktop. It also has panel applets for both Gnome and XFCE desktop environments and supports a tabbed interface, which makes users' lives easier.
If you consider installing Remmina Linux remote desktop client, bear in mind that it comes with two packages: one package is the main program and the other is the panel applets.
Tight VNC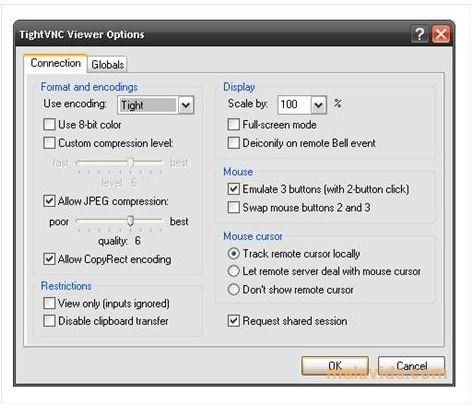 Tight VNC differs itself by promising faster operations in slow networks. It also allows file transfers between the remote and local computers. As the name implies, it only supports the VNC protocols. If you are in a mixed environment having different operating systems and you need to connect each of them, then Tight VNC may not be your solution.
Vinagre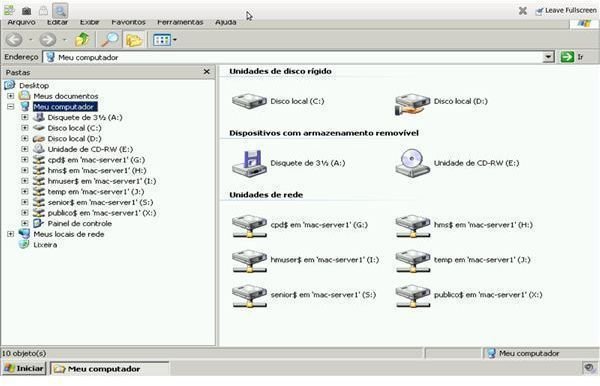 Vinagre is Gnome's native remote desktop connection client. It supports Avahi protocol, lets you browse for VNC servers on your network, and uses the Gnome keyring for keeping the connection passwords, saving you from typing them every time you make a connection. However, Vinagre only supports the VNC protocol, which can be considered a serious drawback in mixed operating system environments.
Conclusion
Although the list is not limited to three applications, Remmina, Tight VNC, and Vinagre top the list. You may argue that only Remmina supports RDP protocol among them, which is true, but there is only one more Linux remote desktop client that supports VNC and RDP, which is rdesktop. However, rdesktop is not compatible with newer versions of Windows (RDP version 6.1 to be more specific), meaning that it is not capable of connecting to Windows Server 2008, Windows Vista, and Windows 7 computers. As more users and businesses are switching to newer Windows versions, both on the server and client side, RDesktop is not likely to be a long-term choice.
If you ask me what I am using, I cannot tell precisely because I am using both Windows and Linux operating systems and their remote desktop clients to connect to different servers, so there is no clear solution on my side. If you insist, I use Remmina to the maximum extent that I can.