Introduction to NAS
Bright Hub has many articles on network attached storage (NAS) devices. For some time, networked storage options have become one of the mainstream uses of computer technology. Of course there is a reason for that: the norm used to be that one household would have one computer, but now it is not uncommon for every household member to have a computer. Add to this technology mix the guests that share your files and you are stuck with the endless cycle of CD/DVD writing or copying to USB drives and then passing these drives amongst one another.
In this regard, there are standalone disk-only solutions or dedicated computers acting as servers. If you have an old, but still running computer at home, why not give it a try as a file server?
Necessary Hardware & Wiring (or Wireless If You Wish)
The hardware requirements for FreeNAS are really minimal. You actually do not need the fastest hardware to run it. A Pentium class (a Pentium 100 maybe) processor or higher, with 100 Megabytes (yes Megabytes) of RAM, the capability to boot from CD/DVD/USB and about 100 Megabyte of hard disk space is all you need to install the FreeNAS system.
From this point on, the main piece of hardware you will need is hard disk storage. Because the computer will be hosting your files, you will need a hard drive that can accommodate your current and anticipated future files. If you do not have compatibility problems, go with the largest drive that you can connect to your computer.
The last item you need is a network connection. You can configure the computer to run on your wired network, or fold your sleeves and make it a wireless one. The wired one is easy but will involve cabling to some extent, while wireless configuration is hard but has the benefit of requiring no cables. The decision is up to you. In this article, I will go with the wired option.
The wireless option needs a little bit of router configuration (of course an additional wireless router purchase) and the 802.11 g standard allows maximum 54 Megabits per second transfer, which will not be sufficient for High Definition media streaming. If you still prefer to go this way, FreeNAS supports all the wireless adapters supported by FreeBSD. Just have a look at the FreeBSD's hardware compatibility list.
Read on for installation and configuration.
Installation of FreeNAS
Take note of your network IP address range (for Windows you can go to Start -> Control Panel -> Network and then right-click on the connection that has LAN in its name). It should be something like 192.168.1.2 or 10.0.0.2. I will assume you have 192.168.1.2 as your computer's IP address and 192.168.1.1 as your modem's address.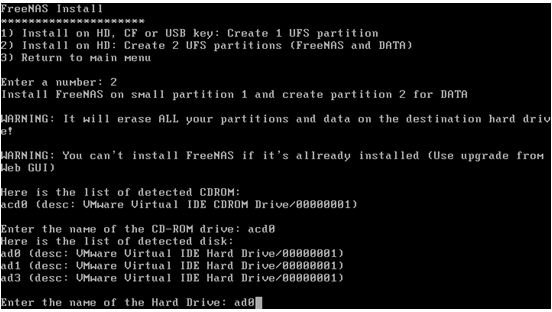 Burn the FreeNAS ISO that you have downloaded from its website to a CD. Put the CD in your computer's drive (the computer that you will use as a NAS device) and boot it. The installation involves a couple of steps that I will go through.
When your computer boots, you will see the menu titled "Console setup". Choose item 9, which is "Install to a hard drive/memory drive/USB pen etc.." Then another menu will open, with the title "Install" and will have the following options:
1) Install on HD, CF or USB key: Create 1 UFS partition
2) Install on HD: Create 2 UFS partitions (OS and DATA)
3) Upgrade existing installed version from CDROM
4) Return to main menu
There is a decision to make here: Will you install all the operating system and data on the same partition or will you use different partitions for the operating system and data? I recommend the latter, because if you want/need to upgrade/reinstall your operating system your files will remain untouched.
I will choose the second option and have FreeNAS wipe away all my hard disks and create UFS partitions. You do not need to do anything here, but know that all files/folders on the hard disk will be deleted. FreeNAS will then install itself.
You have probably noticed that you can also install FreeNAS on a Compact Flash (CF) card or a USB key (thumb drive). If your computer supports booting from these devices, you can install the operating system there and leave the entire hard disk for data storage.
Read on for configuration.
Configuration of FreeNAS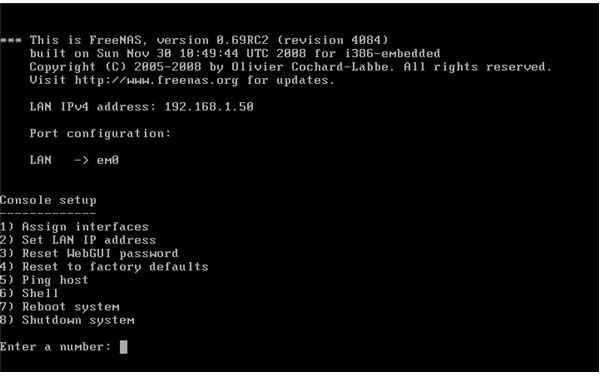 When the installation is finished and the computer reboots, you will see a "Console setup" menu. First go to the first option and select "auto" to have FreeNAS configure the network interface automatically. Then go to the second option, which is to assign a local area network (LAN) IP address. By default, the IP address of the machine is 192.168.1.250. If your network IP block is 192.168.1, then you can leave it as it is. If not, change it to an appropriate address (for example if your IP block is 10.0.0, you can set it to 10.0.0.250.) When done, go to the fifth option and write the address of a running device in your network. Your modem is suitable for this purpose, you can ping it by writing its IP address. In our example case it is 192.168.1.1. If the ping is successful, congratulations, your computer is ready to be used as a network storage device.
For further configuration, leave the computer running and connected to your network. Go to another computer and open up a web browser, type the IP address of the computer. In our example, the address is 192.168.1.250. You will see a username/password prompt, go for admin/freenas. Voila! You are now into the web management interface of the program.
When you enter the configuration options, your first task is to add disks to your operating system. If you followed me and installed a two-partition system, you already have all the disks ready. In any case you can add disks to your computer. Just make the hardware connections and then boot your computer. Open up the web configuration utility and go to "Management" under the "Disks" section. I suggest you use UFS partitioning for all the disks that you will run.
Then switch to the CIFS tab and setup the necessary configuration if there will be Windows computers that will connect to the NAS computer. If there will be Apple computers (Macs) you will also have to look at the Bonjour/ZeroConf configuration. If you want to play further, you can also add the computer to a Microsoft Active Directory.
Read on for features and our overall evaluation.
Features of FreeNAS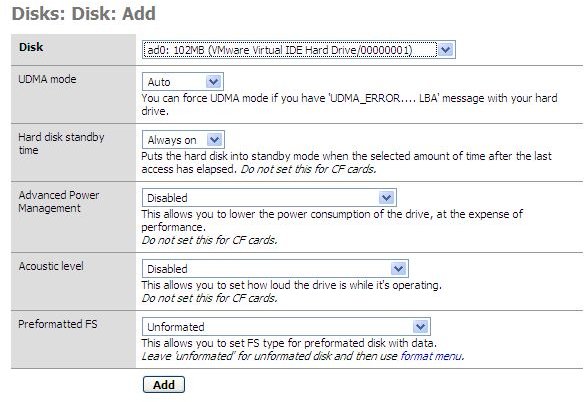 As you will see in the web configuration utility, FreeNAS offers you a total network attached storage solution using an old computer. Not only can you arrange a computer for storing your files, you can take advantage of the Universal Plug'n'Play (UPnP) feature and have your UPnP devices communicate with FreeNAS.
If you want to deploy FreeNAS at your workplace, then you have the option to add groups and define policies for them. Once you create the groups, you can assign users under them.
FreeNAS, thanks to its FreeBSD foundation, has options for RAID. So, if you want to have more performance from your FreeNAS computer, you can set the disks for RAID 0 mode. If you want safe data storage you can go with RAID 1. There is also RAID 5 and soft RAID options available but I do not recommend anyone to go with the soft RAID option. It is better to spend some money on a RAID controller and have a reliable system than to emulate RAID by the software.
I especially liked the power saving options that come with FreeNAS: you can set your disks to turn off after a specified period of inactivity. In addition, you can set the power consumption/performance equation by going through the Advanced Power Management options. I do find "Acoustic Level" configuration especially remarkable, since you can balance the hard disk sound and performance. Disk sounds may become quite irritating when you are in a quiet place. You can also go for an encrypted disk with FreeNAS if this is what you need for data security.
Overall: Conclusion of FreeNAS
FreeNAS is almost perfect. It is free! (obviously) and you can build your network attached storage system very quickly. In fact, having the necessary hardware, it will take less than an hour to complete everything and have the system up and running. My only criticism is that there is no iTunes server feature. Other than that, everything is as it should be.
Finally, do not be intimidated by typing a few options in the command line or asking for help with network configuration. It may seem a very "techie" thing at first but what you will have at the end, with an outdated computer, will potentially save you hundreds of dollars.