Samsung F2380 Professional Monitor Review: Graphics, Photo Editing and a Good Price Display
One of the most interesting of the 24 inch range models to come out last year, the Samsung F2380 was not designed for the gaming market. Instead, it is, as Samsung calls it, a professional monitor, meant for serious work without breaking the budget.
Cost, Compatibility and Connectivity (4 out of 5)

The Samsung F2380 is currently $320 at newegg.com, and on Amazon Marketplace. Amazon normally carries it at $328, with free shipping.
Not meant to replace a TV or to be a gaming monitor, the Samsung f2380 comes with analog and digital capability; RGB VGA 15 pin and 2 DVI connectors. There is no HDMI connector, no speakers and no TV tuner.
It is EPEAT certified and contains 10% recycled material.
It has a warranty for parts of 36 months, labor for 36 months. It comes with vga cable, dvi cable, power cable, and a support disc with drivers.
Features (5 out of 5)
The screen resolution is 1980 x 1080, widescreen, in a 16:9 ratio. It has a wide 178 degree viewing angle, and the screen can tilt, pivot, swivel and have its height adjusted. This gives users the ability to use it in portrait and landscape modes. As previously mentioned, it is not meant for gaming; it has a 8ms response time. It uses a new technology in LCD screens, one which took some research to find information on the Internet. They have a cPVA panel display.
Samsung says:
Innovative cPVA technology features a liquid-crystal cell structure that minimizes light leakage for brilliant, accurate color and enables wide viewing angles and high contrast ratios.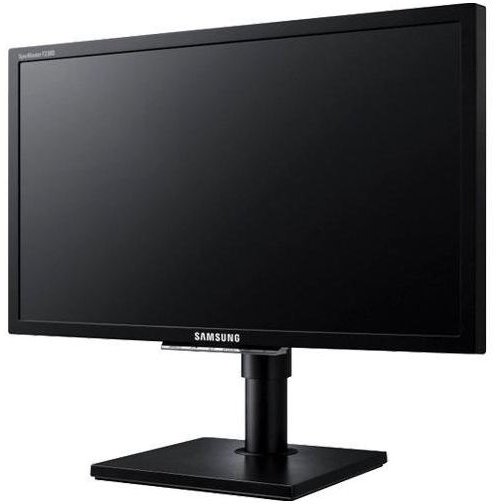 I had trouble finding out what cPVA technology was, aside from not being TN film. I did finally find a paper on what cPVA technology means. I suggest that you read the paper if you want a very technical discussion on how the technology is understood to work.
From my understanding, the paper seems to indicate that this type of panel is about 1.5 x more efficient than a normal LCD panel, so fewer and lower backlight lamps are needed for the same quality. It also seems to say that there are no lines between the domains in the pixels, giving greater transparency to the picture. This also brings down the price of these LCD panels toward that of TN film, without sacrificing quality.
Samsung calls it a professional monitor, and its intended use is for graphic designers, Auto CAD users, photographers, website designers and other users who appreciate the high graphic quality at a truly budget price.
User Reviews (5 out of 5)
User reviews were very positive. They said that colors have very little or no line at the junction of pixels; points of the neighboring domains remain separate, giving excellent reproduction quality. It is much brighter than a TFT based display, with very even color and saturation. More recent reviews have agreed that the color is great, but recommend tweaking the settings.
Howie, a user reviewer at Newegg.com, said on 1/17/2010,
Make sure to set Red to 50%, Green to 37%, and Blue to 40% to compensate for the slightly heavy green. leave all the rest of the settings along and set response time to "fastest". Gamma shift still is a problem for a certain level of black (particularly 25%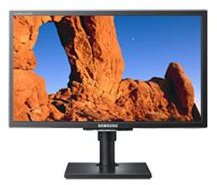 on the color space spectrum). But still produces a way better color and image quality than most of the TN panels you see today.
Howie, whom I am assuming is the same user, said on 1/7/2010,
It hasGamma shift issues. apparently it's a PVA technology disadvantage, not the monitor's fault. the so called black crush issue is NOT as bad as some mentioned earlier. IMO they were a bit exaggerated. in color correction, color space (black, gray, white) are all within if not above spec. The color representation is also beyond the standard of sRGB. However, this monitor has a weakness towards 25% gray spectrum, which explains why some might see it as crush blacks, but not to a point that you cannot differentiate the difference between the two dark levels. Above and below 25% gray level spectrum are mostly all above spec and better than majority of the TN. What may constitute as a problem is in situations when the shadow happens to be 25% gray level on the spectrum and is off center of the screen. In that case the shadow may disappear due to gamma shift, NOT because it cannot produce that color. for more information Google for "gamma shift an PVA"
A few users complained about the blinking standby light. One suggested covering it with electrical tape if it really bothered you.
Complaints were mostly from those dissatisfied with the response time and the lack of utility for game play; however a few people did have problems tweaking the color settings and calibrating the color.
Conclusion (5 out of 5)

Overall, this monitor appears to be the midlevel graphics monitor needed by professionals who cannot spend $1000 or more for a monitor. It is aimed at a niche market- you cannot really use is for a dual purpose monitor and TV, or as a gaming monitor. Within that niche, it seems to be the best thing going for users who need a good graphics monitor at a reasonable price.
Bright Hub recommends it for the midlevel graphics user- it is the best priced choice out there in the 24" range.