HP DreamScreen Review - Model Dreamscreen 130
What is the HP DreamScreen?
So "What the hell is the HP DreamScreen 130?" I hear you ask. Well my friend this is a new device from Hewlett Packard which combines digital entertainment with wireless internet access and wraps it up in an attractive package which looks like a digital photo frame. It has the potential to be very useful depending on your own particular entertainment and web habits. Let's take a closer look.
Set-Up (4 out of 5)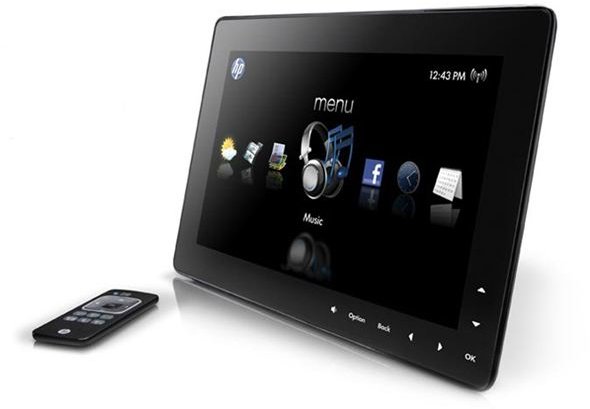 The HP DreamScreen 130 measures 11.3 x 17.5 x 2.8 inches and weighs around 5.4 pounds, so it is quite a hefty device. There is a smaller version, the HP DreamScreen 100. The set-up process is fairly straightforward and you don't need a PC. Simply plug in the device and enter your wireless network password to connect to the Internet. The onscreen keyboard can be used with the small remote control and while it isn't the most efficient way to write it works perfectly well for limited use.
Once you have accessed your network you can get to content on your PC, either wirelessly or via the Ethernet port. You can also plug in a memory card to instantly access photos or video.
Features (3 out of 5)
HP is best known for manufacturing computers, but your average PC is a bulky device and it takes a while to power up. The DreamScreen gives you instant access to your media and various applications online. It is not a PC, so there is no Windows or Linux operating system. This means you can turn it on and access things instantly (or at least after a short delay as you navigate the menu). Application choices are limited, but you can get weather forecasts, access friend's messages on Facebook, stream music from your Pandora account, or use HP's online photo service Snapfish. There is also a radio service from HP and alarm clock and calendar functionality.
The screen itself offers a top resolution of 800 x 480 pixels (with upscaling to 1280 x 800 pixels) and an aspect ratio of 16:9. It has 2 GB of memory, but you can only use 1.5 GB of that, although you can always plug in a memory card or USB drive for more. There are built in stereo speakers which offer reasonable sound. The Wi-Fi is at 802.11 b or g standard.
There are 2 USB ports and a 6-in-2 memory card reader. There is also an Ethernet port and a headphone jack which can be used for external speakers. The touch controls sit around the frame and there is a small remote control which is easy to use.
It can stream music and photos, but video files have to be loaded directly from a memory card or USB drive. It does support a decent range of formats, MPEG 1, 2, 4 and H.264 for video, JPEG, BMP and PNG for photos and MP3, WMA, AAC and WAV for audio.
Usability and Design (3 out of 5)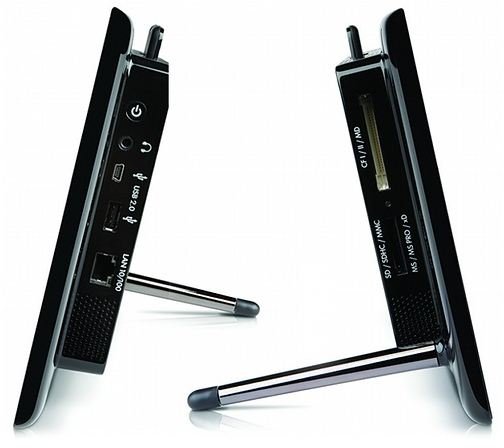 The device is small enough to be portable and you could easily carry it around in the home from room to room. It can also be wall mounted with the fittings on the back. The problem with both of these options is that it lacks a battery. This means it has to be plugged in all the time which makes it far more likely you'll just find a permanent home for the device and leave it there.
It does look attractive with a good quality screen and a slick, black frame. The front view is almost worthy of the DreamScreen name, but the bulky back looks bad from the sides or behind.
The icons are large and the menu system is intuitive and easy to use. The remote is also simple and well designed, and it sits in a special holder in the back of frame when not in use. The only problem with the menu system is that it can take a while to navigate and the device is not very speedy when it comes to responses. The touch screen controls around the frame fade when not in use, but since they don't light up right away if you try to use them you may find yourself hitting the wrong command.
You can plug the device into your PC via the USB and drag and drop files if you like and this is nice and easy to do. The Pandora application is well integrated and the Facebook feed is ideal for addicted fans that need constant friend updates. The internet radio is not so great because it is tough to find specific stations and you have to scroll through a massive list. HP plan to add more apps so there is certainly room for improvement.
Overall (3 out of 5)
The HP DreamScreen 130 is an attractive device that makes sense for people who use Pandora and Facebook a lot. If you want a music and video solution for your kitchen, it could also be a winner there. For everyone else it could easily turn out to be an expensive digital photo frame. The features it lacks are a real killer and the most obviously glaring omission is touch screen functionality. It just looks and feels like it should have a touch screen. The lack of batteries is another big disappointment which kills the portability because it is a hassle to have to unplug and plug it in.
If they were able to add access to a few more online sources, like YouTube … or if the device could access email and messaging applications … then it would be a great deal more tempting. As it is, the $300 asking price seems a bit steep. I think this is a real love it or hate it device. If it suits your habits then it will be a great purchase. Otherwise it will just seem pointless.