HP Photosmart Premium Fax All-in-One inkjet printer
Today's home office user needs far more than what a single-function printer could ever provide. For the new titans of telecommuting, or those self-employed entrepreneurs, a home printer needs to have unparalleled versatility, capable of performing many of the functions that before were only possible within the confines of a well equipped office environment. As the need to increase productivity in the home office has risen, printer manufacturers have taken up the challenge posed by home users, providing the necessary equipment to win consumer dollars, and HP has often led the way in innovation. One of their latest entries into the home computing environment is the HP Photosmart Premium C309a Fax All-in-One, an inkjet solution intended to be the catch-all peripheral suitable for any home office.
Design (4 out of 5)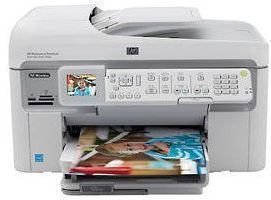 The effort that went into making the Photosmart Premium Fax AIO is evident upon first glance. It's nicely contoured, with a glossy grey and white finish that fits well into most home office environments. The printer weighs in at 23 pounds with a footprint of 19 inches long by 19 inches wide with a 12 inch height. It's not the smallest desktop printer available, but it certainly won't overwhelm.
The top of the printer holds the auto-document feeder, capable of holding up to 50 sheets of paper, overlaying a scanner held beneath a lift up cover. The printer's control panel is located on a front panel beneath the scanner lid, angled upward for easy access and visibility with a 2.4 inch color LCD screen. The well designed control panel includes virtually everything needed to operate the printer; no computer required.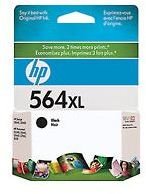 For paper, the input/output tray is nicely placed at the bottom of the printer. There are separate tray locations for photo and document paper input, accessible by lifting the output tray. There are also separate input and output trays designed for printing on optical media. The trays are capable of holding up to 125 sheets of document paper, and 20 sheets of photo paper. Ink for the Photosmart is standard HP model No. 564 ink cartridges for black, photo black, cyan, magenta, and yellow, with ink coming in both a standard size and a high capacity size.
Features (4 out of 5)
The independent capabilities of the Photosmart Premium Fax AIO are one of its best selling points. The onboard card reader is capable of reading most memory cards, including CompactFlash, Memory Stick, Memory Stick Duo, Secure Digital/MultimediaCard, Secure Digital High Capacity Card, and xD-Picture Card. With Bluetooth support and a USB port even more computer separate functionality is added. And printer options are easily chosen via the control board, allowing everything from two-sided printing to red-eye removal and photo touch-ups.
Hooking up the printer couldn't be simpler. With support for multiple operating systems including Windows XP (SP1 or higher 32-bit), Windows Vista (32 and 64-bit versions), Mac OS X v 10.4, Mac OS X v 10.5, and Linux, the Photosmart Premium is capable of easily integrating with most home office systems. There are also a variety of methods available for hookup, the easiest being though a USB 2.0 port, but the printer can also be connected wirelessly via network router, through a secured 802.11g connection, and through an Ethernet port in the rear, all of which the supplied setup CD walks the user through the process step-by-step. Although some users have reported difficulty in implementing wireless integration with their systems.
In addition to the setup software, the Photosmart comes with HP's Photosmart Essential software. Photosmart Essential is a free photo editing, organizing, printing and sharing software available for Windows XP & Vista users. Mac users will need to download HP Photosmart Studio from the HP website for the Mac capable equivalent. The free software provides many advanced features for PC users above and beyond that present in the printer itself. Photosmart Essential and Photosmart Studio allows for importing photos from digital devices, photo editing software, design software with templates for cards, calendars, labels and more, and the ability to share photos online or via email through an easy to use interface. While the free software doesn't have the functionality of professional software packages, it does extend the printer's usability by a significant amount.
Performance (4 out of 5)
The Photosmart Premium Fax AIO, is a high performer for a home office inkjet printer. It's capable of up to a 33 ppm black printing speed, and 32 ppm color printing, and faxes are transmitted at 3 seconds per page. The resolution is high with a black print resolution of up to 600 x 600 dpi, and a color print resolution of up to 9600 x 2400 dpi. The scanner is highly capable as well with a scanner bit depth of 48-bits, and a scanner resolution of up to 4800 dpi, 19200 dpi in enhanced mode.
A much more important aspect of the printer than speed is the quality of the prints produced by the Photosmart. With the printer capable of crisp, clear lines and natural, smooth color transitions, photos are beautifully reproduced and live up to the Photosmart name, with even color distribution and a nice broad contrast range allowing for color perfect matches between prints and source.
Users rate the Photosmart highly as well, impressed with the intuitive nature of the printer's controls, pleasing color resolution, and the wide range of features. The main drawback to the Photosmart seems to be the same complaint aimed at all inkjet printers, the high cost of ink, which drives the cost per page up significantly.
Conclusion (4 out of 5)
The HP Photosmart Premium C309a Fax All-in-One is HP's solid entrant into the home office environment. With a combination of a strong feature set and high quality prints, the Photosmart is hard to resist for those looking for an all-in-one solution. The final determinant of a buy or no buy would be the price. At an online price point of about $299 the HP falls well into the affordability range of most of the targeted customer base.
The costs per page are high, even when using the high capacity inks which HP prices at $18 for color, and $35 for the black replacement ink cartridge. Tests performed at CNet labs calculated a price per page at those rates of 2.4 cents for color, and 4.3 cents for black prints, though the high cost of the black ink remains unexplained as the both color and black cartridges yield about 800 pages. Still, it's the same story as found with all inkjet printers, the cost savings in the hardware comes at the high price of the ink.
The Photosmart comes with a standard one-year warranty with 24-hour phone support, and an option to extend the warranty for two more years at an upgraded price. HP service and support has generally been known for a consistently high level of quality, useful should anything go wrong. On the whole, the HP Photosmart Premium Fax All-In-One at its current price-point is a good buy for the consumer looking for a versatile easy to use, quality printer.