Antec Skeleton Review: A Top PC Case that Stands Out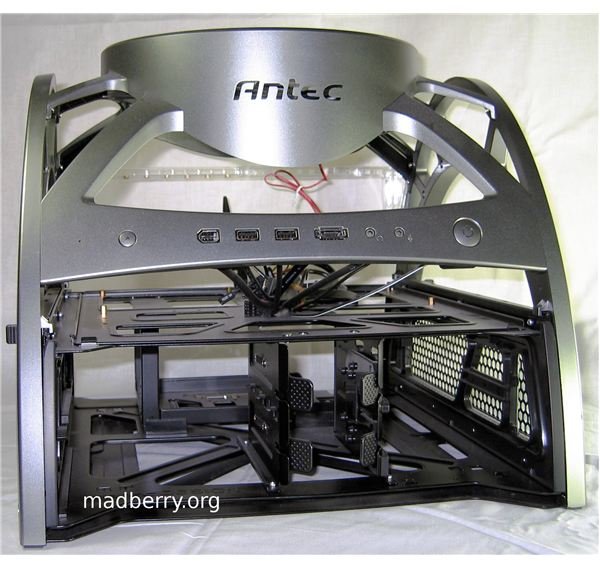 Any Skeletons In Your Closet?
When I first saw this case I immediately had a good idea what I could use it for. Antec designed this case for the gamer that's fed up with the usual windowed computer case. But I don't game that much (just can't find the time) and I certainly don't go to lanparty's. I do, however, build and repair a lot of computers. I often have to test hardware. When I get new hardware in it sometimes doesn't go into a computer right away. Some of it ends up on the shelf.
With the Skeleton I'm able to easily test the hardware before I shelf it. Which is a good thing because it sometimes spends the first 30 days on the shelf, just to find out it's broken and has to go back to where I bought it. And its passed the DOA return date and has to RMA'd. I could use a bench station, but that doesn't look as cool as the Antec option. More importantly you can't really pick up and move a test station easily if you need to make room to work on something else. And forget about using gear in it for any length of time beyond running a few tests; unless your house is cleaner than an operating room.
Features (5 out of 5)
The Antec Skeleton case has the following features:
4 Drive Bays
• External 2 x 5.25"
• Internal 2 x 3.5"
• Optional 4 x 3.5" side panel mounted drive trays
Layered tray design for greater system integration flexibility
8 Expansion Slots with room for 11" graphics cards and multiple graphic card solutions, including NVIDIA 3-way SLI®
Cooling System:
• 1 top 250mm TriCool 3-speed multi color customizable LED Fan
• 1 front 92mm HD cooling fan
Motherboard: Supports StandardATX, MicroATX and Mini-ITX motherboards
Front ports: 2 x USB 2.0, 1 x FireWire (IEEE1394), 1 x eSATA, Audio (AC97' and HDA compatible) In and Out
Rack mount quality side rails for greater durability
0.8mm cold rolled steel component tray and high density ABS frame reinforced with with 0.8mm cold rolled steel for durability
No Power Supply included: To optimize performance of your Skeleton, your choice of power supply is crucial. Antec strongly recommends choosing from Signature or TruePower series.
Unit Dimensions:
• 13"(H) x 14.8"(W) x 16.5"(D)
• 33 cm(H) x 37.6 cm(W) x 41.9 cm(D)
Packaging Dimensions:
• 15.74"(H) x 18.11"(W) x 18.89"(D)
• 40 cm(H) x 46 cm(W) x 48 cm(D)
Net Weight: 15.5 lb / 7.02 kg
Gross Weight: 21.4 lb / 9.7 kg
Use Of The Skeleton (4 out of 5)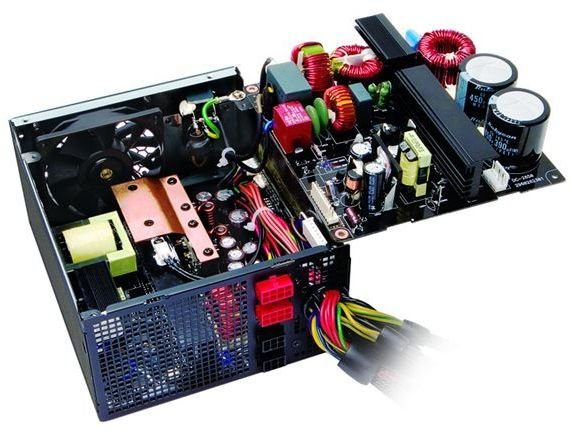 I have used this case for a while now for testing new hardware but also for testing older hardware. It works great for both. The PSU is on a tray that pulls out so you can easily change the PSU. The Motherboard tray also slides out for easy access to the motherboard. One little thing I did find annoying is that the front panel buttons wires are not long enough. The first time using the case and pulling the motherboard tray I nearly ripped the front panel switches and audio headers off the motherboard.
I was glad that Antec provided their Signature 850W power supply. I did try other PSU's as well and if you are buying this case you should pick up a PSU with long wires meant for a full tower case. I put in an older PSU and the wires where just too short for me to use it.
HD and CD or DVD installation is easy: just attach the special screws provided and slide them in.
The sides of the Skeleton come off for easy access to the HDs and optical drive connectors. The sides coming off also helps when connecting the molex connectors to everything. And it makes routing cables in the case a breeze. Speaking of the breeze…
Cooling (5 out of 5)
Now this being an open case doesn't mean that Antec didn't provide cooling. You get two fans with the Skeleton: one 92mm fan that sits in front of the HD bays. Also the top of the case features a 250mm fan, adjustable three-speed fan. The fan on top also has multicolor LED's that change color. A switch let's you "freeze" the LED's on only one color, just in case you're not the multicolor LED type.
PCI Cards (5 out of 5)
PCI cards are easily inserted into the motherboard. The only thing I was not sure about regarding the construction of this case at first was the acrylic bar on the back, to which the PCI cards' brackets attach. However this bar is extremely strong. I did a test and picked up the case with PSU and everything in it. The bar resisted breaking and even when I swung it around it didn't break.
Overall Quality (5 out of 5)
This case is like any other case from Antec that I've ever had the pleasure to install parts in. Antec builds it's cases for durability. They Will Last. This case is build out of 0.8mm cold rolled steel with a ABS frame reinforced with more 0.8mm cold rolled steel.
Skeleton Case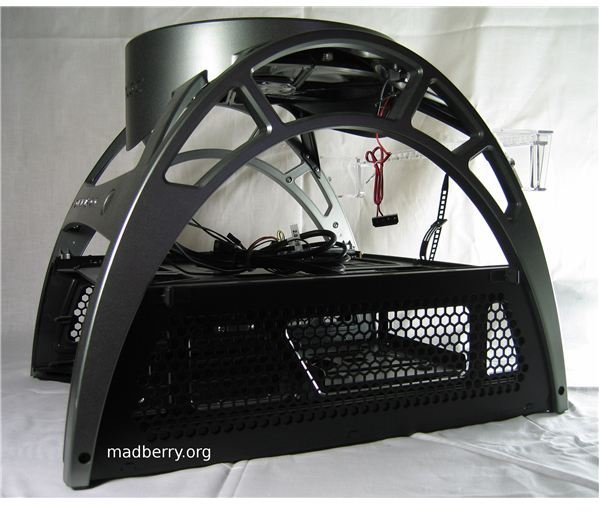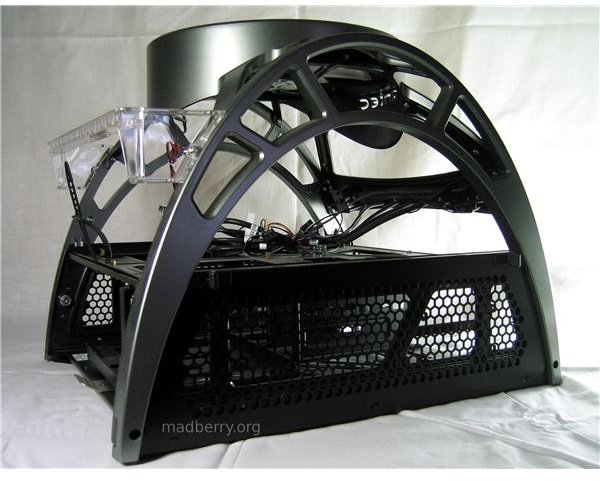 Conclusion
This chassis will make you stand out for sure. It's a case that made even the people I know who don't like computers say man that's a cool case. Take it to a Lanparty or display your coolest hardware in it. You will make an impression with this case.
Besides the unique looks it is also a very practical case. A great buy for some one who wants something different than the standard gamer case with side windows.