Round Up of the Best Laptop USB Television Adapters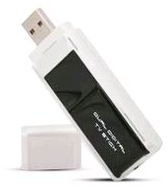 Benefits of USB TV Adapters
Watching TV on your laptop is great – it's like having a portable TV you can pick up and take with you everywhere that also checks your email!
More and more TV tuner adapters are being released for laptops – the difference between these devices and the traditional internal TV cards for desktop PCs is that the USB adapters have no processor, so all the hard work is done by your laptop. As such it is a good idea to keep your laptop free of other applications or reduce the number of browser tabs, etc., unless you're using a multi core laptop that can cope with the multiple applications.
We've rounded up 5 of the best laptop USB television adapters that you might like to consider…
TVStick Laptop USB Television Adapter
Available in the UK, TVStick produce several different TV adapters and this particular one is a good choice. It's known as the Dual Tuner TV Stick (right) and basically features two digital terrestrial (DVB-T) TV Tuners to enable you to watch TV while recording another channel, or to record two separate channels.
This device ships complete with a remote control, an aerial and the ArcSoft TotalMedia software to manage both TV recording and viewing as well as MP3s, images and ripping CDs. Your laptop will require at least a Pentium 4 2.0GHz CPU and Windows XP or later.
You can buy one of these devices via www.tvstick.co.uk where it retails for £32.99.
TVStick does not have any outlets in the USA; however a comparative device can be found on Amazon for $46.
PCTV FlashStick Nano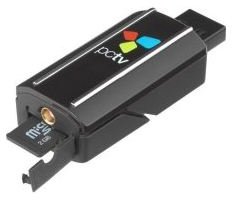 Possibly the most amazing USB TV adaptor for laptops, the PCTV FlashStick Nano combines all the power of a USB flash card reader with the power of a TV adapter equipped with PVR – which basically means the PCTV FlashStick Nano lets you record TV directly to a flash memory card!
The PCTV FlashStick Nano (seen here on the right) also allows you to view terrestrial HD on your laptop (providing your computer meets the requirements) and recorded TV can be saved to the hard disk or your card reader. The full pack contains a mini TV antenna, remote control and a 2GB microSD card.
Such devices are only recent developments, and as such are rare in the USA, where they currently sell for around $150.
In the UK, this great device (also a 4-port USB hub) is available for anywhere between £32 and £70.
August DVB-T205 PC/Laptop USB Freeview TV Receiver & Recorder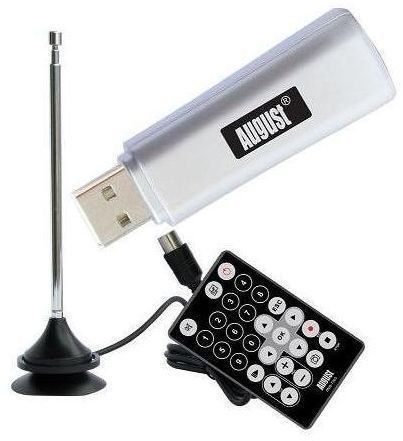 Designed for use on a Windows XP or later PC equipped with at least a Pentium 4 processor and 256MB of RAM, the August DVB-T205 is another device that allows you to view high definition terrestrial digital broadcasts and save TV shows to your hard disk drive. As you would expect, this USB television adapter comes complete with TV recording software, infrared remote control, portable antenna and electronic program guide.
The best thing about this device (pictured), however is the price – just £18.49 from Amazon UK!
This is the "low-cost" solution, really, and is designed only to allow you to view and record TV. No facility is included here to save to other devices or record one channel while watching another. If you're looking for a similarly low-priced USB TV adapter in the USA, the Mygica USB QAM HDTV Tuner is available for around $30.
Other Top Laptop USB Television Adapters
More and more USB TV adaptors are coming equipped with HDTV (H.284) capability and as we've seen above they almost all come equipped with a remote control, portable antenna and EPG and recording software.
There is a huge list of USB adapters for TV available – here are a couple of others you might wish to take a look at:
The Avertv Hybrid Volar Max Tv Tuner Kit is available from Amazon and will display signals from analogue and digital signals, as well as allow you to display HDTV (1080i) pictures on suitable laptops.
Meanwhile the Marmitek USB Freeview DVB-TV adaptor from www.keene.co.uk can be used to watch digital TV on a laptop or PC and record programs in DVD MPEG quality. It features all the usual "live TV pause" and other features associated with TV adapters.