Why Do I Need a Powered USB Hub?
Why Would I Use a USB Hub?
USB hubs are great tools, allowing us to increase the expansion options of a PC or laptop considerably. The great thing about USB is that if you plug a hub into it, it splits the port into however many ports are in the hub – so even if you only have one USB port on your PC, you can split it up and connect several different peripherals.
However, certain peripherals have a power requirement, notably those without their own onboard power supply such as memory sticks or portable drives. As such, a powered USB hub might be particularly useful.
Why Do I Need a Powered USB Hub?
No one is saying you should choose one over the other – however there are considerable benefits from having a powered USB hub.
For instance with a USB hub powered by the PC, 500mA is divided up. If you use a 4-port hub, the maximum split any unpowered USB hub can offer, then only 100mA is available to power the devices you connect (a more detailed explanation is available).
However your devices – such as an external hard drive – might require much more than this and this is where a powered USB hub comes into play.
Choosing a Powered USB Hub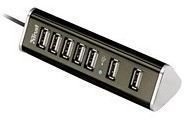 There are several powered USB hubs on the market, each offering various configurations and advantages over the others. If you're looking for something cheap, then a USB hub that takes its power from the PC can be picked up for a couple of dollars.
Otherwise, you should consider either of the following, or something similar.
The Trust 7 Port USB Hub a great device, available from a range of retailers. Although equipped with 7 ports, not all of these need be used simultaneously – additional ports are placed well apart in the event of you owning some bulky USB devices, such as wireless dongles or flash memory sticks. Naturally the device ships with a power adapter, as well as Velcro for attaching to your desk or PC.
Belkin's High-Speed USB 2.0 7-Port Mobile Hub also offers 7 powered USB ports for your devices, four on one side and three on the other. This is a slightly more compact solution, and the arrangements of ports on opposite sides of the device again affords flexibility when it comes to inserting bulkier USB devices
Other Powered USB hubs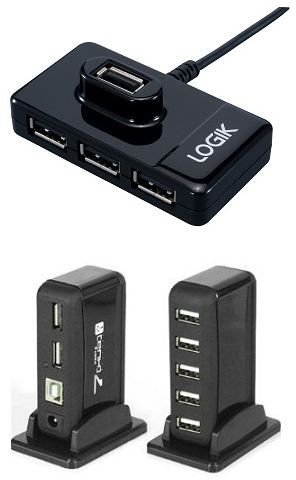 You might also take a look at something like the LOGIK L4THUB10 4-port Powered USB Hub (top right), which again offers a separate port for bulky USB connectors on the top. This might be used for something like a wireless dongle, a tricky to insert USB flash stick, or perhaps a novelty USB device.
As is standard with USB 2.0 devices, the LOGIK device transfers data at a rate of 480Mbps for USB 2.0 devices and 12Mbps for USB 1.1 devices.
Another 7 port device (bottom right), meanwhile, is available from Amazon which marries the flexibility of a multi-port device with a handy bracket to let you position the device on one end, on its side or however you might please. This powered USB hub comes equipped with a power cable and USB A to USB B connector, and in terms of flexibility and portability combined, this is a great choice.
As is always the case with any new electrical equipment, remember to check compatibility before you purchase, as well as the plugs and external cabling before use, and disconnect any powered USB device from the PC to save electricity when you're not using it!