The Best Computer Keyboard for Small Hands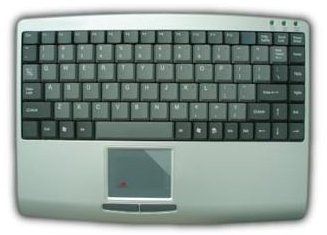 Not All Hands Are the Same…
Keyboards generally come in one size. Perfect for adults, these devices aren't so great for people with small hands or children. One size does not fit all.
As you may know, there are various comfort issues with this, which is why there is a thriving market in ergonomic keyboards. These devices are designed to be comfortable to use, based on the fact that if they're not comfortable, wrist, arm and back pain can occur. It makes sense to imagine that a standard sized keyboard might not be particularly comfortable for someone with smaller hands to use.
Whether your keyboard is for a child or a person with small appendages, or you're just looking for something small, the best computer keyboard for small hands could be just around the corner…
Find the Best Computer Keyboard for Small Hands
With so many keyboards available for small hands (ranging from laptop-style keyboards to those resembling server keyboard consoles) you might have a few problems in narrowing down exactly which keyboard is suitable for your needs. Let's take a look at the top selection.
The laptop style keyboard for desktop computers is best embodied by Fentek's SlimTouch Mini Keyboard (right) which comes equipped with a USB connection, laptop-style touchpad, 88 keys and 12 function keys, integrated number pad (as you would find on a laptop) and LEDs for the Number Lock, Caps Lock and Scroll Lock. Weighing just 7oz this keyboard is suitable for small hands and small bags!
Meanwhile if you're looking for a keyboard designed and built purely for children, the Child Size Washable keyboard is designed for those with smaller hands and features a built in trackball with mouse buttons, but most impressively (even more than the 5 ½ inch distance between the Q and the P) this keyboard can be wiped clean and weighing just 8oz it can be easily carried in a backpack.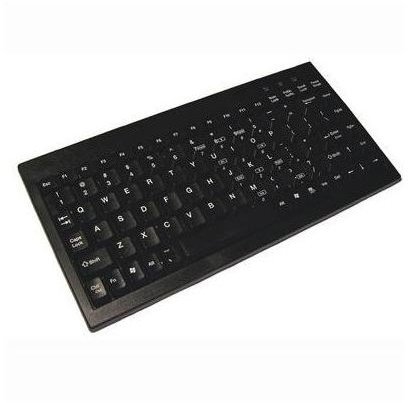 Finally, there is the Adesso Mini Black USB Keyboard (around $33 from Amazon), a cabled USB keyboard that can be quickly plugged in and used by small hands (see right).
Something to bear in mind with this keyboard, however, is the layout – in attempting to include some of the keys usually found on the right of the enter key on a standard keyboard, Adesso have positioned a few of them quite a bit closer to the enter key on this keyboard, so starting out with this keyboard you might need a bit of time to adjust!
(Images via corresponding links)
The Flexible Alternative
If you're looking for a small keyboard for space saving reasons as well as for someone with small hands, there is a flexible, foldable USB keyboard available on Amazon that you can easily connect to your PC via USB.
Made from silicone, this keyboard can be cleaned as easily as it can be rolled away, making it a potentially great input device for children. Reviews on Amazon are generally good, however, it seems a few buyers have had difficulty typing with these devices; this might be due to some manufacturing issue or it might be that the keyboard only suits "heavy typers".