Wireless Mouse Drivers from Microsoft
Everyone knows Microsoft as the company that makes Windows and Microsoft Office, but the company also lends its brand name to several pieces of computer hardware and PC accessories. Its most famous effort was the first Microsoft ergonomic keyboard, but it develops and releases computer hardware on a regular basis. Everything from keyboards, to speakers, to mice need drivers to function with Windows, and Microsoft's Wireless Laser Mouse 7000 drivers are no exception.
The tricky part about finding hardware drivers for any Microsoft product is that the company's strategic focus lies in software. That means that just typing microsoft.com into your browser and hoping for the best, is a recipe for a long search for anything whether a Microsoft 3000 wireless mouse driver, or any of the other Microsoft mouse lineup. You can get advice about Windows 7 Bluetooth mouse products here.
However, once you know where to start looking, finding drivers for almost any of the Microsoft accessories is much easier.
Note: The same type of procedure outlined below can be used to find drivers for Windows 7 for Microsoft mouse accessories when available, and the drivers for Microsoft optical mouse or laser mouse for Windows XP can be found in a similar fashion when they exist. Some Microsoft Mouse drivers that have been successfully located include:
Microsoft Wireless Laser Mouse 5000 driver
Microsoft Wireless Laser Mouse 6000 driver
Microsoft Wireless Mouse 2000 drivers
Microsoft Wireless Optical Mouse 4000 drivers
Finding Wireless Mouse Drivers on Microsoft's Website
Finding drivers on Microsoft.com is no different than finding Windows hardware drivers on other websites except that microsoft.com can be a very big place with lots of pages. In order to keep up with all of the information posted and removed on a daily basis from the Microsoft website, the company uses a wide array of page names including dynamically generated URLs that sometimes change after publication. For this reason, linking to Microsoft mouse drivers for Windows 7 or any other accessories, for that matter, is a game of chance. Therefore, it is usually best to start by searching the Microsoft website directly, and if that fails, move on to clicking though the variety of microsoft.com navigation.
Also, although Microsoft's website does work with any web browser, it does seem to work best with Internet Explorer. You are less likely to hit a dead-end due to a missing plugin or a requirement to download new software if you use IE 8 to browse Microsoft.com. Don't worry, you can go back to Firefox or Chrome after you download your drivers.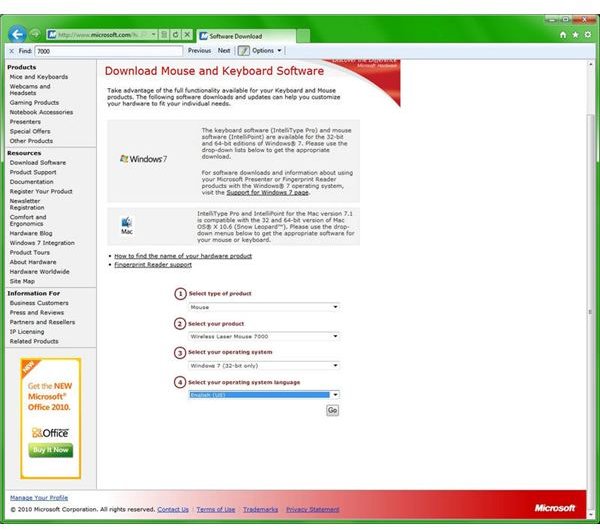 As of the writing of this article, you can skip the steps for finding the drivers below and use this link. However, as noted above, the URI is subject to change at anytime by Microsoft.
https://www.microsoft.com/hardware/download/download.aspx?category=MK
On the Download Mouse and Keyboard Software screen, select Mouse for the Type of product, the specific model such as Microsoft Wireless Laser Mouse 7000 as the product, and then the operating system and language. The supported OS types and languages are all included. If you are looking for a different operating system or language, then it is not supported. There is no "other place" for you to look. Also, be sure to watch out for similarly named products. For example, there is both a Wireless Mobile Mouse 3000 and a Wireless Notebook Laser Mouse 3000. Read all the choices, don't just pick the first one that is close.
How To Search For Mouse Drivers On Microsoft Website
It is sad, but true. Google indexes and searches Microsoft's website better than Bing. In addition, Google offers the opportunity to limit your searches by date range, which can be very useful when searching for drivers to help find the most recent ones and not some left over page from years ago that no one deleted yet.
It is also true that without using the site modifier, Google is likely to return a lot of ad-filled websites that do not actually have the drivers for download as search results. Therefore, the best way to find Microsoft mouse drivers is by doing a Google search that includes "site:microsoft.com" at the end of your search input.
The site:microsoft.com of the search tells Google to ignore all of the "we have every software and driver there is" phony websites and only show you results from the official Microsoft website.
You may have to try more than just the first result that appears. Microsoft cross-links extensively and uses forms to help users navigate. Both of these do not score well in Google's count the words and links ranking system. Once you find a promising result check the page for both the driver files as well as a possible link to the files if they are not on that webpage.
Image credit: Personal screenshot courtesy of ArcticLlama freelance writing.