Acer V223-WBD Widescreen TFT LCD Monitor

Acer's V223-WBD Widescreen TFT LCD Monitor provides 1680×1050 resolutions with 2500:1 dynamic contrast ratio and 300 cd/md2 brightness. It gives you 170°/160° horizontal/vertical viewing angles and is equipped with VGA and DVI (HDCP) connectivity. This highly affordable PC Monitor definitely gives you great value for your money as it features solid and reliable performance. (Price: $164.99)
Samsung Touch of Color T220HD LCD HDTV Monitor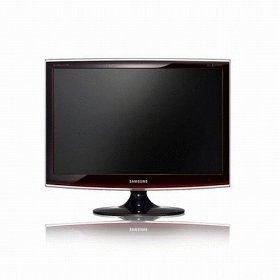 Samsung's 22-inch LCD monitor may be a bit on the expensive side but it has some features which other ordinary PC Monitors don't offer. This is its full HDTV feature with built-in 1080 digital HDTV tuner that allows you to watch both TV and HDTV Dual HDMI inputs. This PC monitor also has both DVI and VGA inputs and 2 HDMI connectors. Other features of this PC monitor include a crystal-like bezel that reflects light, Dolby Digital Surround speaker system, 10,000:1 dynamic-contrast ratio, 300 cdm2 brightness, 5 millisecond screen response and fast pixel response time. (Price:$259.96)
Coby TFDVD2274 Widescreen LCD HDTV/Monitor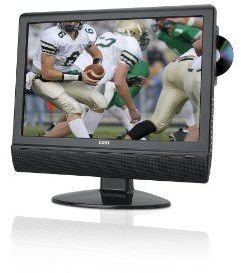 Coby's TFDVD2274 widescreen LCD HDTV Monitor's has additional goodies in store for you – a full-featured integrated slot-loading DVD player that supports DVD, DVD R/RW, CD and CD-R/RW playback. It also allows you to play digital media directly from your USB flash drives and other storage devices. It features a 15-pin VGA interface for connecting to your PC, full-range stereo speakers, digital comb filter and noise reduction, v-chip parental control, closed caption and electronic program guide support. Multi-language on-screen display is also supported by this Coby LCD Monitor. (Price: $259.99)
Viewsonic VX224w Digital/Analog Widescreen LCD Monitor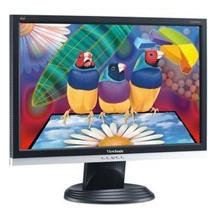 Want a PC monitor with ultra-fast video response as fast as 2ms? Then the Viewsonic VX2240W widescreen LCD might interest you. This PC monitor has dynamic contrast ratio of 4000:1 and super-HD 1680×1050 resolutions. It's a great monitor to use for playing games, watching movies and videos as well as for using graphic-intensive applications. It enhances your productivity by letting you view documents side-by-side without toggling from one window to another. It also features Digital (DVI-D) and Analog inputs. (Price: $205.96)
Hanns-G Hi221DPB Widescreen LCD Monitor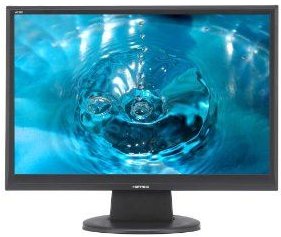 HannsG may not be a popular PC monitor brand but its Hi-221DPB widescreen LCD monitor is certainly something to consider. It has a 1680×1050 WXGA resolution, 1080p HD-quality video playback and HDCP ready functionality. This LCD monitor produces bright and rich colors with its high 1000:1 contrast ratio and 300 nits brightness. It also comes with integrated digital speakers and a VESA wall-mount. This PC monitor offers 5ms response time. (Price: $144.99)
HP L2208W Widescreen LCD Monitor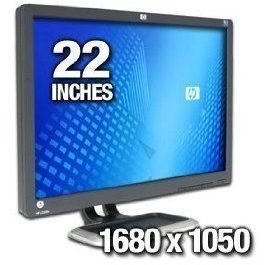 HP's L2208W widescreen PC monitor offers 1000:1 contrast ratio with sharp resolution images at 1680×1050 resolutions. Its response time boasts of 5ms capability. The PC Monitor also enables you to view at a comfortable angle with its 160-degree viewing angles and its tilt settings. One of its best feature is the Display LiteSaver that allows you to set the PC monitor in prescheduled sleep mode, helping your reduce energy costs. This monitor offers quick set-up right out of the box. (Price: $179.99)
Dell E2209w Widescreen Flat Panel LCD Monitor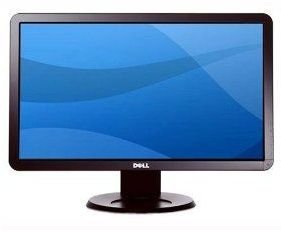 Dell's entry on our list is the E2209W Widescreen flat panel LCD Monitor with 1680×1050 resolution, high 1000:1 contrast ratio and fast 5ms response time. It is equipped with VGA and DVI port that allows you to playback HDCP encoded files. VGA and DVI cables are provided in the monitor's package. (Price:$149.65)
For great stereo sound quality, you may get the optional Dell Multimedia Soundbar accessory.
AOC 2217V Widescreen LCD Monitor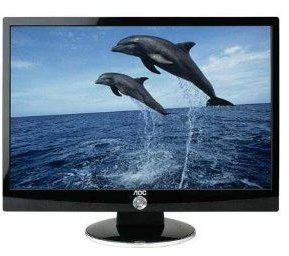 AOC's 2217v provides premium picture quality especially geared for graphics-intensive applications. It features 10000:1 (DCR) contrast ratio that delivers image clarity and a 160-degree viewing angle that gives you good visibility even from side viewpoints. Other features of this PC monitor include 5ms response time and a brilliant large screen performance. And check its price as well!
(Price:$164.26)
LG W2243T-PF Diagonal Class Widescreen LCD Monitor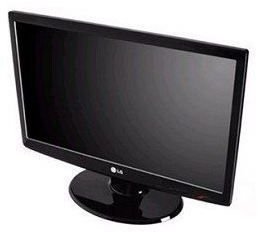 The LG W2243T-PF diagonal widescreen LCD monitor provides you with full HD 1080p resolution display with a high 30000:1 digital fine contrast ratio. It has 300 cd/m2 brightness, 170º/160º Viewing Angle and 16:9 widescreen format. This PC monitor uses LG's f-engine which provides life-like color correction. Other features of this PC monitor include 5m response time, image auto-scaling, photo effect and ez-zoom. (Price: $169.00)
Thinkvision L2240P Wide LCD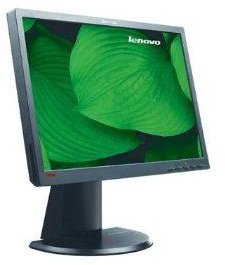 Lenovo's Thinkvision L2240P is a 22-inch flat panel PC monitor hich is relatively affordable compared to other 22-inch PC monitors in the market. It features a 1680×1050 native resolution and a high 1000:1 contrast ratio. It provides a wide viewing angle at 170 degrees which is ideal when used by two or more viewers. This monitor accepts DVI input aside from the traditional VGA input, hence providing clearer signal. A notable feature of this PC monitor is its compliance to EPEAT Gold level criteria of environmental performance. In addition to this, it is also utilizes 65% recycleable or reusable materials. Thinkvision L224p's response time is 5ms. (Price: $194.59)