Wireless Portable Color Printer Reviews - Top Five Wireless Printers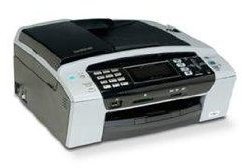 Brother MFC-490CW Color Inkjet Wireless All-In-One Printer
Brother's MFC-490CW Color Inkjet Wireless All-in-One Printer allows sharing with multiple users through wireless 802.11 b/g connectivity or wired Ethernet network connections. The printer lets you print from a media card or via PictBridge Interface. It features a 3.3-inch color LCD that provides easy help menus and photo enhancement features, and produces high-quality photos up to 6000x1200 dpi.
The printers' print speed is at 33ppm for black and 27ppm for color prints. Aside from its printing features, the Brother MFC-490CW Color Inkjet printer also lets you send and receive faxes, as well as copy and scan documents. The printer has a 4-Cartridge System which allows you to replace only the cartridge that needs replacing. Price $124.95.
Lexmark X4650 Wireless All-In-One Printer
The Lexmark X4650 Wireless All-In-One Printer allows you to print on a wireless network via a built-in 802.11 b/g connectivity, aside from allowing you to print from memory card or USB flash drives. Its print speed is at 25 ppm for black print and 18 ppm for color print.
This printer has Optical Character Recognition software for scanning documents. In addition, the Lexmark X4650 also features a toolbar that allows scheduling of print jobs from websites. It also allows you to print borderless photos as well as scan any documents of varying sizes and thickness. Price $87.58.
HP OfficeJet J4680 All-In-One Wireless Printer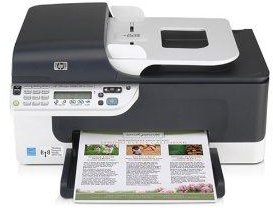 The HP Officejet J4680 All-In-One color inkjet printer is a built-in fax machine, scanner, copier and printer in one convenient unit and even though it is not a laser printer, it has print speeds that rival traditional lasers.
It boasts of thermal inkjet technology capable of producing full-color prints up to 4800x1200 dpi, and 600x600 dpi for black and white prints. Print speed of the HP OfficeJet J4680 printer is at 28 ppm for color and 22 ppm for black and white. It can also print 4x6 full-color, borderless photos within 26 seconds.
Other features of the HP OfficeJet J4680 printer include document scanning at 1200 dpi resolution, and up to 8.5x11.7 inches, it can produce up to 100 copies with 25% to 400% scaling, and 3-seconds per page faxing with up to 300x30 dpi resolution. Most importantly, this printer allows you to print wirelessly through its built-in 802.11 b/g Wi-Fi connectivity. Price $99.98.
Dell V305w Wireless All-In-One Multifunction Printer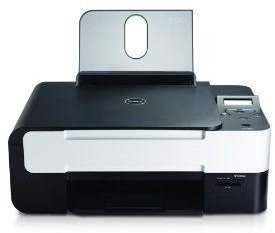 Dell's V305W wireless All-In-One multifunction printer is fairly new and yet offers a powerful machine with 3-in-one convenience features - print, copy, scan. With a print speed of 25 ppm for black and 18 ppm for color, the Dell V305W allows you to print wirelessly through 802.11 b/g network connectivity.
You can use it to print borderless photos up to 8.5x14 inches in size and it allows direct printing from cameras via PictBridge connectivity or from your multi-media cards. Price $129.99.
Epson Artisan 800 Wireless Photo All-In-One Printer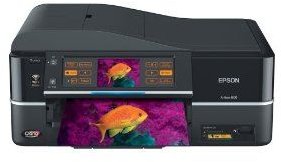 If you don't mind its price, the Epson Artisan 800 Wireless Photo All-in-One Printer is definitely worth every penny. It's a feature-rich printer capable of wireless printing through wireless 802.11 b/g connectivity with an informative 7.8-inch touch panel, black and white and color fax and auto document feeder.
The Artisan 800 has ultra hi-definition print capability using Claria 6-color ink, auto photo correction, red-eye removal and fast print speeds at 38 ppm for both black/color prints. It also comes with duplex print features, and great flexibility for producing professional looking CD/DVD prints, creating personal note paper, invitations, greeting cards and coloring books. Price $231.98.