How do I Transfer Files USB to USB - Working with computer files and best data backup methods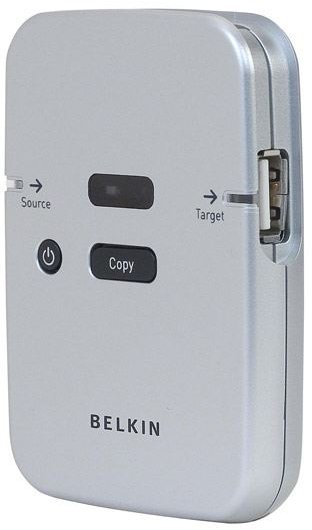 Transfer Files from USB to USB Without a Computer
I know this sounds too good to be true. You can transfer your files from one USB device to another without connecting both to a computer. If you are on a holiday and your photo/video camera is filling up, you do not need to spend your time searching for a suitable recording media, just plug in both devices and let your gadget copy files from the camera to your portable hard disk. All you need is a simple gadget that can enable the connection between both devices. I will introduce you to four devices here to consider, and you can go with the one that will fit your taste. Please note that these devices are limited to a few brands only, and they support FAT32 and NTFS formats.
Belkin USB Anywhere
Our first gadget comes from the famous brand Belkin. With this device you can copy individual/complete files/folders from one device to another. It has an optional AC adapter but can run on batteries. It can copy files from memory cards, USB thumb drives, mp3 players. It can even from external CD/DVD writers but can not copy to them. I wish the drive were packed together with an adapter instead of an optional offering and had USB 2.0 support. Yes, this is the worst thing about this product: it uses USB 1.1 and not compliant with USB 2.0. Is is available from Amazon.com for USD 29.
Memorex TravelLink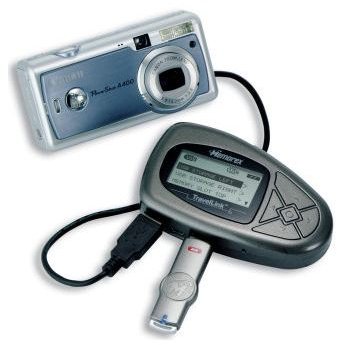 Our second gadget comes from Memorex. It has the capability to transfer files from/to memory card and can act as an 8-in-1 card reader. TravelLink has a 3 line monochrome screen on it, where you select which files/folders you want to copy and which device is the source, which device is the target. The built in card reader differs it from the other devices in the market. The worst thing (again) about Memorex TravelLink is the USB 1.1 support. Sorry, no USB 2.0 for this one also. You can get TravelLink from Amazon.com for USD 15.
Hitch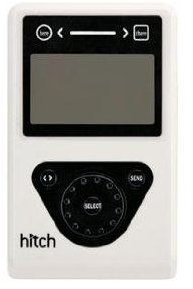 Hitch is another product in the market for USB to USB transfers. It does not have a built-in card reader, but has many additional features such as support for copy-protected (DRM) music. Hitch supports the devices that have "Mass Storage" mode, so it is unlikely to have problems with the products that come from major hardware manufacturers. I especially liked Hitch for its support for USB 2.0. Hitch is available for purchase at Amazon.com through resellers (prices vary at USD 55 to USD 60.)
Delkin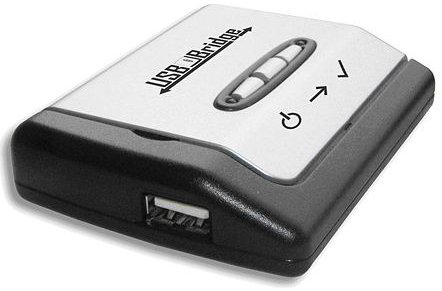 No, there is no typo, the manufacturer is Delkin. The product works with different devices, including flash drives, CD-R/RW (read only), Zip and Microdrives but does not have an on board card reader. Delkin distinguishes itself from the other products by a "verify " button which checks the source and destination drives and verifies if everything is transferred correctly. It also supports USB 2.0 but does not have a screen. Delkin USB bridge is sold through its website at USD 30.
Conclusion
Unfortunately USB to USB transfer gadgets (USB Bridges) are not abundant in the market. The options are limited and the resellers do not prefer to keep these products in their stocks. Among the four, Hitch and Delkin sound better options for their support for USB 2.0.