Lexmark X5495 (5 out of 5)
After you open the box and set up the Lexmark X5495 printer you can be instantly attracted to its stylish look. With a glossy white finish and excellent design lines, in a neat chassis. The CD that it contains is very helpful and you can expect a smooth installation on a Windows computer.
Once you start working with the X5495, the first thing that you realize is that it is crisp and fast. Normally you would not expect 25 ppm for black-white and 18 ppm for color (draft quality) from a sub $100 USD printer, but the Lexmark delivers these impressive timings. For best mode printing, black and white prints drop to 18 ppm and color prints drop to 3.5 ppm. You can also use the printer to print photos, which can be achieved via the card reader on the device or from your computer. However, do not expect much from this feature. You may be able to print borderless photos but this does not mean that the X5495 can compete with specialized photo printers on the market in terms of features and quality of output. To be objective, there is a PictBridge port which makes it easy to print directly from compliant devices, such as cell phones. The memory card reader works with SD, Compact Flash, and MS card types.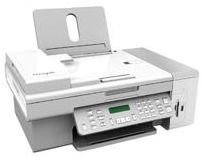 The Lexmark X5495 uses four standard cartridges: Cyan, Magenta, Yellow and Black. As you would expect, if you run out of ink in one color cartridge, the software provides prompts that you are not able to print in color and thus prints a black and white copy. Cartridge saturation is good, distribution of color is always excellent and there is minimal distortion when output is produced. Color copies are also vibrant and of a reasonable quality for an all in one printer in this price range. The copying speed is 20 copies per minute for black and white, and 10 copies per minute for color.
The optical component that the device uses has 600×1200 dpi (dots per inch) resolution for scanning and copying, which will be enough for your everyday needs, certainly in the home if not for business. The resolution can be increased to 19200 dpi, but this is configured via the software. This tweakability is comparable to optical zooming in cameras and cell phones, so unless you need it, we do not recommend using increased resolution.
As an all in one printer the 'other' features of the Lexmark X5495 are excellent. You can scan your documents directly to PDF file format, or to the printer memory for reproduction, both are clean in transition and end result. Faxing is also made very easy. The fax component has 99 speed dials and supports Caller ID. The built-in modem has 33.6 Kilobits per second speed, so if the receiver has a machine that can serve the same speed, you can enjoy faster sending.
The printer works under Windows XP, XP Professional 64-bit, Vista and MacOS X (10.4.4 or later). However, there are some users who have experienced problems installing the Lexmark X5495 printer under Windows Vista. We advise you to be cautious and use the latest drivers available on the website, instead of the one that comes with the product.
The X5495 comes with a typical one year warranty and can be purchased for around $70/$80 USD. Our verdict is that the Lexmark X5495 printer offers a nice price, performance and feature combination. Ideal for the budget user.