Canon Selphy 750
The Canon Selphy 750 is a good partner whether you are at home or on the move. The printer has a white and gray finish, an LCD screen on the top, and a plethora of function buttons. You can zoom in and out of photos, crop, arrange layout, stamp date and adjust color (black and white, sepia etc.). However, it is surprising that you are not able to see the effects on the LCD screen: when you press -say- red-eye correction, the button's light goes to on but you cannot see the corrected red-eye. Moreover, the top button is labeled "On" and it makes you wonder how to turn the printer off. The button is also the "OFF" button.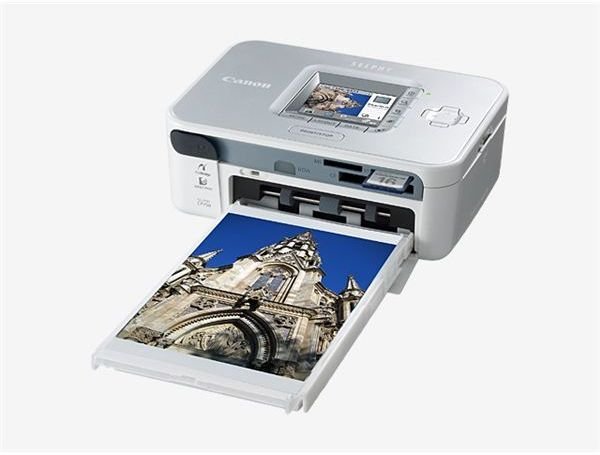 The key to this printer's success is in its quality of prints, which are very nice. If you are not a professional photographer, you will find the results exceed expectations. Color transition is very nice; vibrancy, tone and natural details come across beautifully. However, with darker images, the Canon Selphy 750 does fractionally lose detail. You will most likely catch this effect when creating night shots or with shots taken under the sun having sharp shadows.
The printer is extremely versatile, with tremendous options for tweaking setup. Although you can install the drivers to your computer and work from there, you can plug a Bluetooth dongle into the USB port and use any Bluetooth-enabled device to print. So, if you have your parents visiting and you want to print a photo, there will be no need to transfer the images from your cell phone to the PC and then print. Just a small tip for the BrightHub readers.
Canon makes it very easy to print your photos. However, we wish we had multiple image previewing (thumbnail preview) on the screen and auto-correct brightness, contrast and colors, which we have in DPP-FP90.
You can purchase Selphy 750 for EUR 250/USD 205/GBP 115 with typical one-year warranty.
Sony DPP-FP90 Photostation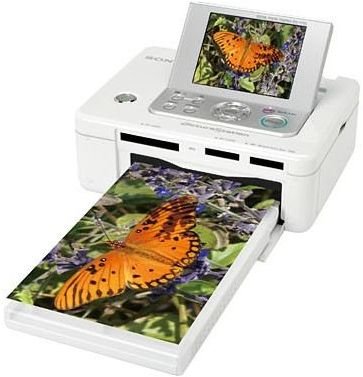 Sony has placed a 3.6" LCD screen on the top, which can also be arranged diagonally to have a better view. The large screen is crisp and has the control buttons at the bottom. Not all the buttons are assigned specific functions like Selphy 750. Instead, there are the zoom in and zoom out buttons, a menu button, arrows, Enter, Auto Touch-up, Print and Cancel. The buttons allow you to have a basic play with your photos, such as panning around, zooming in/out, and apply basic color filters (black and white, sepia etc..)
The memory card slots on the printer are located on the front. Sony makes it as easy as possible to print your photos: after you insert your card in the relevant slot, you are presented with a preview of your images. You can select which ones you want to print out, select the output quality and then hit "Print". You even do not need to open any cover nor boot anything up. Everything is where you want it to be.
With the PictBridge support, you can just print your photos from your cell phone or digital camera. If you connect your device to the standard USB port on DPP-FP90, you do not even need to bother with the printer's menu. You just make all the arrangements from your device and send the photos to the printer. Both Sony and Canon have nicely implemented this feature.
The criticism goes to Sony about having a disturbing effect on the print outs, called banding (which are artifactual minor variants observable in outputs from computer printers and photocopiers –Wikipedia). You will not see this effect on your computer screen but on the print-outs. To see this effect, you have to have a trained eye, otherwise this will not be obvious.
Sony DPP-FP90 can be purchased for USD 220/GBP 150. The warranty is one-year.
If we have to choose between the two, I personally would go for the Sony, despite no support for other operating systems. DPP-FP90 is not a clear and easy winner, but it is remarkably ahead of Selphy 750. Don't leave before you check out the comparison table below. (Click the image for a larger view.)