In this article we review the best 17 inch flat panel LCD monitors available, looking at video input, screen type, resolution, ms response, features, energy consumption, price, and of course, user comments on problems with the monitor. 17 inch monitors are no longer always the first pick for home or business use now that the price of 19 and 20 inch monitors has come down so much, but if 17 inches is the size you need, we have three excellent choices for the budget conscious consumer who want the best features and reliability for their money.
Acer V173b stock image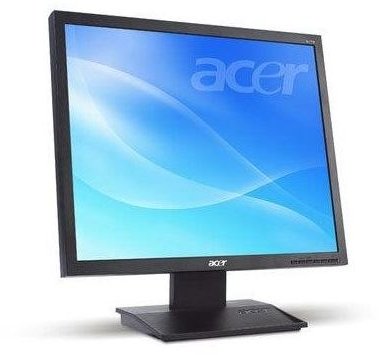 Acer V173b
First, for the buyer on a strict budget, this 17 inch monitor is the best value for features. The Acer V173b comes with a solid reputation based on user comments from several sources, with an overall rating of 5 out of five from reviewers. For your money, you get a 17 inch monitor with a 4:3 aspect ratio, 1280 x 1024 resolution, 5ms response time, 176 degree viewing angle, a contrast ratio of 2000:1, 3 year warranty, and built in speakers, weighing in at 8.5 lbs. It is also Energy Star compliant. For those who are really suffering from lack of desk space, the flat panel is wall mountable. It comes with VGA cable, power cable, and CD with drivers. Prices from online sources varied, with a low price on Jan 26, 2009 of $99 USD at Amazon.com, ranging upward to $189.
User comments rated it with good color, and a reputation for few problems. A couple of users noted the color and brightness was not as good as more expensive models, but other users said the picture was consistently sharp and bright. It is noted that the speakers are not of particularly high quality, (very poor, actually, said one comment) but its audio features are not going to make or break the decision to buy. For a monitor most likely to be used for business, the home office or homework, users noted the monitor was a very good value. For a cheap, sturdy flat panel LCD monitor with 5 ms response time, when the usual monitor in this price range is like to have 8 ms response, and with a 3 year warranty, Bright Hub recommends the Acer V173b as one of the top 3 choices to fit in minimal space on your desktop. We do recommend you do a Google search to find which online dealer is offering it at its lowest price.
ViewSonic VG730m stock images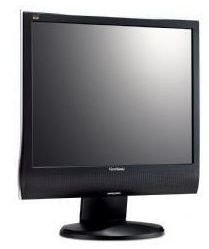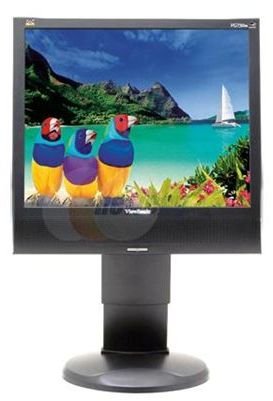 ViewSonic VG730m
ViewSonic has a good reputation in the monitor field, and the ViewSonic VG730m, aimed at business and homes without a lot of desk space, is no exception. This 17 inch flat panel LCD monitor has a 4:3 screen ratio, 1280 x 1024 resolution, 170 degree viewing angle, 600:1 contrast, 8ms response, built in speakers, 3 year warranty, both analog and digital video input, and the ability to adjust height, tilt and swivel to add good ergonomics to its Energy Star rating. It weighs 11.1.pounds. A Google search showed sellers with prices from to $119 USD, ranging up to $169, with one seller claiming to be marking it down from $300 However, one user noted they had been able to find the monitor on sale for $110 USD.
A Google search on ViewSonic VG730m troubleshooting came up with only 43 items, and an examination of those showed a large number to be from ViewSonic manuals with a troubleshooting section included. However, there were user comments of both a dead and a stuck pixel. Although it has both VGA and digital input, it only comes with a VGA cable, again something that a user felt should have been included. You will need to get a male to male DIV-D cable.
For a flat panle LCD monitor in this size and price range, the inclusion of digital input and speakers, the ability to make ergonomic adjustments, and the overall lack of user complaints make the ViewSonic VG730m an excellent choice for the Bright Hub reader.
Be sure to search Google to find the best price currently available.
On Page 2 of this article of the Top 3 17 inch monitors, we look at a best value widescreen monitor.
Widescreen
I wanted to include a best value 17 inch widescreen monitor in this Top Three 17 inch monitor review, and I think it took longer to select which widescreen monitor to use than all the other research and writing I did in this article. Hanns-G is not as well known a brand in the United States as it is in Europe, but more and more of the nest online electronic stores are carrying monitors from this company. After looking at HP, Dell, and Samsung 17 inch widescreens, I found a lot of user dissatisfaction in the models in the under $200 USD range.
Hanns-G HW173DBB stock image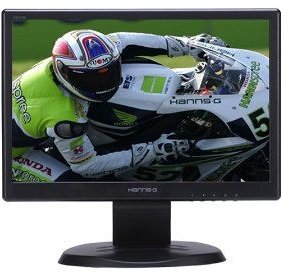 Hanns-G HW173DBB
Looking at the specs, the Hanns-G HW 173DBB LCD widescreen flat panel has 1440 x 900 resolution, the standard now for 17 inch widescreens, a 160 degree viewing range, 500:1 contrast, 8ms response, a 3 year warranty, analog and digital input, tilt, and an Energy Star rating. Despite the DIV input, it only comes with VGA and power cable. It weighs 7.5 pounds.
The MRP is $ 231 USD, but online sellers have had it for as low as $115, and a price of $125- $130 can be found regularly. As of January 24, 2009, it is $115 USD at Newegg.com and $125 USD at Amazon.com. For the price, it is an excellent choice for homes and businesses needing a dependable monitor, who are not interested in using the monitor for graphic gaming or photo editing. The wide viewing angle is an asset with the widescreen, allowing more than one person to look at spreadsheets or presentations on screen with ease. It also allows home viewers who purchase DIV cables to use the monitor for widescreen movie viewing.
Most users were very happy with the performance of the monitor over time, and those who did have problems appreciated the 3 year warranty. Many users commented on the lack of dead pixels, and in the few reports there were, most users were able to massage them away. For those who didn't, there were reports of Hanns-G. sending out up several replacement monitors until the customer was happy. A couple of users did report frustration with the Hanns-G support, but most were content. Among the quite occasional problems that were mentioned in over 200 user reviews looked through were light bleeding in at the bottom when the picture first shifted to a dark screen. A user commenting on this said that the bleeding disappeared shortly after the screen change, and that this was not the size or price range where he would be looking for a monitor for photo editing, anyhow. A couple of other users mentioned a thin yellow or fuchsia line on screen after a few months, but they were able to get satisfactory results from Hanns-G support. Quite a few users mentioned that they had bought the monitor in quantities- up to 30 units in one case- to supply an office, and months later were still very happy with their decision.
Overall, this widescreen flat panel monitor from a relatively unknown brand compared very favorably with well known brands in this size and format, with both fewer user issues and fewer overall complaints. The wide angle of view and the widescreen are definite assets, along with DIV capability in a monitor in this price range. The resolution is standard for 17 inch widescreen flat screen LCD monitors, and the readability of the text was good, even with two pages side by side on the screen. If you want a 17 inch flat panel widescreen to fit in a small space on your desk, the Hanns-G HW173DBB is recommended for home and business use.
Depending on your needs, whether for a good quality 17 inch flat panel monitor for your child's homework desk, to set up an office in your home, or to supply a business, one of these Bright Hub picks will fit your individual needs and pocketbook and give you the peace of mind of a 3 year warranty.