The HP C4480 Multifunction Printer
All-in-one printers are abundant in the market today with almost all printer manufacturers having one or more models available. HP, the "printer guy", is the dominant player and has done a good job with the C4480. If you are a home user or a student looking for a budget all in one printer, or if you plan to use one in a SOHO, then you can just go to a store, pick up a C4480 and go back home.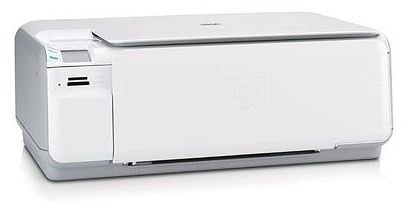 The printer reflects HP's familiar design once you unpack it, with a professional glossy white finish. The 1.5" color LCD screen is on the left and offers excellent direction for configuration and troubleshooting. When you open the front cover, you will see the input and output trays, which hold 100 sheets and 50 sheets respectively. The image quality is, as you would expect from an HP standard printer, clear and precise in detail. Making photo printing a viable option. You can also print your photos, either from your computer or via the card slots, which can accept MS, SD, MMC, SDHC and xD cards. The C4480 allows borderless printing up to A4 paper size, in both portrait and landscape modes. The only downside with the printing function is that there is no double-sided (duplex) option.
The C4480s scanning function is very satisfactory. The hardware supports 1200×2400 dpi resolution, which is enough for daily scanning needs, and scanning speed is excellent, delivering output at 48 seconds for a 10×15 photo and 22 seconds when scanning a full text page with OCR. The hardware also performs well when copying, as the C4480 can copy approximately 7 pages per minute in black and white, on the normal mode setting. But if you increase the quality to best mode, then the printing speed drops to less than one page per minute. I do not however feel the drop off from best to normal mode is so severe as to justify best quality copying as standard. So many users will be able to safely ignore this fact.
The printer's power usage is 70 watts when working and 7.5 watts maximum when idle. It measures at 434x290x162 mm (WxDxH) and weighs 5.06 kilograms, so its footprint is small and the unit easy to maneuver for use.
The HP C4480 comes with a lot of software, much of which you will never use, as is the case with similar products in the HP printer portfolio. Therefore, after the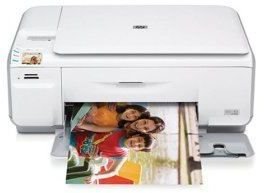 installation, I suggest you check the installed programs and then uninstall the ones that you will not be using. You will also benefit if you check your computer with a tune-up/registry cleaner software utility because the installed programs write a lot of values to the registry, which in turn slows your computer down. Uninstallation probably will not have you get rid of them. I deduct a point from all HP products due to a full CD of useless software.
As a final word, I will repeat what I said in the first paragraph. I personally recommend the HP C4480 for your everyday printing needs. It stands about USD 60/GBP 50 with a one year warranty. It is Mac compatible but to enable it to work with Linux you need some tweaking. That said, this is a super budget all in one printer. One we can thoroughly recommend for the home or small business.