An Overview of the New Features in iOS 5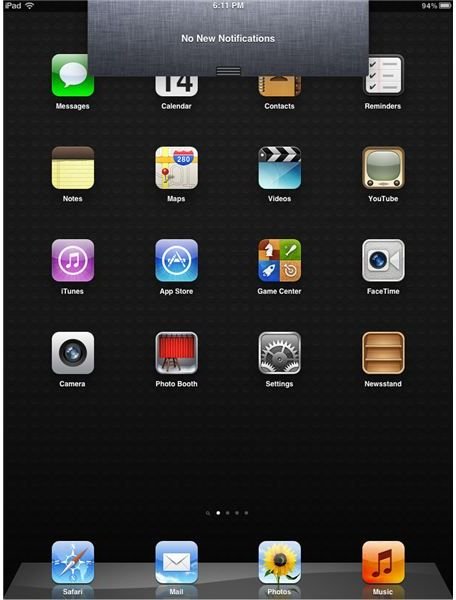 Your Apple device, such as the iPad or iPhone, has an operating system called iOS. It's like what Windows is to your computer, and it includes a bunch of built-in applications for making the system work. While you don't necessarily have to update your device when a new OS comes out, you'd be missing out on a lot of great new stuff. On October 12, 2011, an update was released with a ton of new features. It's not just a minor update, but a whole new operating system set to coincide with the release of the new iPhone 4S. Here we look at the new features of iOS 5 and what you can expect after performing the lengthy update process.
Note: iOS 5 is only compatible with the iPhone 3GS/4/4S, iPod Touch 3G and 4G, and iPads.
The Update Process
Before you can upgrade to iOS 5, you will also need to update iTunes. This process doesn't take too long, but does require a reboot. After that, you need to download the 700+ MB iOS update, which can take a while depending on your Internet connection speed.
If you have any problems getting the update, you may need to turn off your firewall or temporarily disable any security software. I use Kaspersky Internet Security at home, and it's a great security suite, but sometimes it interferes with iTunes downloads. I tried three times to get the update before I disabled Kaspersky and the update completed.
After the iOS 5 update is downloaded, it backs up your entire device - apps, music, videos, and all - and then installs the update, then it syncs all your data back. On my PC, it took about an hour to complete the update with an iPad 2 that only has about 4 GB of stuff installed.
Notification Center
Android phone and tablet users are already familiar with the pull-down menu found at the top of the screen. You just swipe your finger from the top and it pulls down a menu sort of like window shades. Apple devices are now catching up with their own take on it, called the Notification Center. It provides a central location for all your regular updates like new emails, text messages, calendar entries, weather, stock info, social media updates, and so on. It's fully customizable so that you can decide what you want to have show up.
This new Notification center also allows for small pop-up bars to appear at the top of the screen, placed over any running apps you have. If you're playing any ad-supported games, you're probably already used to something appearing up top so it's not a big deal at all. It also adds some functionality to the lock screen by showing notifications that you can swipe to go directly to those applications, so the unlock swipe bar now can work as an app shortcut when something is pending.
Newsstand
Another cool addition to the app lineup is one called Newsstand, which is basically a copy of the iBookstore, but made just for magazines and newspapers. It allows you to keep all your subscriptions in one place that you can check whenever new issues are published.
My only complaint about the Newsstand is that the magazine prices are misleading. Titles like Popular Mechanics show as being free, but in reality it's only the reader part of the app that's free and you still need to pay to subscribe. Apple should be more up front with subscription prices because there are already a bunch of angry 1-star reviews from users who felt like they were duped.
More Communication
Apple has made a new internal messaging system for iPad, iPhone, and iPod Touch users, and it's called iMessage. It's a full featured texting program that even has encryption and tracking options. Yes, it is a direct answer to BlackBerry's BBM system. You can also go between devices and keep the conversation going, like starting a text convo on your iPhone then replying to it later on your iPad.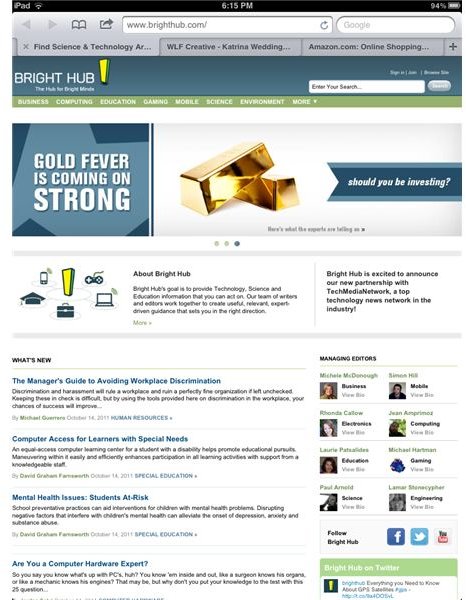 Twitter users will be pleased to see that iOS 5 has fully integrated Twitter into the system. You can easily send photos directly to the social network site, or share info from YouTube, Safari, and Maps. It saves you the hassle of having to copy a url and go to the app to post content.
A new calendar app called Reminders is now included with this release, and it even integrates with location services so you can make it recognize where you are and give you reminders about that place. Outlook users can use iCloud to sync their reminders.
An updated version of the Safari web browser is also included in this release, but you probably shouldn't be surprised that it still doesn't support Flash content. It does, however, include a Reader option that lets you strip all the annoying ad content out of web pages to make them easier to read. A very welcome step towards full browser funcionality is the introduction of very easy to use tabbed browsing.
Break Free from the PC
Syncing your apps and data is even easier with iOS 5 because you can use iCloud to update and sync your device without having to connect to a computer. Instead, you can configure your iPad or other Apple device to sync everything wirelessly! To keep from eating up your battery the default is that it will try to sync while charging (including from a wall outlet), but you can force a sync anytime from your settings menu anywhere you have internet access.
One major benefit of this is if you have a computer with USB ports that lack the power needed to recharge the battery on the iPad. It saves you the trouble of having to plug into the PC to sync, then still have to plug into the wall to recharge.
Speaking of wireless streaming, you can now use Airplay to broadcast wirelessly from your device to the Apple TV device that can be connected to your HDTV.
Better Photos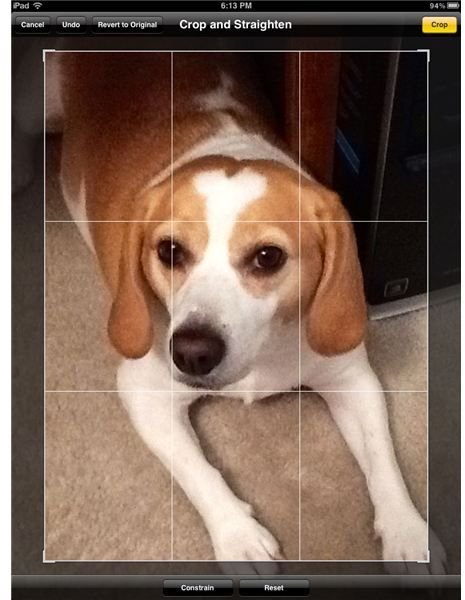 It used to be that you would need extra apps for doctoring your photos and cleaning up any problems, but now Apple has improved both the Camera and Photo software that comes with the device. The camera now gives you gridlines for better shot composition, plus you have more control over the focus and exposure. The photo app lets you crop images, enhance colors for when there are lighting problems and other issues, and even remove red eye.
This all ties into iCloud so you can easily upload and share your photos between devices and computers. From the Photo app, you can also email or iMessage your photos, or even Tweet them.
Apple's Commitment to Excellence
Apple deserves to commended for their continual updates, especially since this is a free update for their users. Some of these features could easily have been sold as 99 cent app upgrades, but instead they are packed into one giant, feature-rich operating system. This just gives you more reasons to buy an iPhone, iPod Touch, or iPad if you don't already have one. Steve Jobs would be proud.
References