Tomato Router Firmware Makes Your Router a Beast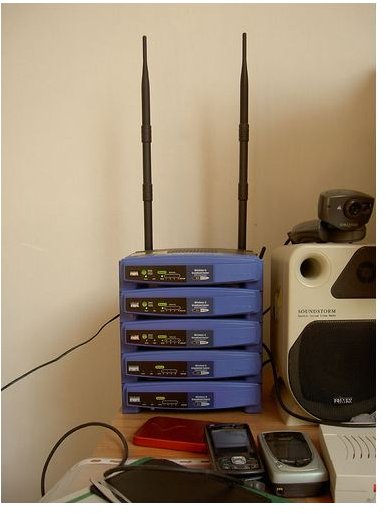 Tomato router firmware is a free open source software program for use on certain routers that will increase the functionality of the router. It is based on DD-WRT firmware operates under the General Public License (GPL) and is based on the Linux OpenWrt kernel.
What Does Tomato Do?
Tomato firmware is offered for specific Linksys and Buffalo routers (any router that runs on the Broadcom system) by Polarcloud.com. Although the firmware is based on DD-WRT programming several tweaks have been made that allow specific actions to be taken to unleash the capabilities of a low-end router. Because most routers are made from the same components, the only real difference in functionality comes from the firmware that is installed by the factory. By using the free Tomato software, you can essentially turn a $40 router into a $200 router.
One of the most amazing features is the Wi-Fi boosting capability. Click on the Advanced tab then Wireless in the sidebar. There is a place marked Transmit Power. The default 42mW but it can be pushed all the way to 251 mW. 84 mW is considered the best setting to reduce noise and enhance transmitter distance.
Tomato also offers bandwidth logging so you can see which devices are using the most bandwidth. An Access restriction section lets you set up rules to block browsing of certain topics at certain times of the day.
The wireless options in Tomato let you easily turn the router into an Ethernet bridge by boosting certain bandwidths while the Afterburner settings can improve speeds on for g band devices to as high as 125Mbps.
In addition to the standard and ND modifications offered by Polarcloud there are several user enhanced modification versions including; hardc0re Mod, jyavenard, Neorouter, roadkill, SgtPepperKSU, slodki, Teddy Bear, Thor, Trzepako and VicTec. Each of these offers its own set of specific enhancements but none is sanctioned by Polarcloud. As with all proprietary freeware, these are use at your own risk modifications.
Compatible Routers
Several compatible can use Tomato router firmware. The following is a list of the most common types but is not all-inclusive. To check if your router is compatible check the Polarcloud tomato compatibility page in the resources section. Just because your router model is listed doesn't mean that the version you have is supported. Some of the newer versions of popular routers have different encoding that has not been handled by tomato developers as of yet. This does not mean that they won't eventually have tomato firmware for your version, just that it doesn't exist as of yet.
Compatible routers:
Linksys
WRT54G v1-v4
WRT54GS v1-v4
WRT54GL v1.x
WRTSL54GS (no USB support)
Buffalo
WHR-G54S
WHR-HP-G54
WZR-G54
WBR2-G54
WBR-G54
WZR-HP-G54
WZR-RS-G54
WZR-RS-G54HP
WVR-G54-NF
WHR2-A54-G54
WHR3-AG54
Asus
WL500G Premium (no USB support)
WL500GE
WL520GU (no USB support)
Sparklan
Fuji
Microsoft
How to Install
Installing tomato firmware involves flashing your particular router and then installing the new file. First, you must identify the model of your router. Once you have done this, locate the appropriate firmware file for your router on the Tomato firmware homepage. Make a note of where you save the firmware file, as you will need to find it later when you prepare to install.
Perform a hard reset on your router to return it to the factory default settings. It is much easier to flash a factory set drive than one with user settings installed. After this is done, log into your router from your computers internet browser by typing 192.168.1.1 in the address bar. This will bring up your current browser graphic user interface (GUI). Locate the tab for "Router Upgrade" and click on it. There will be an option to auto search for your firmware. Don't choose this. Instead, open the browse menu and locate the DD-WRT firmware file you downloaded from the Polarcloud site. Click on this file (either press open or double click it to put it in the browse box) and click on the "Upload" button. Do not turn off your computer or router until this process has finished. Doing so could brick your router, which requires a much more in depth fix.
Once the firmware has completed uploading to the router, perform a second hard reset of the router to make sure the firmware is in place, and then reboot the computer. The computer needs to restart to identify the new firmware that has been installed. Again, type 192.168.1.1 into the browser address bar. This time you will see the Tomato firmware GUI. Enter your security settings in the "Settings" tab. Now you will be able to apply any tweaks you want to the router via the Tomato GUI.
References
PolarCloud.com: Tomato Firmware; https://www.polarcloud.com/tomato
LifeHacker; "Turn Your $60 Router into a User-Friendly Super-Router with Tomato"; Adam Pash https://lifehacker.com/344765/turn-your-60-router-into-a-user+friendly-super+router-with-tomato
My Open Router; "How To Install Tomato Firmware on NETGEAR WNR3500L"; Peter Redmer https://www.myopenrouter.com/article/14430/How-To-Install-Tomato-Firmware-on-NETGEAR-WNR3500L/
YouTibe:[How To] Install Tomato Firmware On Linksys (or Compatible) Routers https://www.youtube.com/watch?v=Y_Fp1P4aw50
Image courtesy of foskarulla @ FlickR; https://www.flickr.com/photos/foskarulla/439866959/
Resources
PolarCloud.com: Tomato FAQs; https://www.polarcloud.com/tomatofaq