Remote Puts You In Control
The Remote app allows you to access and control your iTunes media on a desktop computer and/or Apple TV directly from your iPad or iPhone. As you would expect, the functionality is similar to a conventional remote control for a CD or DVD player. You can select a song, album, or video, create or launch a playlist, adjust the volume, seek/scrub forward and backward during playback and advance to the next or previous item on your playlist. Of course, with the limitations of physical media removed, and dedicated control buttons replaced by a graphical touchscreen, there is practically no limit to the level of control over your entire iTunes music and video library. The application is free and available for download at the Apple website.
A Range of Possibilities
Using Home Sharing in iTunes (version 10.0.1 or later) will enable you to access your media across your home Wi-Fi network. Using your iPad as a remote control can be as simple as granting network access to the Remote app from your computer. When combined with Apple TV, or a similar setup that allows for HDTV viewing of streaming media, and with Airtunes connected to remote speakers via Airport Express, you can potentially expand your home theater system to every area of your home. After considering, and accounting for, the range limits of your wireless reception, you could control not just every element of playback, but the volume level of individual network devices and speakers, all from one device.
Additional Features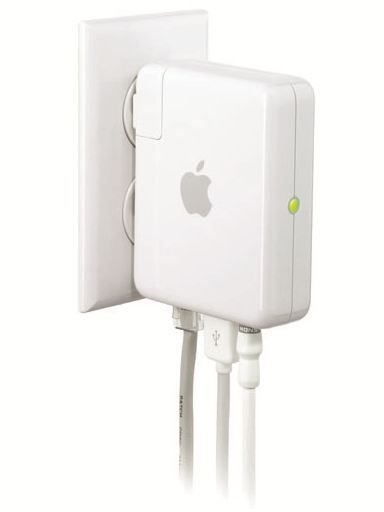 If you've used Remote on an iPhone, you're likely to find using it on the iPad a better experience given the larger display. If you're using it to select and control video, such as with Apple TV, you can take advantage of an alternate control configuration that enables the iPad to function as a large touchpad.
Using iOS 3.1.2 or later, Version 2.1 of Remote is compatible with the iPad as well as the iPod Touch and iPhone, and will run synchronously on all devices. This version also provides functionality for listening to Internet radio broadcasts and access to rented media from iTunes.
This free app is useful for convenient control of media on a single computer, but the power to control a multitude of devices is its strength. If you want to add extra speakers to your kitchen or dining room, it can be as basic as adding an Airport Express base station (shown in the image) to your network and connecting the speakers. Using Remote to set volume levels for each output you add, you can optimize your entertainment experience from anywhere in your home. For your convenience, the following is a direct link to the Remote download page.
References
Apple.com – https://www.apple.com/itunes/remote/
Falcone, John."Hands-on: iTunes Remote App" – https://news.cnet.com/8301-17938_105-9987673-1.html
Airport Express Image Courtesy of Apple.