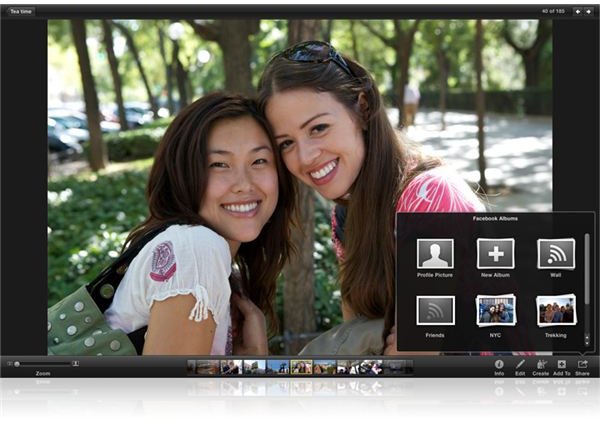 iPhoto Basics
Across all computing platforms, the iPhoto tool is probably the most capable and impressive method for managing your digital photos. Available as part of the iLife suite for Mac OS X, iPhoto indexes your photos, allows you to tag them and even includes a selection of useful editing and enhancement tools.
Like any typical app, iPhoto features a selection of useful keyboard shortcuts that can be used to edit and adjust your images along with the mouse, while also offering some great tools. Along with the organizational and sharing options which we will discuss below, iPhoto also offers the user the opportunity to create fascinating slideshows out of a collection of photos!
Organizing iPhoto Libraries
It is never easy organizing files and folders on your computer at the best of times. You might start off with the best of intentions but time constraints will always lead you up a blind path which will result in issues finding the data you're looking for.
Even with iPhoto, you will only find that your photos are filtered away from the rest of your files and folders. As your image collection grows, so will your disorganization unless you take advantage of the tools on offer. For instance, optimizing your library will speed things up considerably, and finding duplicates will also make things a lot easier.
You can also take advantage of Smart Albums to organize movies in iPhoto, while larger libraries can be easily managed by storing them across multiple external hard disk drives.
Sharing with iPhoto
Having a great selection of organized photos on your Mac is only part of the fun of using iPhoto. The software also provides various sharing options so that you can let your friends and family see your best snaps using email, social networking and other photo hosting websites.
It is a simple matter to use iPhoto for emailing images, just as it is to share pictures and videos from iPhoto via MobileMe (and presumably the same will be true of iCloud once MobileMe is wound down).
Uploading images from iPhoto to Facebook is a different proposition, of course, one in which you are able to share with a wide selection of people, some of whom you may not know, depending on the privacy settings that you have configured on your Facebook account. If you're happy for all to see your images then this shouldn't be a problem, but if it is and the Facebook settings seem to complicated then there are other services that you might use which offer tighter controls.
Importing and Exporting with iPhoto
You shouldn't be relying on sharing for keeping copies of your photos, however. Maintaining regular backups is vital if you are intending to enjoy your images long-term. Sadly, hard disk and general hardware failures can prevent this from being a reality without a sensible backup routine.
There are various ways in which you can export your iPhoto images, from saving them to an iPod or similar external devices to going the whole hog and using online photos storage and printing services, thereby giving you the double-whammy storage bonus of a backup and a hard copy. As physical copies of photos seem to be so rare these days despite the proliferation of cheap photo printers, this option is particularly useful!
Troubleshooting iPhoto
There is every possibility that despite the quality of iPhoto as an application, problems may arise. These might be indexing issues in your iPhoto library causing photos to go missing or be lost, or general problems with the application running and launching correctly.
One common issue is experienced by iPad and iPhone owners. If you have ever been frustrated by iPhoto launching when you connect your portable device to sync with iTunes and don't know how to resolve this, you will be pleased to know that fixing the issue is easy!
References