Laptop Troubleshooting and Repair Guide
This Bright Hub comprehensive laptop troubleshooting and repair guide is here to help guide you through several common hardware issues that can be repaired in your home or office. Most of these do-it-yourself repairs will void any warranty that you have on your computer (if you're looking here, your warranty is probably long expired anyway).
To make it easier to navigate, this guide is divided into several major sections. If, for any reason, you are unable to find a suitable guide for your particular repair problem, please drop us a line so that we can help you out.
Keyboard Repair
Without a working keyboard, your laptop could become a large, overpriced paperweight. So what do you do if your keyboard stops working? A keyboard repair is one of the most frequent repairs needed on laptop computers. Fortunately it is also one of the easiest.
The only problem with replacing a keyboard is locating every single screw that needs to be released to allow the keyboard to be removed from the casing. There may be nothing more frustrating than thinking you have gotten every one of them only to find out you have removed several you didn't need to and still missed one. The following guides will walk you through the replacement keyboards on several different laptop models by the major distributors. If your laptop isn't on the list try following the instructions for a similar model (or a laptop from the same manufacturer) as there are only so many configurations that are used for securing keyboards.
Batteries and Power Issues
One of the advantages of a laptop computer is being able to use it while you're on the go without being tethered to a wall outlet. If your battery won't hold a charge or the charging system is on the fritz then you laptop is no better than a desktop. The clear fix is to replace the battery with a new one, but what if the battery isn't the problem?Although batteries are generally quite easy to replace, there are some instances when a power issue with a laptop is considerably more complex. Simply replacing the battery may not fix the problem at all, in fact it might just be a waste of $100. Before you jump to conclusions about the source of your laptop's power trouble, check out the following articles. They might be the key to keeping your laptop on the go.
Hard Drives
Whether you are replacing a failing hard drive or upgrading to a larger one, replacing a hard drive usually only involves the removal of three or four screws and the connecting ribbon or pin set. Each laptop manufacturer places its hard drive in a different location but most cases it is accessible through the bottom of the unit. If you are replacing a drive because it has crashed you may need to employ some data retrieval techniques in order to save your files. This first section focuses on these types of problems.
Upgrading or Replacing Your Hard Drive
Other Hard Drive Issues
If you aren't having a problem with a crashed hard drive but there are some glitches showing up it might be a software or firmware issue. If the hard drive is not being recognized by the computer, the issue may be with the BIOS. Or maybe you don't have the right drivers installed. We've had all of these problems at one time or another and this is what we did to take care of them.
Memory
Memory and CPU upgrades are one of the best ways to keep your laptop current without having to buy a new machine. If you have questions about whether or not you can upgrade your laptop CPU, you aren't the only one, but it will depend on your motherboard. A new fan may be necessary if your new CPU runs hotter than the previous one. If you want to upgrade the RAM, the type needed is also determined by your motherboard.
The best place to start your laptop upgrade adventure is by first determining what motherboard you are currently using. Once you have that information, you are ready to go. If this all seems like a foreign language to you then we have all of your laptop upgrade answers right here in easy to understand language that won't leave you staring blankly at the screen.
Motherboards
The motherboard is the main circuit board of the laptop that everything is connected to. Changing out a motherboard is essentially the same as building a new computer in your existing shell. While most manufacturers have similar design features within a family of motherboards, once you step outside of the company the motherboard can be laid out in a very different manner. It is always best to stay within the same manufacturing family to ensure that all of your components will be able to fit inside the tight confines of your laptop case.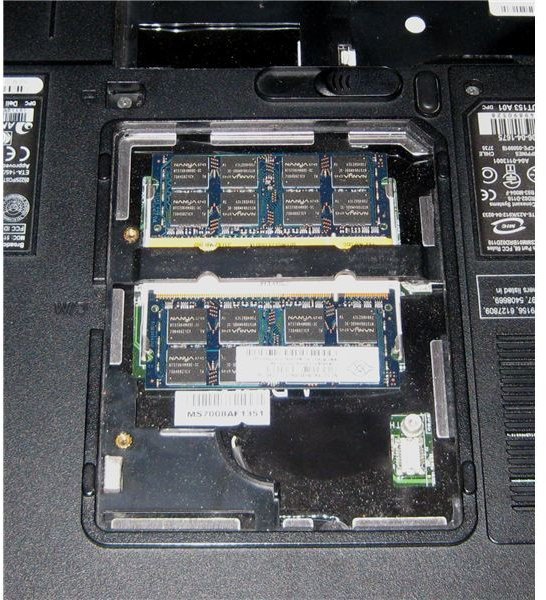 If you are ambitious enough to replace your entire Dell motherboard, we have a four-part series that will walk you through it from start to finish.
Internet Access
The internet has become an integral part of life today. We use it for everything from sending business communications to keeping track of our friends on Facebook. If your laptop can't connect to the internet, it severely limits your access to information and disconnects you from your social network. Being left out of the loop due to a technology glitch is a major faux pas.
There are several reasons your laptop won't connect to the internet. Whether you are setting up an internet connection for the first time or struggling with a newly manifesting issue, we have the help you need to get you back online.
Audio Visual Issues
A laptop isn't of much use if you can't see or hear what is going on when you are using it. Laptops are fragile and a short fall from a desk or lap can result in the LCD screen being damaged beyond repair. Replacement might be the only way to go. Having a professional replace it might end up costing more than buying a new laptop but you can do it yourself with a bit of help from our guides. There are other, less overt issues that can hamper the audio-visual systems in your computer.
Of course, if your screen is flickering or your speakers stop working then you are going to have issues using several different software suites and forget about watching those YouTube videos. Don't fret, we here at Bright Hub have also felt the sting of an audio-visual failure and are here to help. In most cases the problem lies in the video or audio card itself. Here we run you through some possible situations and what you can do to easily replace either of these cards.
Overheating
A common problem in laptops is overheating. Overheating can result in slower than normal response times, cause a CPU to shut down and even burn out a motherboard. It is a serious problem that can be avoided with some preventative maintenance and a bit of common sense.
CD/DVD Drive Problems
If a CD or DVD drive fails it used to limit the amount of productivity you could get out of your laptop. Now we have USB ports and direct internet downloads so these drives aren't quite as essential as they used to be. Still, if you are having problems with your drive you can check out these troubleshooting articles.
We hope you've found a solution to your laptop hardware problem in our laptop repair and troubleshooting guide. If you have, that's fantastic! If not, let us know. We are always happy to help, in fact, it's what we do. Leave us a comment and let us know how we're doing.
References