Beautiful Dorena Review: A Cow-Filled Paint Program for Mac OS X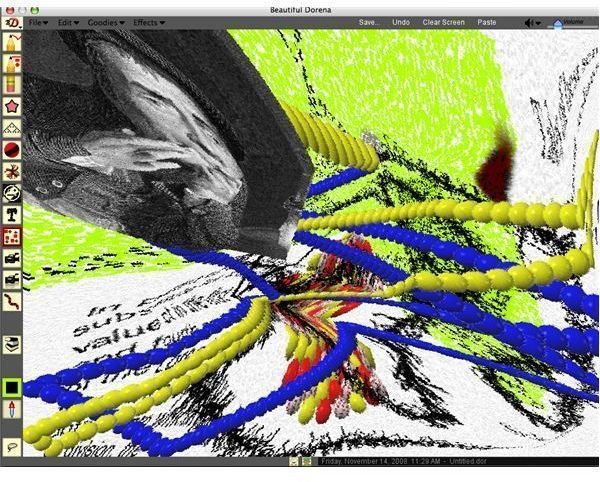 Ever since Apple stopped including Appleworks with the software bundle that comes with the new Macs (yes, I'm still bitter about it), I have been looking for a good paint program. Sure, Appleworks paint wasn't fancy, but it got the job done if I wanted to make something simple and nice. If you are like me, you can't afford (and don't really need) Adobe Illustrator. I'm not a professional graphic artist, I just want to make cards for my friends and family. After scouring the internet I found the perfect freeware paint program for my Mac.
Enter Beautiful Dorena. When you open it, the application tells you hello (yes, it speaks). That's a nice touch. None of my other applications welcome me when I open them. It has all of the standard features of a normal paint program. You can draw or paint with different colors. You can erase and make shapes and fill in. But the best part about Beautiful Dorena is all of the unique features it has that aren't included with other paint programs.
For one, not only does Beautiful Dorena give you the option to draw in a straight line, it also gives you the option to draw in a squiggly line, or a bad handwriting line or a graph line. Also, as you draw it plays music in time with your mouse movement (sometimes a cow moos). It's really fun.
If you want to add text or a picture you can do that too. Only the text can be something you write, or a quote from Emily Dickinson, Hamlet, The Canterbury Tales or a common saying. It's hilarious to see what will show up. As for pictures, there is a large library of clip art available in Beautiful Dorena. Most of it is actually quite beautiful while some of it is plain silly. Also, you can take pictures of yourself with the program using your iSight camera and paint over them.
Using Beautiful Dorena is less like using a boring old paint application and more like playing a game. It gives you all of these silly options because in reality they will push you to be more creative. Does Adobe Illustrator do that? I don't think so.
Masterpiece
This post is part of the series: Freeware for Mac OSX
There are plenty of cool applications designed specifically for Mac OSX which are completely free. I will introduce you to the best of what's free for Mac OSX, why it's so cool and where to download it. Go ahead and keep your money for something more important.