Senuti Review: Copy Songs from iPod to Mac with this Freeware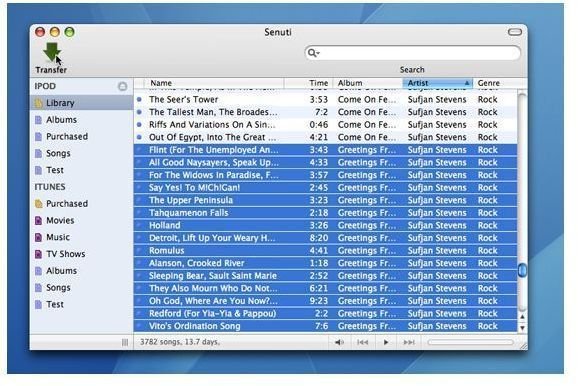 Senuti
Ever want to erase a song in iTunes yet keep that song on your iPod, but when you sync your iPod to you Mac iTunes erases the song from your iPod too? Yeah, that's annoying. Apple put protection like this in place on purpose to prevent the stealing of copyrighted material, but it also prevents their very users from controlling their music and movies the way they want. Well, now you can get around it with the wonderful freeware application Senuti. While there are other applications that allow you to do the same thing, they all cost you some hard earned money. Senuti does everything those other applications do for free, and it's easy to use too.
Senuti allows you to copy a song from your iPod into iTunes without iTunes interfering. The interface is similar to iTunes and it looks very at home in Mac OSX. With a few simple clicks and drags you can copy anything you want from iPod to iTunes. It works like a charm, but it does take a little bit of setting up to get it to work properly. Fortunately, Senuti has a great help menu to aid you in the process.
After you've set it up so iTunes stays out of your hair; all you have to do is drag a song from your iPod into iTunes right inside of Senuti's window, and it copies itself into iTunes automatically. Even better, Senuti puts a little blue dot next to all the songs you already have on your computer so you won't waste time and space by copying them again.
If you want to have the ability to transfer your music and movie files around like you should be able to, download Senuti today and get started. You won't know how you ever lived without it.
Senuti looks a little like iTunes
This post is part of the series: Freeware for Mac OSX
There are plenty of cool applications designed specifically for Mac OSX which are completely free. I will introduce you to the best of what's free for Mac OSX, why it's so cool and where to download it. Go ahead and keep your money for something more important.