Free Word Processing for Mac OSX: FreeWare Programs Bean and NeoOffice for Your Macintosh OS X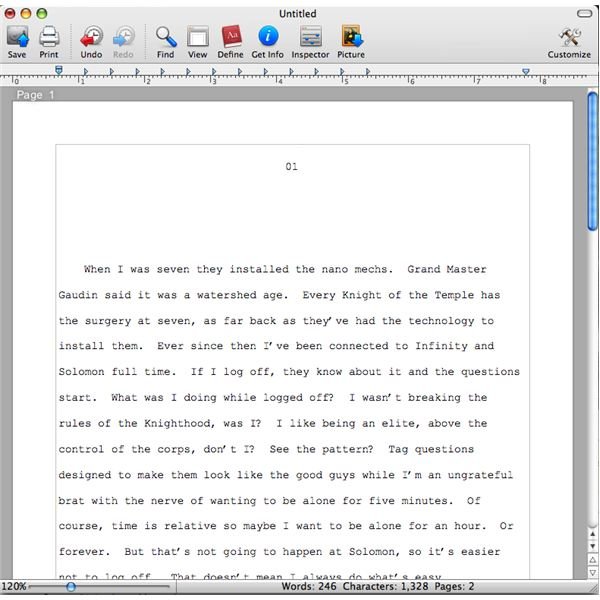 Bean and NeoOffice
One of the most basic programs on any computer is a word processing program. Unfortunately, Apple has forgone their old free word processing application, Appleworks (formally ClarisWorks) and opted to let their customers spend $79 for iWork or $120 for Microsoft Office. While I like Microsoft Word, not everyone has that kind of money, and Text Edit does not cut it when it comes to writing anything of length. Luckily there are some freeware word processing applications for Mac OS X that are just as cool.
Bean
Bean is a simple word processing program. It is more advanced than Text Edit, but it doesn't do anything fancy like Word. It allows the user to write and edit text, do word counts, and a number of other very simple tasks. The files are saved as an RTF or Text file, but they can be converted to Word files (.doc, .xml and .docx) with some formatting issues, like the loss of pictures.
Bean's screen is large and looks similar to Word without all of the clutter. Plus, it is intuitive to use. The preferences are all a writer could ask for. You can set the standard font and margin size quickly so you can get back to writing. You can also customize the toolbar which is extremely handy, as it is sparse at first glance.
However, Bean does not have the ability to add headers or footers to your document. This is a major draw back if you need to add page numbers, but you get what you pay for.
Bean is great if you just need a simple program with which to write. If you are doing any kind of academic or professional writing, however, you may want to look elsewhere.
NeoOffice
NeoOffice is a well-rounded word processing program, similar to Word. And, like Microsoft Office, it also comes with spread sheet, and database programs. While it has more options than Bean (it does have the ability to add headers, footers and page numbers), it is a bit unreliable. You must save often to prevent a bug from crashing the application and losing all of your hard work.
As a word processing program it is only slightly more advanced than Bean, yet it isn't nearly as intuitive. There is no preference setting for font and format, so every time you open the program you must change it manually. After several times this can get annoying. In appearance it is actually very similar to Word, although less cluttered.
NeoOffice does offer several additional file types in which to save your documents: All Word files (.doc, .xml and .docx), Text, RTF, OpenDocument Text and Star Writer. Even better, the Word files do not have any formatting problems.
NeoOffice is a nice program to have if you can't afford Microsoft Office, just remember to save.
All in all, if you need a good word processing program for your Mac go with NeoOffice if you need it for serious writing and Bean if you need it for casual writing. They will both do the job well.
Bean and NeoOffice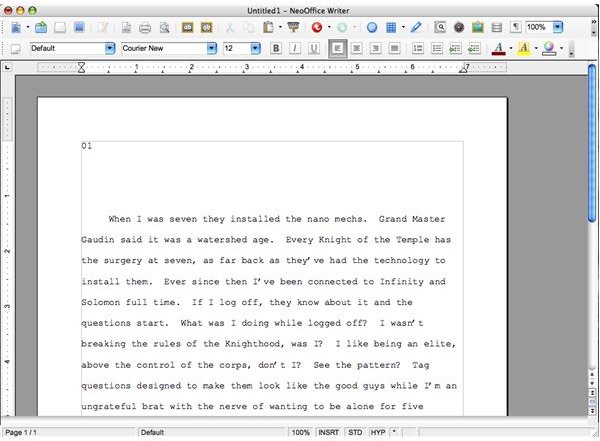 This post is part of the series: Freeware for Mac OSX
There are plenty of cool applications designed specifically for Mac OSX which are completely free. I will introduce you to the best of what's free for Mac OSX, why it's so cool and where to download it. Go ahead and keep your money for something more important.