Create Awesome Certificates: Templates, Tutorials, Tips & More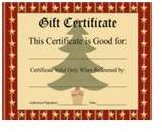 Certificates can be used for so many different occasions, and we haven't forgotten that when compiling this guide to creating your own certificates. Our first few sections take a look at templates, free printables, and utilizing borders to produce a certificate to suit any event.
If you want to go that step further then we have some awesome guides, tips and tutorials for creating your own design no matter what software you have.
We also haven't forgotten those finishing touches to make your certificate look its best with resources and tips on clipart, using dingbats, choosing the best font, and even the best way to print the finished design. Let's get started!
Templates
Templates are a wonderful place to start our certificate guide as they are just so versatile and easy to use. We've covered some general and specific occasion templates here, but don't forget that you can also adjust them to your needs. So if there aren't any templates in the Christmas section you like, take a look in the general section and add some festive clipart and a jolly holiday font to complete the look. Use them as they are, or just a starting point to create your own design. Some of these are so easy you can just click inside them to type the name of the recipient and the occasion and you're done.
If there aren't any templates here that suit you, then continue on to our free printables, or our free borders section for more designs to get you started.
Make It Easy With Free Printables
Free printables do exactly what they say! They are really easy to use and just print out as they are, or you can even customize them with clipart and dingbats (see section further down for help with this). If you're in a hurry though and want a great design straightaway, this is the section you need.
Use Borders to Create Certificates
Usually it's advisable to stay away from using a background in your certificate design – there are exceptions of course, but make sure it doesn't invade the text. For this reason, the majority of the focus will be on the border of the certificate. These are usually quite elaborate affairs and there are some that can be themed appropriately to your type of certificate too. We kick off with some top certificate borders with other borders thrown in that would be appropriate to use. There is even a holiday collection – great for those gift certificates.
Top Tips & Tutorials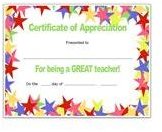 If you want a little more creative control over the finished look of your design, or you want to start with something unique from scratch, then look no further than this selection of tips and tutorials that cover all the important areas of certificate design. No matter what type of certificate you are designing the use of color and abiding by some simple page layout principles can be the difference between an amateur look and a professional one. As well as some general tips we also look at some tips and tutorials using popular software; for example, see how you can change the color of a border or image when using GIMP.
Fonts & Wording

The wording on your certificates is extremely important, it's not just about choosing the right font (although that is important), it's about choosing the right words too. It's also easy to choose an elegant looking font of grandeur in your certificate and forget about the readability – just one of the cases of bad typography you should avoid.
Bring Your Certificates to Life With Clipart & Dingbats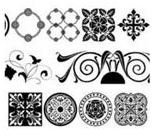 Of course your certificate would be nothing without adding some visual appeal in the form of clipart or dingbat fonts. If you are going for a more understated approach then an elaborate border and appropriate font may be all that you need, but for many certificate designs, they are really improved with adding some images. There are some great round-ups here of clipart collections on particular themes that would suit certificates such as math clipart, graduation clipart, congratulations clipart, as well as just generally great places to find clipart for you.
Don't dismiss dingbats either. They are really easy to use and our first article here will explain everything you need to know.
Now for the Printing!
The final piece of the certificate jigsaw is the actual printing out – now you have an awesome looking certificate you don't want to fall foul of using the wrong paper or tripping up with formatting problems. This selection of articles will put you on the right track, and even look at which type of printer is best, depending on how many you have to print.
That rounds up our guide to making certificates, but if you think we've left anything out or have a tip to share then please leave a comment below.
References