Android Apps for Managing Calls and Contacts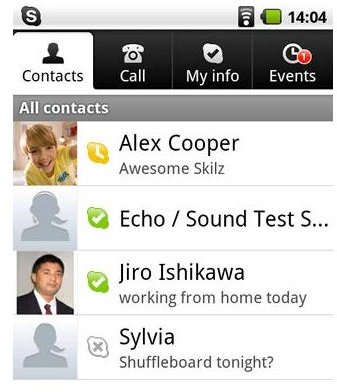 Managing Calls with a Digital PA
There really is only one way to keep on top of incoming calls when you're busy or disinclined to answer the phone yourself – make use of a digital personal assistant. While you might not be able to take it out for coffee, software of this kind makes it very easy for you to manage your calls. For instance, you may use an app that announces the name of the caller, or even completely block and divert calls based on the number (naturally, emails can also be blocked). Android users can also take advantage of apps for recording phone calls, useful for interviewing.
Skype and Other VOIP
We all know that making a phone call is a case of dialling a few numbers, but not everyone uses their phone as a primary means of communication, not when cheaper alternatives exist, such as Skype and other Voice Over IP solutions.
It is a good idea to be aware of these apps, both to stay in the loop with the latest methods of communications among your peers and to save some money on phone calls. Remember that VOIP solutions also facilitate the use of video calling, something that is steadily growing in popularity.
Syncing Contacts
One of the key requirements for many mobile phone users is the ability to synchronize contacts between multiple devices, usually a phone and a PC. With Android, it isn't entirely necessary to do this as your Google account will sync your contacts with your phone, and these can then be accessed on your computer via the browser.
However, this isn't always enough; fortunately, there are ways to sync an Android phone with Outlook, or even import contacts from a BlackBerry!
Managing Your Contacts
Once your contacts have been synced, you will need to begin managing them. There are various ways of doing this, such as editing or adding new contacts, deleting entries in your address book and even linking up duplicate contacts with different details. Different contact management options are also available if you are using an HTC Android phone, running the HTC Sense user interface.
Various contacts apps are available for Android, and there are different ways of accessing them, either directly from the contacts list or via useful widgets that can be downloaded from the Android Market.
Social Networking and Mobile Contacts
Many of us use social networking services such as Windows Live, Facebook and LinkedIn, and these can offer additional sources for contact information for friends and family. With Facebook it is possible to sync your friends details with your phone, a feature that offers considerable functionality and is a great example of how services are slowly colliding across different platforms.
Ringtone Stuff for Android
As well as syncing and managing contacts from various sources, you can also manage ringtones on your Android. You might need to send a ringtone from one phone to another, or simply select a ringtone for a specific caller. Alternatively, you can create and apply your own ringtones by capturing audio from an MP3 and trimming it down to size!
PIM Tools for Android
The ultimate contact management tools for mobile phones are known as PIMs – Personal Information Managers. Designed to help you keep all of your contacts, messages and phone call history stored, PIM apps can export data in various formats and these should be saved to your PC or your Android storage card for safe keeping.
If ever you plan to perform a hard reset or if you lose your phone, a PIM backup will prove very useful.
References