How to Add a Guestbook to Your Site Using Dreamweaver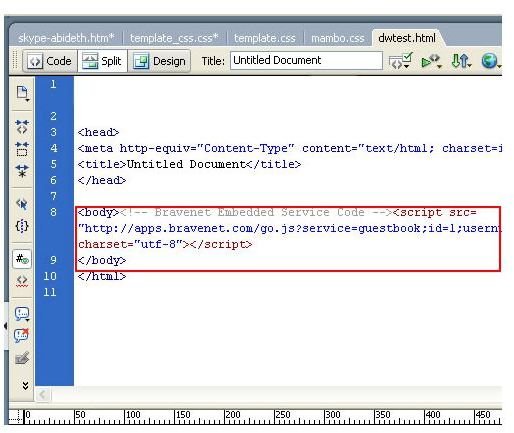 Guestbooks are very popular because they are a great way for your visitors to leave feedback and tell you what they think of your site. You will find that there are many different guestbooks that you can download and use in Dreamweaver. Most of these guestbooks are free to use. You can customize most of the guestbooks that you download. Once you have downloaded your guestbook and customized it, you can easily insert it into Dreamweaver. Let's take a look at how to add a guestbook to your site using Dreamweaver.
You will first need to find a guestbook that you want to use. There are many free guestbooks online. For this tutorial, let's use a guestbook from Bravenet. On the frontpage, you will see the Guestbook link, click that link. Click the Get Your Guestbook link on the next page. If you are not a member of Bravenet, you will need to join before going any further. Becoming a member is free. If you are already a member, go ahead and sign in.
Now you should be on the setup page for the guestbook. On this page you will need to enter the title of your guestbook, a description, the url of your website, and choose your theme. Once you have filled in the fields, click the Save and Continue button. On the next page you will see the Get Code button at the very top of the window. Click that button and the code box will open. Copy the code in the first box.
Adding the Guestbook to Your Site Using Dreamweaver
Now you are ready to add the guestbook to your site using Dreamweaver. Open the page in Dreamweaver that you want to add the guestbook to. You can create a new page if you want to and name it guestbook.html. The code that you just copied will need to be pasted in the code window.
To view the code window, click the Code button. Right click and paste your code between the two body tags. Then save the document as an html document. Go to the top of your Dreamweaver program and click File > Preview in Browser > and choose the browser that you want to preview it in. The browser will open and you will see the guestbook.
If you are satisfied with the guestbook, you can upload the page that you just created to your server. That will place the guestbook on your server. If you need to edit the guestbook, you can go back to your Bravenet account and edit it from there. You will probably find that it is best to create a guestbook.html page to add your guestbook to. That way, the guestbook has a page of its own.
Adding this guestbook to your site using Dreamweaver is very simple. You can choose to use another guestbook if you would like. It all comes down to you need the code to insert into Dreamweaver, then you will need to upload that page to your server.
This post is part of the series: Dreamweaver Tutorials
This collection of articles is aimed at providing education about the software program Dreamweaver.