How to Apply Pop Up Messages to Links In Dreamweaver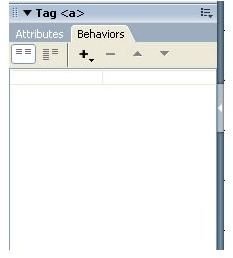 This tutorial will show you how to apply pop up messages to links in Dreamweaver. Applying pop up messages to links can sometimes be annoying but on the other hand can be useful. I will leave it to you to decide. You may have a good reason to use the pop up message. I will show you how to apply the message to the link and you can go from there.
Open your Dreamweaver program and create a new html document to work on. Then type something on your document and link it. You can do a test link by typing # in the link field.
Highlight the link that you created and click Window > Behaviors. That will open the Behaviors panel on the left side of your screen. It may be on the right side of your screen, depending on how you have your windows setup. You are looking for the panel below.
Behaviors Panel
In the Behaviors Panel you will see the plus sign. Click the plus sign and a menu will drop down. In the menu you will need to look for Popup Message and click it. A box will open and this is where you will need to type your message. This is the message that will pop up when someone hovers over the link. Type what you want and click OK.
Changing the Properties of the Behavior
Now I will show you how to change the properties of the behavior. You can choose to have the message popup when someone places the mouse over it, when someone clicks it, or whatever you want to set it to.
Highlight your link and click the behavior in the panel. You will notice that a drop down box appeared. Drop the box down and select your option for the message.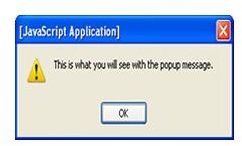 Previewing your Popup Message
To preview your message, you will need to save your document. You can press CTRL S on your keyboard. Then go to the top of your window and click File > Preview in Browser > and select the browser of your choice. The browser will open and you will see the link. Mouse over it, click it, or whatever you set for the behavior. The message that you typed will popup and you will have to click the OK button to close it.
That is how you add a popup message to a link in Dreamweaver.
This post is part of the series: Dreamweaver Tutorials
This collection of articles is aimed at providing education about the software program Dreamweaver.