The Bookshelf-Free Guide to iPhone Reading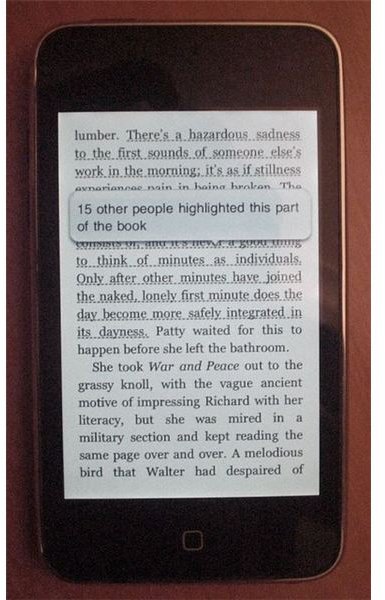 Although the iPhone doesn't have the biggest screen, it does come in pretty useful as a reading device for many different types of media. Of course we all know about newsstand on iOS 5 and Apple's own iBooks app which allows you to take many books with you, all stored on your phone. Even if you aren't in the mood to read a full book, there are plenty of reading apps out there that are bound to suit you. Whether it's news, comics, magazines, or storybooks for the kids, this guide is exactly what you are looking for.
Top Ten Free Reading Apps for iPhone
Your first stop for all things reading related on your iPhone should be this round-up of the top ten apps in the reading genre. You'll find something for everyone here including general news, music news, comics, book apps, e-book readers, blogs, stories for kids and virtual magazines and newspapers. There's bound to be something to keep you happy in this selection and they are all guaranteed to be highly rated options.
Best E-Book Readers for iPhone
If the only reading you are likely to be doing on your iPhone is consuming lots of lovely e-books, then this round-up is the option for you. We've herded together five of the best apps and each includes a mini review too. Of course we've included top options like iBooks and Kindle, but if you are looking for some other options we have those too. Each offers millions of different titles with a host of other features like bookmarks, altering the font size etc., all of which adds up to a satisfying reading experience.
How to Find Free E-Books for iPhone
E-books are all very well and good, but the price of some of them can make you wonder whether it's not just worth buying the hardback original instead – with some new releases especially, it's hard to justify the cost. The apps here will help you to find some great e-books with the added bonus that they are completely free. So you can enjoy some wonderful texts even with no cash to splash.
If you don't opt for the stock choice of Apple's iBooks, then Kindle may be your next app of choice – not least because Kindle books can be read on multiple devices from Kindle readers to iPads, and dare I say it, even Android phones. This how-to guide will make sure that you are on the right page from the very start, with some tips included to help you get the most from the app.
The PressReader app can give you access to 1,800 newspapers worldwide, including some local options too. Once you've downloaded the app you can subscribe to your chosen paper, pay a subscription and never worry about missing an issue again. The price may be a little questionable, but read our full-length review for more information to see if you think the cost is worth it.
If you decide that the PressReader app (above) isn't the app for you when it comes to reading a newspaper on your iPhone, then our round-up of news apps may be more to your liking. Of course there are general news options included in our list, but there are also some great newspaper apps such as the New York Times and the Huffington Post, which might be worth considering.
Sometimes reading a book on your phone isn't what you are in the mood for, and some may argue it's not the best device for such activity anyway. Why not make more of the super iPhone screen and download some of these great magazine apps instead. The images are guaranteed to look amazing and you can just pick it up and read snippets here and there, at your leisure. We consider some magazine readers and newsstand options as well as specific magazine apps depending on your interests.
Review of the Read it Later App
This is a great all-rounder of an app that will make sure you are never without anything to read, even when you don't have a data connection. The Read it Later app is free to download and basically works in many other apps, including Safari, so that you can add articles and snippets of info to your Read it Later files while you have a connection and can then read them in full later on, no matter where you are. It's great for saving on your data fees and is easy to use. Find out what else it can do for you in our review.
5 Must Have iPhone Comics Downloads
Although you may question viewing comics on the small iPhone screen, some of these apps are pretty good at bringing the fun and vibrancy of comics to your super-duper retina display. The great advantage here that the iPhone has (as with many of the apps in this guide) is that you get added fun and functionality rather than just the printed page. No matter where your comic allegiances lie, you'll find an awesome option here for you.
Whether it's for work, or you have a brochure or newsletter to read on the go, the favored format is PDF. Never fear though, because these PDF readers for your iPhone will mean that you can catch up on whatever you need to, without worrying about file formats. You can easily zoom in to relevant sections, search for text, and bookmark your place in a hurry when you need to take a call, and pick up where you left off later on.
When looking for something a little more uplifting to read than gossip magazines or the latest Jackie Collins, many people turn to the Bible. Being the Bible it deserves a little special attention, rather than just any other book on your virtual shelf, so we've brought together some of the best Bible apps here. There are several Bible versions to be had, or for salvation in a hurry take a look at the Verse of the Day app.
Top iPhone Audio Book Applications
Using an audio book app may seem a little bit like cheating, but they are not to be dismissed. Audio books are extremely useful when you don't have your hands and eyes free, but want to enjoy a good book – in the bath, on a run, or even when doing the weekly shop. We've rounded up the best options to put on your iPhone and many of them offer some free audio books too.
Review of the Reading for Kids App
Ease your conscience after all that enjoyable reading you've done and pick up some tips on how to encourage your children to read more too. The intended audience is for both parents and teachers and it offers up lots of useful advice on not only getting your kids to read but to enjoy it too. This full-length review of the Reading for Kids, 100 Ways to Encourage your Child to Read app will give you more of an insight.
It's well documented that a calming bedtime routine helps a child sleep better, and one vital part of this routine is the bedtime story. Now even if you are away from home or just don't have a book to hand, your iPhone can come to the rescue with some great storybook options. Even if you don't use them at bedtime it's a nice way to help your child gain a love of books and stories as there are often interactive elements to keep their interest.
Whatever your reading preferences are, I hope we've covered something here to satisfy your interests. Have we missed any of your favorite iPhone reading apps? Leave us a comment below.
References