How-To Guides and Tips for Google Blogger Users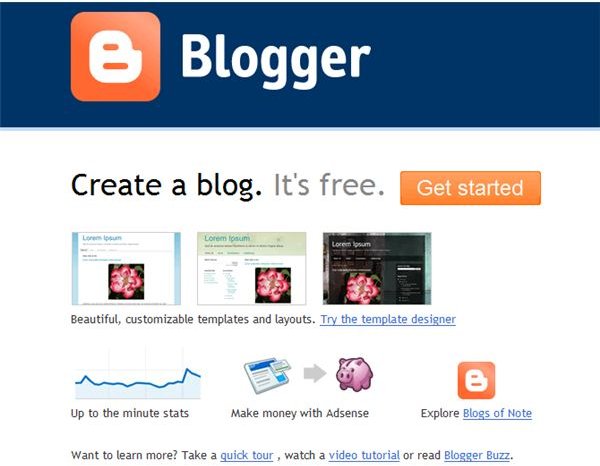 Blogger's simple user-interface and plenty of customization options are some of its key features that entice users. Using a wide range of tools and widgets, you can easily customize pages, add widgets and create unique blogs by manipulating templates. Surely, you would love to have a step-by-step guide to learn the basics first and then you can browse through our tutorials to learn more about these tools.
In this guide, we have included step-by-step tutorials and tips for Google Blogger users. Everything from creating an account to publishing your first blog to promoting your blogs can be found here. So, what are you waiting for? Just sit back, relax and go through our tutorials and tips.
The Basics: Getting to Know Google Blogger
If you are familiar with the Blogger interface then you might want to skip this section. However, there's nothing wrong in brushing up on blogging basics once again. May be you will find some new tips that you might not have uncovered yet. If you are a newbie, then this is the perfect place to get your basics right. Here we look at creating the first account and getting familiar with the dashboard. You will also learn how to publish blogger posts automatically and move elements into your Blogger page.
Change the Look by Adding New Backgrounds, Layouts and Themes
Now you know the basics and are familiar with the Blogger interface, we will move on to some useful tips on Blogger layout and design. In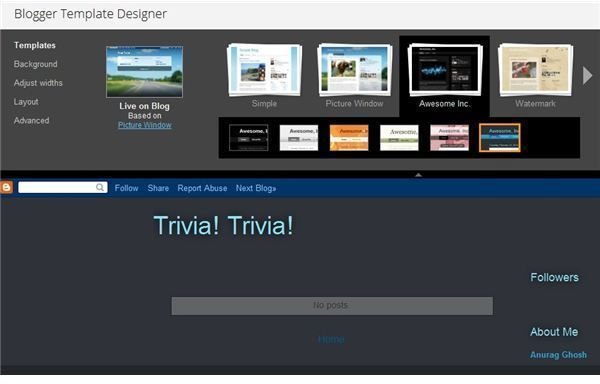 this section, you will learn how to upload and install a blogger template from scratch or create your own personalized banner. You will also find out what are the best background and theme options for your Blogger blog.
There are some great articles here on free blogger backgrounds, themes, layouts and templates. Also, an article explaining the benefits of having your own custom banner will help you a lot in making your blog look professional.
Spice Up Your Blog with Google Gadgets
So, you have a brand new layout and a beautiful design for your new blog. Congratulations! Now can we move on to some serious stuff? After you've experimented with the design and layout, it's time you get familiar with Google Gadgets. These miniature objects offer additional functionality to your blog layout and range from basic widgets to popular and fun gadgets.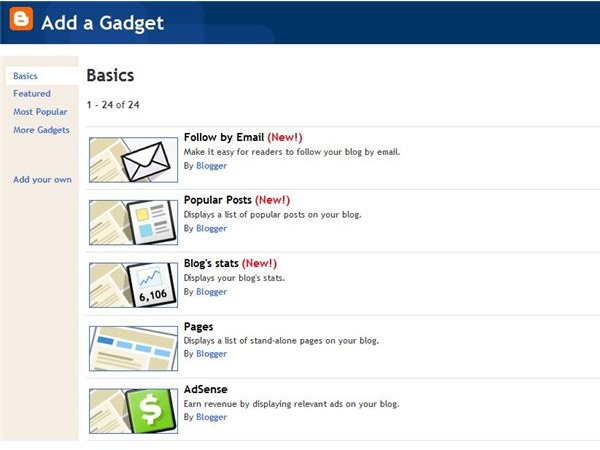 Here you will find step-by-step tutorials to integrate basic and advanced gadgets into your blog. Learning how to add different gadgets is fun and seriously can attract more traffic to your Blogger blog.
Tips to Promote Your Blog and Improve Its Usability
You may feel a bit more confident now that you have learned how to blog, tweak your blog layout, add a background and integrate Google Adsense or a Twitter gadget into your blog. Oh wait! There are plenty of things to learn, including promoting blog posts, filtering spam comments and fixing common Blogger problems. In this section, you will learn how to import and export your posts, add videos and turn off dates on your Blogger blog. We have a good collection of tutorials and tips that you may find quite useful once you go through them. We also have some great articles that provide tips on unlocking your blog and improve your blog content with useful tools and hacks.
Hopefully these step-by-step tutorials and tips will assist you in creating a top-notch blog. If you have some doubts or questions, feel free to leave a comment and I will try my best to answer them. If you have some great blogging tips to share, don't hesitate! We would love to hear some tips from you.
References
Google Blogger Screenshots Provided by Writer
Author^s own experience