Guide to Windows Media Center Tips and Troubleshooting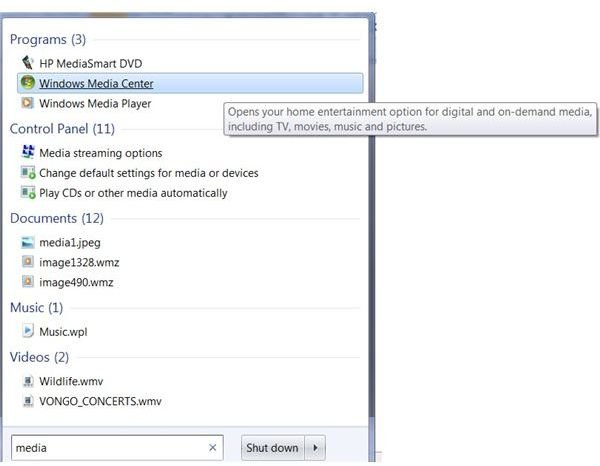 Getting Started
Before you can use Windows Media Center, you need to make sure that you have it installed on your computer. It is included in Windows XP Media Center Edition, Windows Vista Home Premium and Ultimate editions, and Windows 7 Home Premium, Ultimate, Professional, and Enterprise editions.
It is easy to find out if you have Windows Media Center on your computer. Click Start and scan the Start Menu. If Windows Media Center is listed, click on it to launch the program. If you do not see it there, dig a little deeper. In Windows XP, look through your list of Programs. In Windows Vista or Windows 7, type media into the Instant Search box at the bottom of the Start Menu. If you have Windows Media Center, it will appear in the list of results under Programs. Click on it to launch and begin using WMC.
The first time you start it, you will need to set up Windows Media Center. You can use the Express Setup option to get started and jump right in, or you can select the Custom Setup option for more control over your features and settings.
Windows Media Center Basic Features
Once you have located Windows Media Center on your computer and performed the initial setup, you can begin to enjoy its many features. Features vary by operating system, with Windows 7 currently offering the most features, such as an integrated viewing guide that allows you to search live and Internet programs at the same time, a desktop gadget for one-click access and touch-enabled interface for touchscreen computers.
Other versions have some terrific features as well, though. For instance, the Vista Media Center offers a viewing guide as well, and you can watch live TV in Windows Vista Media Center as long as your PC has a TV tuner. In fact, with a TV tuner and Windows Media Center, you can use your computer like a DVR. You can pause, stop and rewind live television programs. You can even record television programs and series using Windows Media Center.
Advanced Features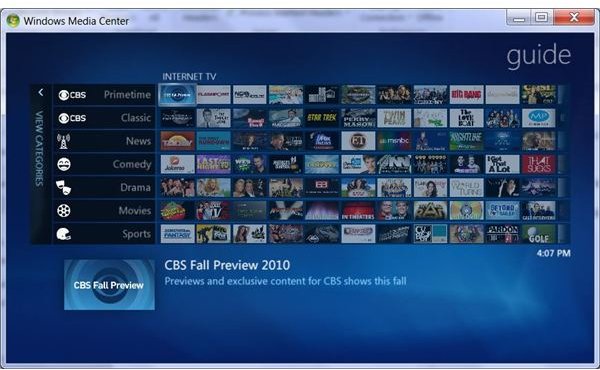 If you have ever used a DVR, you will appreciate Windows Media Center's advanced record options. These allow you to control the frequency of the shows you record, customize the start and stopping times and more. When you have recorded all of your favorite programs and take the time to watch them, be sure to check out the additional Media Center options for watching recorded TV. You can view program information, burn shows to DVDs and more.
Do you have an iPhone? If so, one of the cool things you can do with your phone is to use it as a remote control for Windows Media Center. Yes, there is an app for that. iPhones are not the only device that you can use in conjunction with your Media Center computer. You may be surprised to learn that you can use an Xbox 360 as a media extender on your home network with Windows Media Center.
You can add videos and photographs to your media library, keeping them right at your fingertips whenever you want to check them out or show them to someone else. Or use Windows Media Center to turn your computer into a video jukebox.
There are ways to customize your Media Center application, as well. You can go back into the settings menu and make changes there. You can also use additional software add-ins to hack your settings and personalize the program to suit your needs. There are several Windows Media Center freeware programs that you can download that will allow you to perform additional tasks, such as check out the weather or watch online videos using WMC.
Troubleshooting Tips
While most people find Windows Media Center an easy to use, enjoyable program, there may be times when it does not work quite as you want it to. For example, if you are unable to view a certain type of video, you may need to update audio and video codecs. You might also experience problems with Media Center when you use an Xbox 360 as an extender or when you have corrupt files in your media library database.
If all else fails or you simply decide you do not wish to use it, you can turn off Windows Media Center.