How to Save Your Documents in Adobe Page Maker 7.0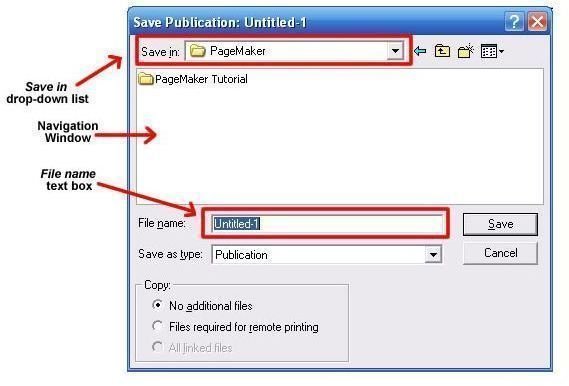 PageMaker gives you two options for saving your documents:
1. Use the Save command
To save a new document
To save any moifications that you make to an existing document
2. Use the Save As command
To re-name an existing file
To save as a template
To save in a PageMaker 6.5 format
To compact a large file
How to Use the "Save" Command
Use the Save command to save a new document as well as any additional changes you make to a document that you have previously saved. Here's how to save your document using this command:
Click on File and then select Save from the drop-down menu. Clicking this option will open the Save Publication dialog box.
Use the Save in drop-down list and the navigation window to navigate to the folder where you want to save your document.
In the File name text box, type in the name of your file. For a new document, this replaces the document's default name from Untitled.
In the Save as type drop-down list, select the desired file type: Publication, Template or A copy in 6.5 format.
When you are done, click the SAVE button. PageMaker will save all modifications you have made since the last save.
Using the "Save" Command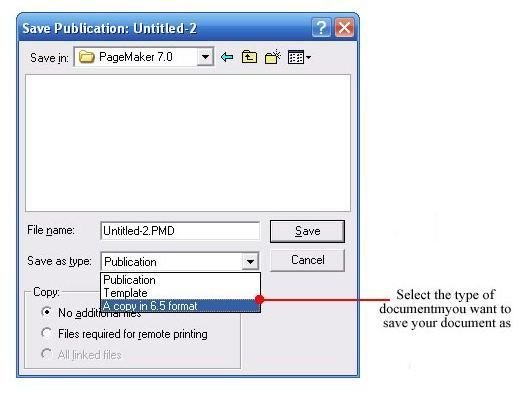 How to Use the "Save As…" Command
Re-naming an Existing File
When you use the Save As command to re-name an existing file, PageMaker saves a copy of the document under the new name, leaving the original-titled file unchanged from the last time it was saved. The new file name will now appear in the title bar, and any further modifications will be saved to the new file.
Saving as a Template
You can save the formatting in a particular document by saving it as a template. This template can then be used in subsequent documents, and this saves you time by not having to format all over again.
Saving in a PageMaker 6.5 format
Saving your document in the earlier 6.5 formats makes it possible to share your documents with users who don't have Adobe PageMaker 7.0
Compacting a Large File
If you have a large document that is hogging disk space, you can use the Save As command to compact it to take up much less disc space.
Open the File menu and select the Save As option
Do not change the file name. Click on the Save button
Click Yes when prompted whether you want to replace the existing file.
Once you click Yes, PageMaker will reorganize and save the file to take up less disc space on your drive.
Quick Tip
The Save As command can also be used to save a new document.
Using the "Save As" command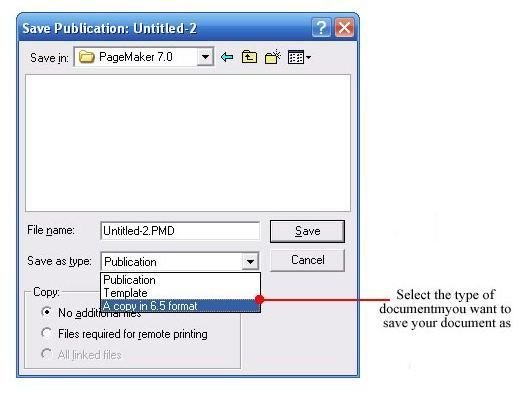 This post is part of the series: PageMaker 7.0 Basics
This series of Adobe PageMaker tutorials provides step-by-step instructions on using PageMaker to create professional, high-quality publications such as newsletters, brochures, reports, pamphlets, newsletters and other publications.