Free Wedding Fonts: Elegant Fonts For Wedding Invitations

For More Than Just Invitations
Even though all of the wedding fonts in this list will work beautifully for your elegant invitations, they can also be used for several other projects as well—including modern Save the Date cards, Thank You Cards, wedding programs, and bridal scrapbooks. You may also want to team them up with a great free wedding dingbat font if you'd like to add an image, frame or border to your project.
To download any of the fonts in this guide, just click on the linked font name.
Chopin Script
Chopin Script is a great choice for those looking for a more traditionally elegant wedding font. The Chopin Script font uses numerous swirls and curves, at least on the capital letters. But the typographer toned down the swirls on the lower case letters, making it easy to read.
This font is especially ideal for creating invitations and other wedding documents because there's no need to switch to a plainer font for addresses, dates and other critical information.


English
As far as script fonts go, English is more subdued than many of its counterparts.
The letters are a little more stylized — as opposed to the more organic-appearing calligraphy that many type faces rely on. English may appeal if you're looking for something a little crisper and cleaner than the typical script fonts.



Freebooter Script
Freebooter Script is a fun script font. Beyond the name, this font curls together creating a tight but classic appearance.
While it's great for names and accenting a wedding invitation, you might consider pairing it with a simple serifed font for the important information in your message, especially if it is numerical. The numerals 1 and 7 are notoriously difficult to tell apart in this font, despite their attractive appearance.



Champignon
With its slender letter forms, Champignon is typical of an older style of script fonts.
Its classic style can lend a certain stately air to a wedding invitation, especially if you download the secondary font available as a companion for Champignon. The secondary font package allows you to embellish letters of your choice with swashes, offering an easy way to make your text unique.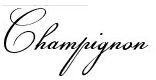 Other Free Script Fonts
Many free font sites offer a database of script fonts, such as that offered on the Dafont website at www.dafont.com, where you can find each of the fonts discussed above. No matter which font you use, however, it's worth testing the readability of the text.
Ask one of your elderly relatives to read your invitation to make sure they can make out important information, like the date of the wedding. If they have difficulties, you may want to limit your use of script fonts to accents or the names of the wedding party.
For the do-it-yourselfer, here are some more tips on creating your own wedding invitations:
Also, check out Finding and Using Free Fonts for Windows for links to fonts that can be used for a variety of desktop publishing projects.
This post is part of the series: Free Fonts for Desktop Publishing
No matter what event or holiday you are planning, if you are creating flyers or invitations for it, you'll want a font that's appropriate for the task. This series uncovers the best fonts to use for your desktop publishing projects, and better yet, every one of these fonts is free.