Finding Great Serif Fonts for All Occasions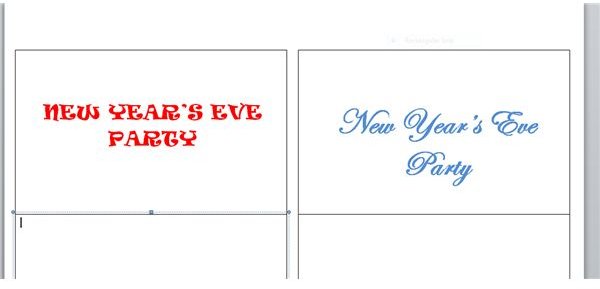 The Effects of Font
Typeface varieties provide an easy way to render an artistic expression of your written words. Just take a look at the image showing two
possible New Year's Eve party invitations. There is no artwork or background coloring in either one. Based on the font style, which party do you think requires more formal dress for a sophisticated soiree, and which one will be get-down-funky and fun?
Up until recently, web developers have utilized sans serif fonts over serif style because sans serif's simplicity makes an easier read on the digital page. But there's no denying the popularity of serif style fonts—the party invitation on the left, printed in red, is done in Ravie, a happy-go-lucky serif font. The elegant blue script on the right is Edwardian, a brush-script style sans serif font. There are resources right here on Bright Hub to help you learn more about serif fonts and why you should consider them among your artistic choices.
About Serif Typefaces: Examples & History
The embellishments at the ends of the letters—hooks, legs, loops or whatever you like to call them—date back to the days of the Romans, who used them to give emphasis to the words they chiseled in stone. Learn more about the development of fonts, including oldie but goodie Garamond, which (incidentally) was chosen by our Founding Fathers to typeset extra copies of the Declaration of Independence.
What's the Distinction Between Serif and Sans Serif Fonts?
Although I've provided a tidy little explanation above, this writer teaches in greater detail everything you need to know about the difference between these two categories of fonts. Remember that no matter what people say about readability of fonts, it all boils down to the typeface designs that convey extra meaning to your words.
You will gain an additional knowledge of serif fonts here, plus learn about fixed width or the use of script—and yes, there are serif script fonts. And, if you've never heard of dingbats, you'll get a brief introduction here. Dingbats are not serif fonts, but if you want a comprehensive understanding of fonts, then add the information in this article to your knowledge base.
That's About the Size of It
Now that you've got an understanding of font types, you'll want to focus on selecting the best fonts for the job. One factor that comes into play is font size. Anybody younger than a Baby Boomer is unlikely to remember that back in the olden days, we had just two typeface sizes to choose from—pica (10 characters per inch) and elite (12 characters per inch). Today they are measured in points.
Certainly you've noticed that a font in one "size" (points) might look larger or smaller than a different font that's supposedly the same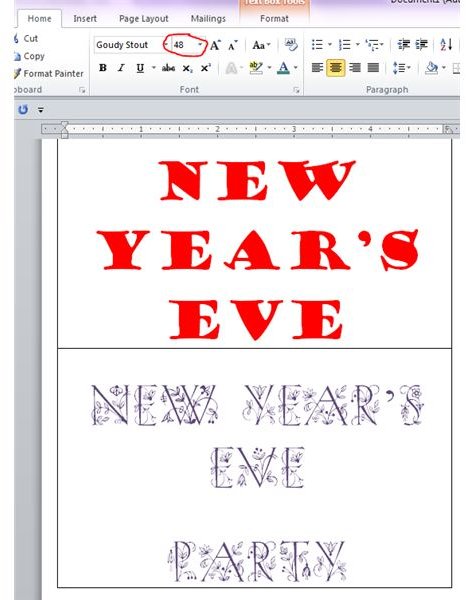 size. In the image to the right, in the top panel I've used Goudy Stout, and in the bottom you see Lilith (a free new font that I downloaded—more about that later). Both of them are 48 point serif fonts, but the Goudy Stout print is too big to fit in the same panel as the Lilith. You can see where I've circled the 48, and you know if you click that Word will offer you other font sizes. However, if the preset sizes don't suit your needs, just highlight the number and type in your own. The font will set to whatever size you want.
This article tells you how to measure font size in points and gives you a little historical background on point development. And despite the example in the image, there is a logic to the point system!
Learn here how font sizes can be adjusted for uses in HTML web pages. You can modify your preferred typeface right inside your webpage without redoing your draft document.
Go Outside the Windows for Free New Fonts
You can think outside the box—or outside the window—to access fonts that aren't pre-installed on your Windows PC or laptop. If you're one of the people who sees some kind of relevant impact in every new font that you come across, you really need to experiment and take advantage of what's available. The next article, however, does direct you to fonts that work really well with Windows.
As the writer points out, you can use just about any font in MS Word. However, these free fonts make excellent additions to your font library, and three out of four are serif-style fonts. First you have Sanford, which is much more elegant that a regular serif typeface like Times New Roman. Then you can try Goudy Bookletter 1911, something that floats a vintage aura across the page. The third serif font is Selectric, a trip back to the 1970s for some of those Baby Boomers I mentioned who miss their fantastic Selectric typewriter with its clattering element.
Fonts for All Occasions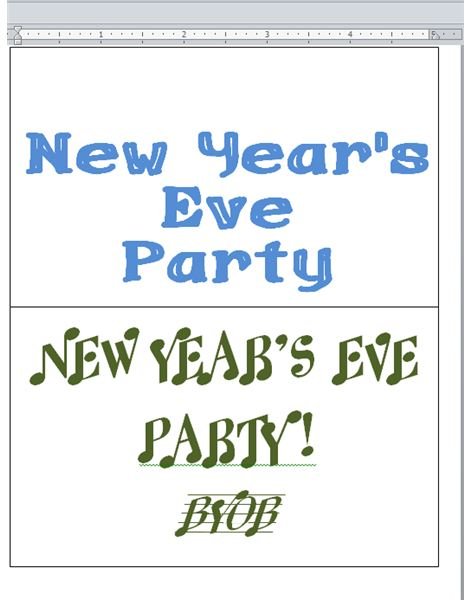 What about other fonts? As you can see with the party invitations above, you can add a lot of weight to your words with the right font. The wonderful assortment of free fonts makes it difficult to prefer one over the other. Your favorites are likely to depend upon your hobbies and style.
I asked a family member recently, a budding musician, if she could design a font, what she would choose. Without hesitation she stated she would want something that looks like musical notes. I found it out there for her and downloaded it from Fonts101.com. You can see it in the example to the left.
I enjoy exploring Fonts101.com (where I got Lilith and Melody Maker) as well as Font Monkey, a website owned by a font fan who seems to love nothing so much as designing fonts and making them available free of charge, for commercial or personal use. To the left, just above Melody Maker, you can see Web Monkey's refreshingly named Refreshing Beverage.
In addition to those sites, many of Bright Hub's most proficient font fanatics have searched free font sites and brought us examples of other serif (and sans serif) fonts that you can use for all kinds of occasions. Below are a few of my favorites.
It's easy to find and download fonts that will make a great impact. Here the writer has chosen Bodoni XT and remarks upon its old-time look, with thick-width glyphs and light, airy serifs. Centabel's serifs are minimized, so that the writer sees a whimsical, decorative font that still supplies the eye with the guidance it needs as it reads the page. Slab Tall X is heavy and bold; it reminds me of someone like Dashiell Hammett pounding out a Sam Spade mystery. Bistecca—a solid, strong font—works perfectly for banners and headlines.
Finding Free Fonts: Fan of the Serpentine Look?
In this article, the last of the four choices is Zenith, a style that's very close to Serpentine Bold—which is not a free font. It is bold and

heavy, tilted slightly to the left. You can see it just down and to the right.
Three out of four of these fonts are serif, and they are all unique and reminiscent of the ancient documents lettered by the Celts. Aon Cari Celtic looks a bit like script; Spiral Initials reminds you of the artwork monks created with each new page of work; and Perigord wields that days-of-yore feeling but it's quite legible.
If you're among those who like to type out a family newsletter to tuck into your holiday card, or if you want to use something unusual to print address labels, try one of these. If you're adventurous, you can even design and print your own cards. Your serif font choices include Christmas Card and Kingthings Christmas.
Examples of Bad Font Use: Avoid These Common Mistakes
Just a word to the wise here to wrap things up: I'm afraid after all the fun I have perusing font sites, even I may occasionally be guilty of overdoing it. Yes, it is possible to misuse font styles or choose the wrong color, size, and design. Take a look at this slide show of what not to do so you won't end up in Serif Font Abuse Prison.
References
All screenshots by the writer, except for the image of Zenith font, taken by Michael Guerrero for Bright Hub.