Collection of Tips and Templates for Creating Election Materials
Whether you want to design a comprehensive campaign brochure, make your own ballot papers, or get some tips on your political party newsletter this guide to creating election materials and political publications is all you need. Make sure you are setting everything out properly on the page, selecting the right font, and even choosing the right color combinations and picking the best paper for the job. There are many templates here to get you started too from campaign brochures and ballot papers, down to the small (but effective) promotional materials like bumper stickers.
Let's get our campaign underway.
Tips for Designing a Political Campaign Brochure
This comprehensive article on designing a brochure will get you started out on the right foot with your political campaign, as it examines every angle you need to consider specific to the political scene – it is still presented in an easy to understand way though, do not fret! The best part of this article is that it is very no-nonsense in its approach, and makes sure you steer away from the usual stereotypical publications – you'll find no cheese here!
Use This Template for Creating a Political Campaign Brochure
This template for a political campaign brochure goes hand in hand with the article above. Read the advice in the article, download the template to get you started and then you can really make the brochure your own.
Download a Free Election Ballot Template
This collection of ballot templates really does take all the hassle out of designing your own from scratch. The big plus with using these templates is that they are really easy to customize so you aren't stuck with a stock item at all. Choose the one you like, add the relevant details and get them printed with ease. There are many options from conventional to a school ballot paper.
Insert a Calendar of Events in a Publisher Brochure
People lead busy lives so make sure you get a calendar inserted into your brochures so that everyone is reminded of important ballot days or town hall meetings. This is a great article that shows how easy it is to add a calendar as well as some great all-round tips on brochure design.
Spread the Word With Bumper Sticker Templates
What better way to spread the word than by creating your own bumper stickers. This is much easier than you may have thought – there is really no need to get an expensive professional job done. These bumper sticker templates will show you just how easy it is – you'll have distributed your message far and wide before the day is through.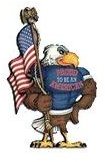 Keep It Light - Funny Patriotic Clipart
Using patriotic clipart seems to go hand in hand with producing election and political publications, and this collection of humorous clipart will make yours stand out from the rest, as well as showing you have a sense of humor. You will also find some standard options to choose from such as the "Uncle Sam Needs You" variety of images, but there are some nice amusing options too.
Create a Newsletter in Publisher - 10 Great Templates
Gear up for your political campaign with an election newsletter, or just keep local residents aware of the good that you are already doing in their area – voters are more likely to look on you favorably come election time if you don't just appear when you want their votes. These templates make getting started on your newsletter super easy, and don't forget that templates are easy to adapt and customize to suit you too.
Design Tips for Your Campaign Newsletter
The design tips offered here, promise to take your newsletter from awful to awesome. Learn some classic mistakes to avoid, pick the correct font, as well as page layout details and more – honest advice that will keep you on the right track no matter what your design experience.
Learn the Political Implications of Color Usage - Color Theory Basics
Color has a significant meaning, and no more so than when used in political publications. Make sure you don't make any huge faux pas by reading our guide on the importance of color. This article will also steer you in the right direction in regards to how your color looks on the page and works with other colors – a professional result all round.
Choosing the Best Paper for Printing Your Brochures
Choosing paper is probably the last thing you are thinking about right now, but it's a more important consideration than you might imagine. Using cheap paper will not make you look like a quality outfit, and using the wrong kind of paper could mean all kinds of smudges and mess that will make you look unprofessional. Take some advice on choosing the best kind of paper and stay within your campaign budget too.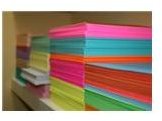 Enhance Your Political Blog With These WordPress Themes
It makes sense to use a whole host of publishing tools at your disposal during a political campaign, and using a blog is just one of them – think of it as an online newsletter that you can instantly update. Here we take a look at the top five WordPress themes to really enhance your political blog and help to get your message across.
Quick and Easy Tips for Making School Election Flyers
Of course elections aren't just for adults, there may be elections in school for a whole host of reasons from running for school council to voting on a new lunch scheme. These tips will help both adults and kids alike learn how to produce an event flyer with impact to make sure their side of the argument gets fair coverage – or just use it to remind everyone that there's an event like a debate taking place.
References