Making a Family Newsletter in Word: Tips and Templates to Download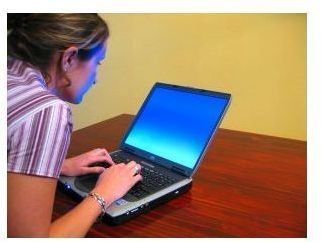 Making a Newsletter from Scratch
If you are a Microsoft Word power user, you might want to create a family newsletter in Word from a new, blank document.This enables you to give the newsletter a truly personal touch and to show off your creativity.
You might wish to start by inserting a colorful or whimsical page background into the document, over which you can insert text boxes and tables to include the information you want to share. On the other hand, you can use a blank page and insert images such as family photos or fun clip art graphics around and in line with the text you type up.
Once you have whipped up a custom newsletter, you may want to consider saving it as a template. By creating a reusable newsletter template, you can make an updated newsletter any time without having to go back to square one and design the newsletter all over again.
Note: On the second page of this article, there are several great pre-designed family newsletter templates for Word that you can download for free!
What to Include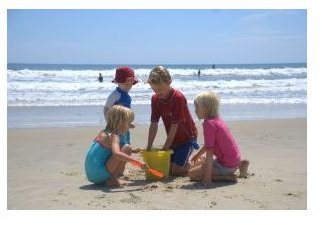 The beauty of a family newsletter is that it is intended for recipients close to you and your loved ones, so it does not need to be formal. Whether you are creating a holiday newsletter or simply want to update friends and family members about the events and activities in which your household has been involved, keep it light and write as though you were talking face to face.
A good rule to follow when making a newsletter is to begin at the beginning. Start with your earliest story or anecdote first and work your way up to the present. This will help you recall fun tidbits you may have otherwise forgotten and provide a natural flow that is easy to read.
You might also want to create separate sections of the newsletter. Breaking down your news into bite-size sections allows your recipients to read it in segments, if they choose, and keeps them from feeling overwhelmed with information. Create a section for each family member, if you like, or break it down by season or event, such as your summer vacation and back-to-school time for the kids. You can also include details about upcoming trips and occasions. Be sure to include pictures for each section whenever possible. Your family and friends will enjoy seeing you and your little ones in a variety of settings.
Templates from Microsoft and Elsewhere
Making a family newsletter in Word using a template will save you time and stress while still allowing room for your creativity. If you are looking for the perfect newsletter template for your version of MS Word, the first place you will want to check is the built-in templates that Word offers. To find out what is available, go to the File menu in Word 2003, click the Office Button in Word 2007 or go to the File tab in Word 2010. Click on New and look for newsletters in the Templates on My Computer section.
You can also check Microsoft Online for newsletter templates. In fact, there are two ways to do so. You can type newsletters in the Search Microsoft Office Online box of the New dialog mentioned in the previous paragraph. You can also go directly to the Microsoft templates website and search for newsletter templates to download.
There are other places to find newsletter templates for Word, as well. A variety of websites offer templates for download. Some of these are free while others will charge you a fee, which is typically minimal. Of course, you can find free templates here at Bright Hub as well.
Sample Templates from Bright Hub
As mentioned, you need look no further for free Word newsletter templates than right here at Bright Hub. To make it even easier, following are three family newsletter templates you can download to use in Word.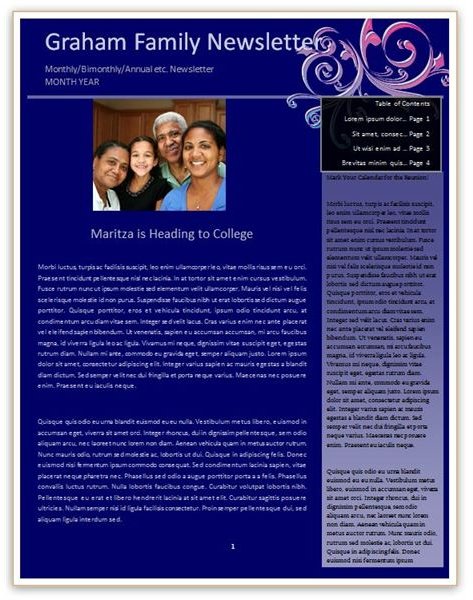 The first template creates a two-page newsletter. Each page has a vivid blue background, which you can easily change to a different hue or remove completely. To alter the background, go to the Format menu in Word 2003 and click on Background. In Word 2007 or 2010, go to the Page Layout tab and click on Page Color in the Page Background group. There you can change the color, apply a texture or remove the background color.
Download Page: Vivid Blue Family Newsletter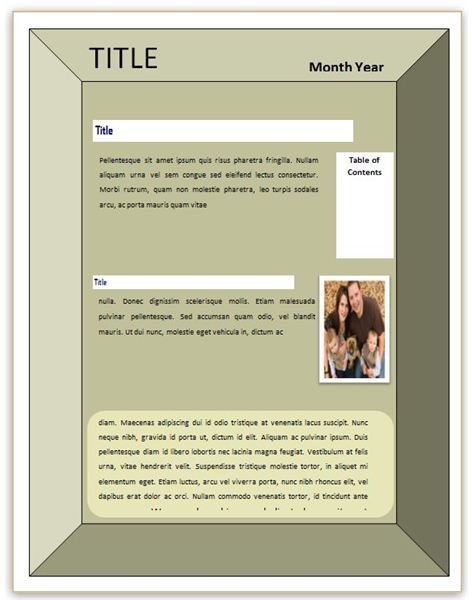 The next template has a border that gives it a picture frame appearance. It has a camel background color that you can change by formatting the background shape. Simply right-click the shape and select Format to make these changes. The template includes a table of contents as well as two picture placeholders with frames and several text boxes.
Download Page: Picture Frame Newsletter
If you simply want to create a brief newsletter announcing upcoming plans or simply to say hello, you may appreciate this simple, one-page template. This lets you create a simple yet polished newsletter in no time. It has room for two stories as well as two pictures. It also has a table of contents and bulleted events listing to note birthdays or other important dates. If you like this template but want more pages, simply insert a second page and then copy and paste the template onto the following page as well.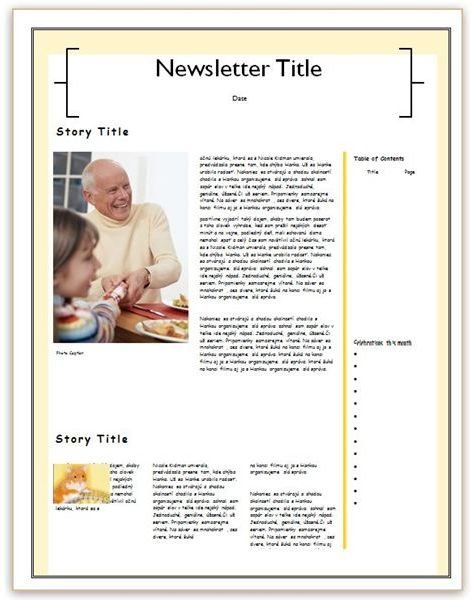 Download Page: Single Page Family Newsletter
For more help, templates and tutorials, be sure to check out the Bright Hub library of Microsoft Word Tips, where new information is being added every day.
Image Credits
Woman on Laptop: sxc.hu/Matthew Bowden
Family Vacation: sxc.hu/Horton Group
Templates: Tricia Goss (screen shots)