Types of Photography Careers - Including Niches, Techniques, Business & Photographer Types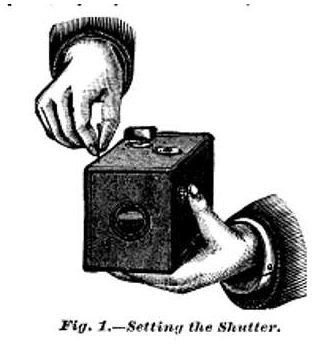 All Digital Photography Careers Started Here
"You push the button, we do the rest"
That was George Eastman's 1888 Kodak Camera (pictured - click to enlarge) slogan. In many ways, little has changed between then and now. On the other hand, much has changed since the days of the original point-and-shoot Kodak camera. With but a simple point and click of the camera shutter, you can record your life, the growth of your family, preserve heirlooms and freeze critical moments in time. You can create art, document a sight or discovery, picture a news-worthy event or "stop" the charge of a wild animal or "still" a hummingbird in full flight. You can capture a rare smile, a dying patriot or the blush of autumn's colors. You can also, if you're the least bit astute, make money with your digital camera – and lots of money too, while you're at it. Here are a number of photography careers you might want to seriously consider to become even more of a success with a digital camera.
Degrees, Special Training and Certifications as a Digital Photography Professional
First of all, before laying out a table of digital delicacies before you, a word about getting training to prepare for your digital photography career might be in order. There are a broad a range of possibilities as there are career paths from which to choose. Many colleges and universities offer academic tracks from Associate of Arts (AA) and other two-year degrees in the visual arts to Bachelor of Fine Arts (BFA) and Master's degrees in Fine Arts and Photography (MFA) to even more advanced studies in commercial photography, illustration, film-making, photojournalism, web content imaging and development. In today's fast-paced, high-tech environment you'll need an ever-growing cadre of essential computer, digital imaging and editing skills to be successful.Photography schools can provide these and other essential skills, and are yet another well-practiced option where you can learn, practice, focus on and specialize in such areas as:
There could be a continuing list of specialties, branches, spin-offs and new growth in the digital photography field to easily double the size of this basic list. Each digital photography career path has its own particular pros and cons, advantages and disadvantages, benefits and drawbacks. There is an ever-unfolding scenario of possibilities available to the astute, well-trained and well-prepared digital photographer.
The Whole World is a Stage for a Digital Photography Career
For virtually any skill level, interest, taste or venue, there is a branch or offshoot photography career to suit you. Let it be YOU who "pushes the button" - professionally_,_ that is_._ Why not begin to explore more information here on the myriads of possibilities and start growing your digital photography career today.
References:
Photography Career Options
https://www.creativecareerschools.com/photographyOptions.htm
Art and Design Schools
https://www.creativecareerschools.com/ArtSchoolsbyProgram_S.asp
Types of Photography
https://www.photography.com/articles/types-of-photography/types-of-photography/
Careers in Photography
https://ezinearticles.com/?Careers-in-Photography&id=835592
Make Your Career in Photography
https://ezinearticles.com/?Career-Choices-Using-Photography-and-the-Skills-Needed-to-Succeed&id=1753861