Christmas Gift Ideas for Children - Photography Related Gifts, But Not Just Your Standard Digital Cameras!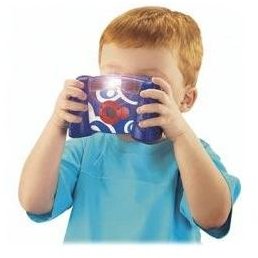 The Child Photographer
Kids want more than ever nowadays with all the new toys and games that are released every year. Though the typical toys and video gaming gifts are great for playtime, it is also a good idea to introduce your child to educational ways to have fun. Photography is a great way for a child to unleash their creativity and prepare them for the future. As time passes, technology is on the rise, always advancing. Learning how to operate equipment can help them get in the groove of using computers and exploring other things that interest them in the world of technology. Organizing photos and making collages is fun and can help them out in school, as many projects in grade school involve collages and organization of illustrations and information. They may decide they want to take up photography as a job, which has many different options and can open many different doors when it comes to careers.
There are many gifts for children that integrate photography and fun, and now digital cameras are much more affordable and accessible to almost anyone. Many brands such as Disney, Fisher Price and Little Tikes has developed cameras specially made for younger users that are child friendly and durable. A lot of times the problem with these units are the actual quality or usefulness of the pictures they produce. Some of the images may be of pretty low quality. Most children's digital cameras have fairly low megapixels which are why they are more affordable than the average "adult" camera. We don't want our kids playing with our precious high tech toys now anyways, do we?
Here are a few ideas that would make great gifts for your child or someone close to you that you love! The following suggestions are rated based on reviews by parents and on a scale of how much children who received them liked them. There are many gifts out there that are photography related that are more like toys and aren't very useful if you actually want to be able to see your pictures or videos clearly at a later time.
Camera made for little ones:
Little Tikes My Real Digital Camera - This is a great choice for the youngest of children. This is a beginner digital camera for children ages 3 and up. Out of several other models for children, it had the best reviews, though the most common complaint for almost all children's camera is the poor resolution of images. This will however keep your kid away from your pricey gadget and get them into the photography scene. The features of this camera are 64 MB storage which holds up to 1000 pictures, a 1.3" LCD screen, and large buttons for tiny fingers to easily use. The battery life with heavy use is about 2-3 weeks and it takes 4 "AAA" batteries.
Where to get your My Real Digital Camera.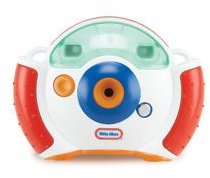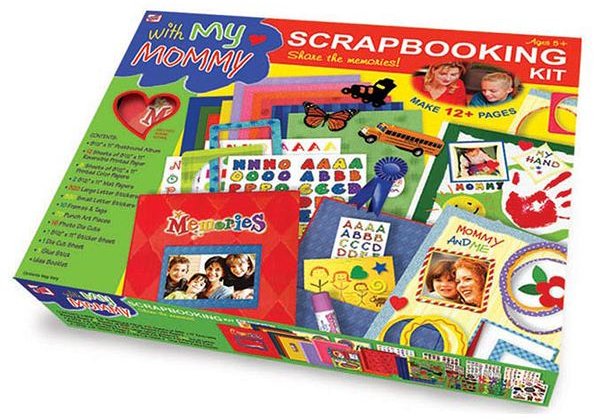 Fun for the Family:
Westrim Crafts Child Scrapbooking Kit -This is a reasonably priced child scrapbooking kit. It is equipped to make a 32 page book of photos and collages of your choice and is for children ages 5 and up. Inside you will find an 8.5 x 11 post-bound scrapbook album, 10 sheets of white paper, 12 sheets of printed paper, 8 sheets of printed color paper, 2 mat pages, 640 letter stickers, 10 frames and tags, 70 punch art pieces, 23 photo die-cuts, a sticker sheet, a die-cut sheet, a glue stick, and idea booklet. It is a great way to keep your kid occupied and engrossed in an activity.
Where to get your Scrapbooking Kit.
Not Your Average Frame:
Discovery Digital Photo Cube - This adorable desk or dresser addition lets you bring your favorite photos to life and on constant display. It features a 1.5" display and holds up to 70 pictures. It comes with easy to use software that transfers your photos via USB cable. It is compatible with Windows, Windows XP and Windows Vista, and Mac. It is recommended for children ages 12 and up.
Where to get your Digital Photo Cube Display.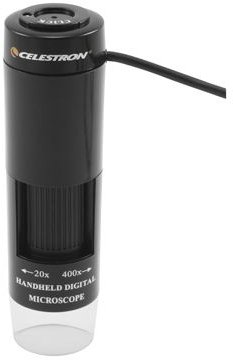 Multi-use Microscope:
Celestron Handheld Digital Microscope - Last but not least is this combo of digital camera and microscope power. Use this microscope to view objects magnified to high detail as you would a typical microscope. What makes this microscope stand out in a crowd? You can take photos and video of your high resolution objects which is not only interesting but quite different from the capabilities of you average camera. Transfer you photos or recordings via USB cable afterward for viewing and storage. This would be a great tool to use for school science projects and is lightweight and compact. It has a nice little price tag so it would probably be suitable for a child that is old enough to take reasonably good care of it.
Where to get your Handheld Digital Microscope.
These are just a few picks for the aspiring photographer in your family. Now that you've got a few great gift ideas that are geared specifically towards children you can feel a bit more at ease. Especially since most of these can be ordered online from various sources. Watch out for those expensive shipping rates though because the closer it gets to Christmas, you will probably need an expedited form of shipping. Your child, grandchild, or whoever that special child may be will be sure to be pleased with one of these fun,unique gift ideas!
This post is part of the series: Best Christmas Gift Ideas for the Digital Photographer - 2008 Buying Guide
Do you have a special photographer or shutterbug in your life, but are completely stumped on what to give them this Christmas? This article series will provide you with a wide range of perfect gift ideas, suitable for whatever your budget may be and ideal for anyone who owns a digital camera.