Top 7 Christmas Gift Ideas - Unique Holiday Gifts for the Travel Photographer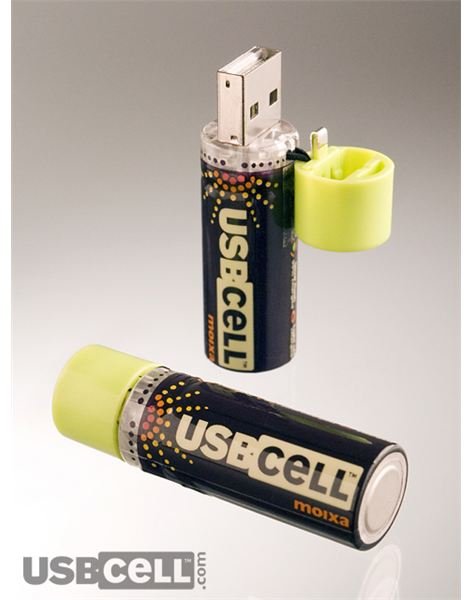 Whether a travel photographer travels across the world or just to the next city, there are a number of gifts he or she is certain to appreciate. From stocking stuffers to really cool gadgets, here are some Christmas gift ideas that are sure to please any travel photographer on your holiday list.
1. Rechargeable Batteries and Memory Cards. Every photographer would appreciate extra batteries and more memory. Some cameras use proprietary batteries instead of AAs, and there are a few different types of digital memory cards. Just be sure to ask what camera model he or she has to be sure that you get something compatible. If the recipient's camera takes AA batteries, consider USB Rechargeable AA Batteries from USB Cell, which can be charged by any USB port connected to a power source.
2. Solar Power. Some options to help your travel photographer take advantage of our most abundant energy source are:
a portable solar charger. For example, the Solio Magnesium Edition Charger is compatible with hundreds of portable electronic devices and has a high capacity battery and reliable solar panels.
a solar-enabled camera bag. A good choice is the Ion Camera Bag from Eclipse Solar Gear which allows you to trickle charge batteries and electronic devices using a 12V adapter made for your device.
a solar panel for charging laptops on the go. Try the Brunton SolarRoll 14, which is a light, flexible, waterproof solar panel that can charge your laptop wherever you are with just sunlight.
3. 7-in-1 Retractable Cable Travel Pack from Belkin. This allows a photographer to be connected anywhere with 7 retractable USB and networking cables with a convenient travel case. No need to worry about tangled wires or forgetting the right cable. This is the kind of gift no one realizes they need until they receive it.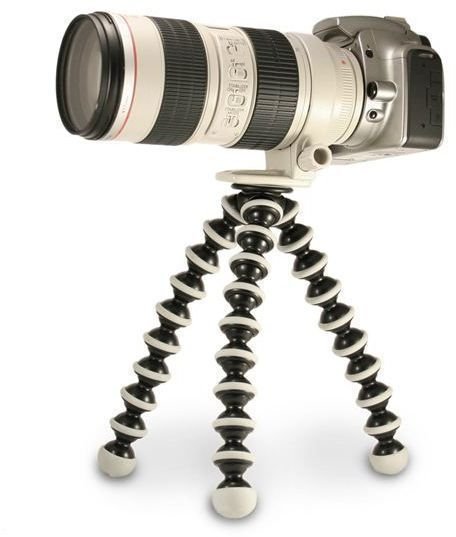 4. Travel sized tripod. Although it may look odd, the Gorrilapod SLR-ZOOM is a great tripod for photographers on the go. It's flexible leg joints bend and rotate 360° allowing the user to mount his or her camera almost anywhere. It weighs only 8.5 ounces and measures almost 10 inches in length, making it easy to carry. It can hold cameras up to 6.5 pounds and includes a lock ring to ensure camera safety. Another more demure looking quality travel tripod is the Ultrapod II. It is also lightweight and folds down to only 7 inches. It has strong fold out legs, a ball and socket camera mount that allows great flexibility of angle position. It has a Velcro strap for securing it to trees, fences or lightweight poles, and its stated maximum safe load is 6 pounds.
5. Camera bag. There are numerous camera bags out there to choose from including backpacks, shoulder bags, slingbags, camera pouches and top loading bags. Lowepro is a trusted manufacturer of quality camera bags. For travelers, the Fastpack series offers comfortable, lightweight, side pouch accessibility, so the photographer can reach essentials without having to take his or her backpack off.
If your photographer already owns a camera bag, consider a Lowepro Deluxe Shoulder strap. Anyone who has carried around a camera bag all day knows how a strap can wear on one's shoulders. Their non-slip strap has an ergonomic design, is body-contoured, with thick padding and assures proper weight distribution.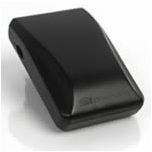 6. Automatic geo-tagging device. With the JOBO photoGPS attached to your camera's hot shoe, it captures the geo-data of each photo you take. The included software then combines the geo-data, which contains latitude and longitude coordinates, the address and even closest point of interest. This is helpful to record where a particular shot was taken or to help organize photos from a trip.
7. Portable photo printer. Espon's Picturemate Zoom Compacts Photo printer gives digital photographers the ability to print 4x6 photos anywhere. It can be plugged into anywhere with a power adapter or powered with an rechargeable lithium-ion optional battery pack. It also features a CD burner to instantly archive and share photos. It accepts standard memory cards, USB flash drives and can even print from a cell phone with an optional Bluetooth adapter. The photos are smudge, scratch, water and fade resistant.
This post is part of the series: Best Christmas Gift Ideas for the Digital Photographer - 2008 Buying Guide
Do you have a special photographer or shutterbug in your life, but are completely stumped on what to give them this Christmas? This article series will provide you with a wide range of perfect gift ideas, suitable for whatever your budget may be and ideal for anyone who owns a digital camera.