What is the Best Facebook App for BlackBerry?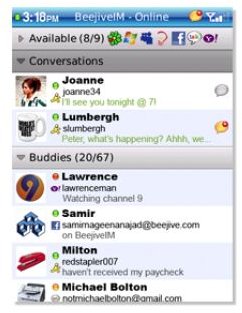 BeejiveIM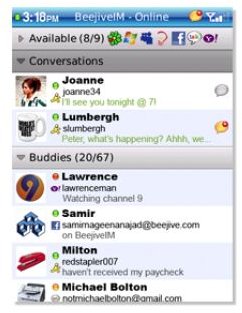 BeejiveIM is the ultimate chatting app that includes all of your social networking tools. Once you have downloaded BeejiveIM, simply select Facebook IM from the drop down menu on the starter screen, click the menu button, and log in to start chatting right away with your friends. BeejiveIM is great because all of your social networking apps are integrated so you can chat with all of your friends, regardless of what application they are using. Customize your chatting experience by changing the color of the chat bubbles and your background in preferences. When you download Beejive software, there is no lengthy registration required, and it is free for 30 days. After the trial has ended, it is $9.99. Click here to download BeejiveIM for your BlackBerry!
Facebook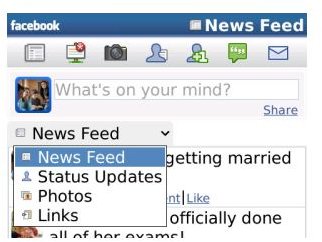 Facebook for BlackBerry is free to download and allows you to use Facebook on the go when you don't have access to a computer. All of the normal features that you are accustomed to using with Facebook are available, with the exception of Facebook chat, but there are apps that you can download to chat with your friends such as Fuze messenger or BeejiveIM. With the Facebook app, you can upload pictures, update your status, and view your friends' profiles. Click here here to download Facebook for BlackBerry!
Fuze Messenger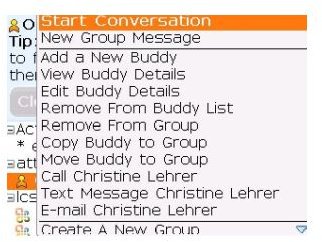 Fuze Messenger is a free application that allows you to chat with your Facebook friends as well as friends using other social networks. Fuze Messenger allows you to import your contacts into the application so you can chat with friends that are using networks such as AIM, MSN, Yahoo and Google Talk. Your friends may not be using Facebook so you can stay connected with them with Fuze Messenger. Click here to download Fuze Messenger for your BlackBerry!
Snaptu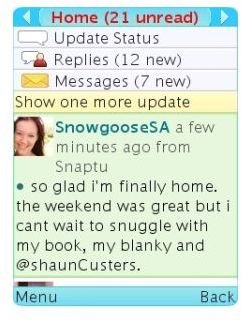 Snaptu is a free application that allows you to have access to Facebook and other applications such as Twitter, the news, weather, movie times, and the popular game, Sudoku. These apps are all available with Snaptu, rather then having to download an app for each program, you can preserve your battery life and memory on your BlackBerry with this app. You can also add and delete applications based on your personal preferences within this tool so they are readily available right at your fingertips. Click here to download Snaptu for your BlackBerry!
Vaayoo SocialBox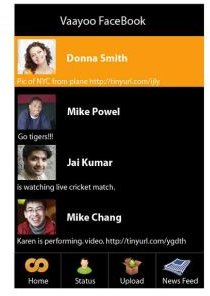 With Vaayoo SocialBox you have access to all of your social networking applications, including Facebook, all in one download. You can instantly share your photos and videos with your friends and family using this app. You can also add photos and videos to your status updates and wall posts. The free version allows you to upload 15 photos and videos but you can have unlimited uploads to Facebook by purchasing the premium edition of Vaayoo SocialBox for $2.99. Click here to download Vaayoo for your BlackBerry!
This post is part of the series: Best Apps to Download to Your Blackberry
Want to know which apps are the best to download to your Blackberry? There are hundreds of apps that are available to download but it can be hard to distinguish which ones are worth the space and which ones aren't. Read on to help decide which ones are worth it!