Understanding Google Earth and Maps: Usage, Satellites and Street View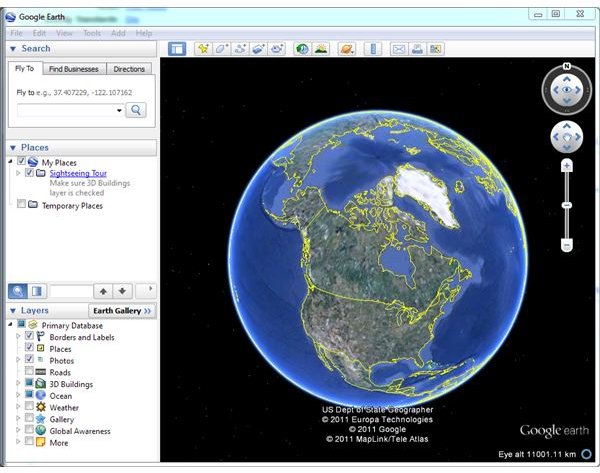 Google Earth
Google Earth and Google Maps both use the same satellite imagery and map data, but they contain different features. In this first section, you can learn about the differences between the two and understand how to use Google Earth's basic features. You can install Google Earth on Windows, Mac OS X, Linux and even Android, so everyone should have some way to use it.
Looking around in Google Earth's satellite imagery and notice a missing or blurry section? Google automatically blocks sensitive locations from their satellite imagery, preventing people from viewing the locations from space for security reasons. Learn about why this happens and see some examples of locations that aren't shown on Google Earth. Did you know that Google Earth has a paid, commercial version in addition to the free version? Google Earth Pro is designed for professional users who need advanced features. Discover the differences and see what extra features you get if you pay for Google Earth. If you're looking for something new, you can check out our list of alternative programs and websites.
Cool Stuff
Sure, you can use Google Earth to check out your house from space, search for businesses and get directions - but then what? Google Earth contains a variety of cool, hidden features that most people don't know about. You can go on a 3D sightseeing tour, view ancient Rome in 3D, use Google Earth as a flight simulator or use a Wii Remote to control Google Earth.
You can view detailed, high-resolution photos of famous locations such as the Grand Canyon, Lincoln Memorial or Times Square in Google Earth. After you're done, you can go on a 3D tour of the Eiffel Tower or the Titanic. You can even record your own tour to share with friends.
Google Earth doesn't only show stuff on the ground - you can track airplanes in real time and view them over the globe or view the locations of satellites in space. And what's this about jet-skiing across the ocean?
Google Maps
You can use Google Maps from any Web browser, even one on a mobile phone. You can use Google Maps to search for specific addresses, find local businesses and get directions for car, public transit, walking or cycling. Google Maps contains a variety of features that overlay the same satellite images from Google Earth as well as weather and traffic information.
Businesses can add themselves to Google Maps to help customers find them. If you notice a problem with a location on the map, you can ask Google to correct it. Google even shows Google Maps results on the main Google search page if it thinks users want a map search result. If you have an Android smartphone, you can even use Google Earth as a free, turn-by-turn GPS device.
Of course, if you aren't happy with the service, there are a few other options for maps.
Street View
Google uses Street View cars outfitted with panoramic cameras to take street-level photos you can view on Google Maps or Google Earth. Google even uses trikes to take photos of places cars can't drive, like parks, trails and campuses. You can use the Street View photos to explore your neighborhood online or go sightseeing anywhere in the world that Google's taken photos.
Street View has occasionally been controversial, with many people objecting to the publishing of this information online. Google only takes photos of locations anyone can view from the street and blurs out certain information, such as license plate numbers, by default. Anyone can use the "Report a Problem" link while viewing a Street View image to report privacy-infringing or objectionable images.
References
Screenshot provided by writer