Review Of the RCA Opal MP3 Player: Opal M4004
Introduction
According to most of the RCA Opal MP3 player users, the Opal M4004 MP3 player looks basic and made cheaply. Compared to MP3 players by Sony, Apple and other brands, it has fewer features, looks inexpensive and has an average performance. On the good side, it has good memory size and reasonable battery life, which makes it a good choice for those who want to store a large number of music files in the player but are not very much quality conscious.
Specifications (4 out of 5)
Internal Memory: 4GB
Supported audio file formats: Audible, MP3, WMA, WAV, Protected WMA (DRM)
Supported image and video file formats: JPEG, RCA own video format (other formats convertable with the preinstalled software)
Battery life: Upto 15 hours
Diagonal size: 1.5 inches
Dimension (HxWxD): 3.6 x 1.8 x 0.4 in
Weight: 1.4 oz
Design (3 out of 5)
The RCA Opal M4004 weighs 1.4 oz and measures 3.6 x 1.8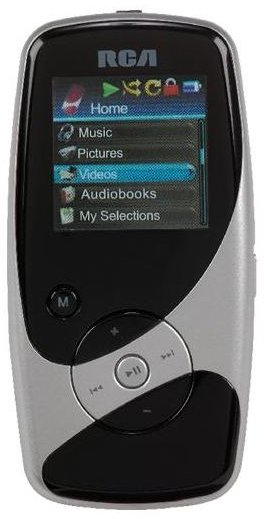 x 0.4 (HWD). The color of the player is gray, on the front face there is a randomly shaped black & gray pattern, and the edges are round giving a nice look. The device has a menu button 'M', placed below the screen on the left side. Underneath the M button there is a four way rocker pad which controls the main functions i.e. the volume, track skip, forward, rewind, and the play/pause button is present right in the middle of it. The hold button is placed at the right side of the device, headphone jack at the top, and the mic and reset buttons are found at the back. There is not much about RCA Opal M4004 than this as it is a basic MP3 player; but that is good for basic users and those who do not want complicated menu system or lots of buttons on a MP3 player.
image credit: rcaaudiovideo.com
Features (4 out of 5)
Opal M4004 MP3 supports only MP3, DRM-protected and WMA file formats. Being a basic player, it doesn't read many other audio file formats such as MP4, WAV, FLAC, AIFF, AAC, etc. The device doesn't support common video formats such as AVi, MPEG etc; it only supports RCA's own video file format. But that isn't a big problem as the device comes with preinstalled conversion software that can be used to convert common video formats into the supported format.
The best feature of this MP3 player is that being just an average MP3 player, it can also playback videos. Although the screen is small for video viewing, it is an additional bonus for the users. Furthermore, the voice recorder of the device works well, not very efficiently as it gives average results, but is sufficient for casual recordings.
RCA Opal M4004 Features (3 out of 5)
The playback options offered by the Opal M4004 MP3 player are repeat, shuffle, play, forward, rewind, pause, skip tracks, and selection by artist, album, and title option is also available. My Selection option is a great help for the users, as when the MySel button is pressed, the song currently being played is stored in a special folder for quick access; and you can add as many songs to the folder as you want, for quick future accesses. As the battery of the player gets lower, the song currently being played is automatically paused and when you recharge the player, the song restarts playing from the same point where it was paused at.
Performance (3 out of 5)
The battery life of RCA Opal M4004 is up to 12 to 14 hours, which is average but may be quite insufficient for most people's needs. Also, compared to other MP3 players of Apple, Sony, Cowon etc, which give around 24 hours of audio playback, Opal M4004's playback time is very short, so music enthusiasts will need to recharge it more frequently. The audio quality is not excellent but is acceptable and the voices recorded through the built-in microphone are of average quality. The menu settings in RCA Opal M4004 are very much different than of the typical MP3 players, and is easy to use.
Price To Value (4 out of 5)
The RCA Opal M4004 player isn't available at most online stores but you can buy one at amazon.com for $35.99. That is not expensive at all, and because it is a basic media player, it will suit more in non-professional and children's hands.
Verdict (3 out of 5)
This RCA Opal MP3 player cannot be called a piece of garbage as it does have some worth. Apart from the audio playback feature, it offers almost everything one can expect from an average MP3 player, such as video and image playback. Among other RCA MP3 players, the M4004 is a good option and is a good choice for basic users. If you are interested to learn about best quality MP3 players by RCA, read the article A Look At Some Of the Best RCA MP3 Players
Reference