The Olympus E-450 Digital SLR Camera Review - Is it Worth the Upgrade from the E-420?
New Features of the E-450
The follow-up to Olympus' E-420 is the E-450 (approximately $700 retail) set to be released next month. While Olympus is toting this model as a great improvement over the E-420, the two cameras are basically the same, which isn't necessarily a bad thing. The E-420 was and is a solid camera, and Olympus had a tough time trying to find any place where improvements were needed.
But, what they have added to Olympus' E-450 will definitely help the amateur photographer for whom this camera was specifically made. The features that they have added are meant to make taking photographs and manipulating them easier for those who don't have a lot of experience with SLRs. It also comes with Face Detection Technology to help make crisper portraits or group photos, and help amateurs take less noisy photographs.
One of the newest features on this camera is the Three Art Filters. The Pop Art allows you to create pictures that bring to mind Andy Warhol and the pop art style. Soft Focus allows users to create photographs with soft glows or ethereal looks. Pin Hole allows users to make their pictures seem as if they're being looked at through a pin hole. The camera also has 28 shooting modes for different types of shots, including 5 exposure modes, 5 create modes and 18 scene selection modes.
Olympus E-450 Camera Specs
At 13.4 ounces, the camera is extremely lightweight and easy to use. It comes with a 10 Megapixel Live MOS sensor for crisper images and higher resolution shots. The 6.9cm/2.7" HyperCrystal II LCD screen with 176 degree viewing angle allows users to take pictures from any angle and helps users frame pictures better than the previous model. Olympus has also added to this model the TruePic III+ image processor, which reduces the noise within a shot and increases the processing speed for the image.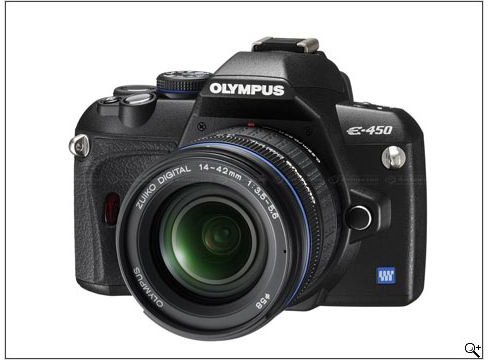 For amateurs not familiar with the affect of dust on cameras, Olympus has added the Supersonic Wave Filter, which helps protect the camera from dust particles. Another nice addition to this model is the Perfect Shot Preview. This setting allows users to look at potential shots in various camera settings before the picture is even taken. This should cut down on the instances of retaken pictures or deleting unwanted pictures since you can figure out what setting will work best before you take the shot. You can take pictures at up to 3.5fps in the full Megapixel setting, which allows you to have a maximum of eight images in the RAW buffer feature.
There is the ever-needed one-touch white balance, which helps with pictures in low-light, and an AE/AF-lock functionality. The Live View feature allows users to frame shots using the viewfinder, which is right now rare in SLR models. You can also remotely control your wireless flash unit, eliminating the need for extra wires or cables. The control options include the following: independent control of the flash mode, compensation settings for three groups, four channel interference settings and a variety of brightness levels.
While the Olympus E-450 is not a great improvement over the E-420, it is a testament to the greatness of the previous model; not because of a fault with the newer version. The E-450 is a great model for amateur DSLR camera users. The price is right for an inexpensive DSLR camera, and it's lightweight and easy to use. It should be perfect for any amateur who is looking to learn how to use a SLR camera.