Learning Windows 7 ? Here is a Collection of Guides, Tutorials and Tips

Getting Started with Windows 7
Before you begin to learn how to use Windows 7, you will obviously need to have it installed on your computer. If you already upgraded or purchased a new computer with Windows 7 previously loaded, you can dig right in and start using the new and improved features. If you have not yet installed it, though, there are many Windows 7 installation methods so you can choose the one that is best for you. For instance, you can perform a fresh installation or an upgrade.
Once you have it installed, you will begin to notice new Windows 7 features as soon as you startup your computer. For example, your taskbar will appear larger and transparent. Your Start button will now be more of a Start orb. As you begin to click on and open menus, windows and programs, you will observe more changes and upgrades.
Learning Windows 7 Desktop Features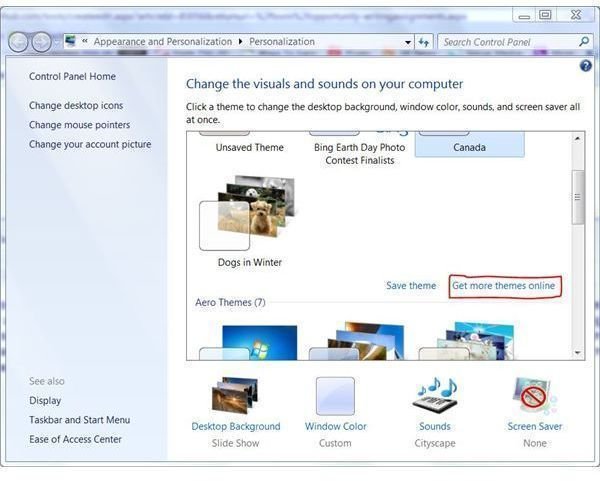 The desktop is where you will find many changes in Windows 7. While previous versions of Windows also included desktop themes, Windows 7 themes are much richer and more customizable. The elements of these themes are divided into categories, such as sounds, backgrounds and screensavers. You can select a theme to use "as is" or pick and choose elements from different themes to make your own custom theme. To check out the themes loaded on your computer, right-click the desktop and click on Personalize. To browse and download even more themes, scroll down the list of themes on your computer and click on the Get More Themes Online link.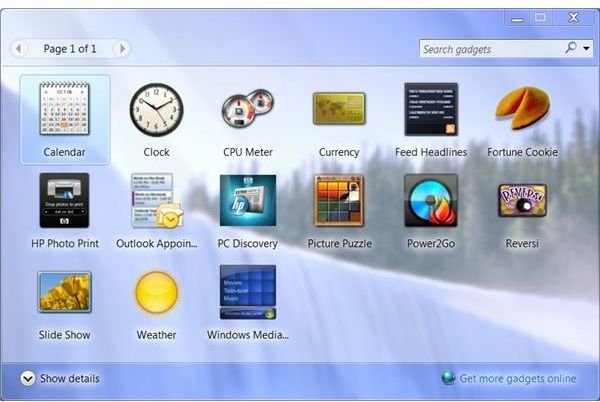 There are new features for your desktop background, as well. For instance, you can make a Windows 7 background slide show that rotates pictures you have selected as your desktop wallpaper. You can also select precisely how you want the background to be aligned on your desktop using the Picture Position setting, accessible by clicking on Desktop Background in the Personalization window. This allows you to tile, center or stretch your background picture to fit the screen.
If you used Windows Vista prior to upgrading to Windows 7, you may be looking for the Sidebar on your desktop. The Windows 7 Sidebar is actually nonexistent, but those great Windows 7 gadgets are still available and can now be placed anywhere on your desktop.
Learning Windows 7 Taskbar Tips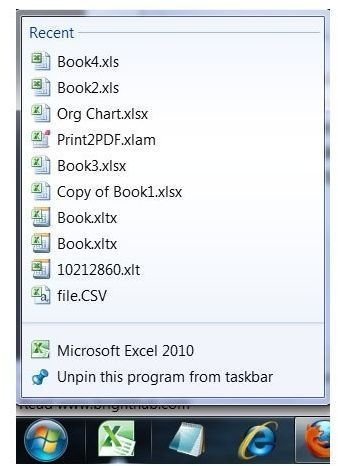 As noted previously, the Windows 7 taskbar looks a bit different. Likewise, it acts differently in many ways as well. For instance, you may notice that when you have a file or program open, an icon for that application appears on the taskbar. These are called Jump Lists, and are a new and useful feature offered by Windows 7. You can add any Jump List icon to the taskbar by dragging and dropping it there or by right-clicking an icon on the taskbar when the program is open and selecting Pin This Program to Taskbar. Jump Lists allow you to preview windows and access files or program options without moving to the desktop or Start menu.
You can also customize the appearance of the Windows 7 taskbar in many ways via the Taskbar and Start Menu Properties window, or restore the Windows 7 Quick Launch toolbar, which was removed to make way for Jump Lists, by adding a new custom toolbar to your taskbar.
Learning Windows 7 Shortcuts
If you are a fan of shortcuts, then you will love what Windows 7 has to offer. For instance, there are many new Windows 7 mouse gestures and keyboard shortcuts that you can learn, such as Shake. You can use the Shake gesture when you have lots of windows open but you only want to view one. Click on the window you want and "shake" it with your mouse. All the other windows will instantly minimize, leaving just the one you want.
Another shortcut-like feature is Instant Search, which can save you a ton of time. You can use Instant Search to search for folders in Windows 7 or to find programs and utilities in a flash. To give it a try, click Start and simply start typing a word into the search box at the bottom of the Start menu.

Finally, if you are lucky enough to own a touchscreen-capable computer, you will definitely be interested in learning Windows 7 touchscreen features. You can use the touchscreen options to access your jump lists, utilize Windows 7 gestures and even type or write in almost any program.
The more you use Windows 7 and work with the new features, the less it will feel like learning and the more it will feel like fun!