Microsoft PowerPoint Presentations – Tips and Tricks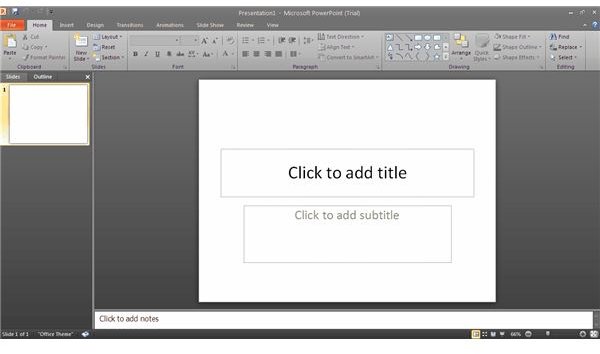 PowerPoint Presentations – An Introduction
PowerPoint presentations make it easy to communicate any form of information to your audience. They say a picture is worth a thousand words. PowerPoint presentations not only let you use text and images, they also allow you to embed audio and videos to make your presentations even more powerful. While using PowerPoint presentations, the basic trick is to identify the type of audience and the type of information that you wish to convey. Once you work these two out, you can easily design a presentation that best represents the information.
For example, if you are addressing shareholders, PowerPoint allows you to insert graphical charts of different types. Charts are the best way to show the growth of a company and to reflect on the profit and loss trends. Similarly, if you are into teaching, you can create simple presentations that show an alphabet and an image on each slide. In other words, PowerPoint presentations help you create almost any type of presentation for any type of audience – be it expert mathematicians or pre-school children.
PowerPoint is an essential product of Microsoft Office that allows anyone to create exceptional presentations using the wide range of features: ability to use different types of media in addition to text, different types of slide transitions, and customized animations for each slide. Another product that allows you to create presentations is the OpenOffice Impress. To find out the difference between them, please read our article that compares PowerPoint and OpenOffice Impress.
The following section discusses some features of the latest version of PowerPoint.
PowerPoint 2010 – Features and Tips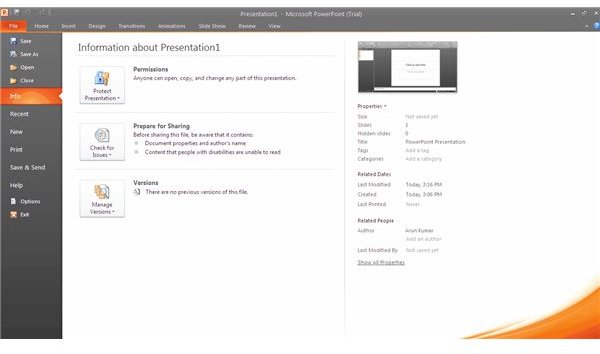 The latest version of PowerPoint is 2010. When you open the software, you will find that it is not much different from PowerPoint 2007. It too carries the same Office 2007 Fluent GUI that offers you all the tools at a glance. This means that anything that you can achieve in PowerPoint 2007, you can also achieve in PowerPoint 2010. In addition to the transition and animation effects in PowerPoint 2007, you find more in the latest version of the software.
At a glance, the features you would find in PowerPoint 2010 are the Ribbon interface, protected view, backstage view, same file formats as in 2007, and more. An overview of what is new can be found in our article on what is new in Office 2010. The backstage view is an option that offers all related data about your presentation at one place. The PowerPoint 2010 backstage view offers you information on file author, version, and options to save and manage your PowerPoint presentations. In short, the backstage view is a collection of options present in the File menu that apply a command to the entire file instead of file components.
Among other features are sharing and collaboration features, remote presentations that allow you to webcast your presentations to multiple users on a website, and improved tools for editing videos and other objects on a slide.
PowerPoint 2010 allows you to create presentations using a blank template or a variety of preset templates (available in File -> New). You can also use online templates, if you are connected to the Internet. If you do not like the ones available by default, you can download free PowerPoint templates and themes. You may also like our articles and presentations on:
How to use a PowerPoint Template (a presentation)
More Information on PowerPoint Presentations
As said in the first section, PowerPoint 2010 makes it easy to work. You can just click on the Transitions tab and select from a range of transitions visible as icons. You can also set the timing, method of transition and other settings without having to navigate to another tab. Similarly, the Animation tab offers a range of animation effects that you can add to the slide components. For adding animations to different actions such as entry, emphasize, and exit, just click the Add Animation button next to the list of animation icons. You will get many animations to choose from. The Preview button on top-left allows you to check out the animation effects. As with transitions, you can add timings and method of animation ("on click" or "auto") without having to navigate to a separate menu tab.
To get started with the concept of creating presentations, please read our article "Get Creative with PowerPoint: Go Minimal". This article talks about the basics of presentations and offers some tips for your first presentation. The article Fluffy Clouds helps you understand how to avoid messy presentations that use plenty of bullets in almost each slide. It helps you with using alternatives such as shapes etc. Very often, you need to reinforce the key points in your PowerPoint presentation. Everyone has his/her own method of reinforcing the key elements. Some people list the points at the beginning and the end of the presentation. Our article, Using images for Reinforcement, helps you reinforce the key elements without making the presentation go dull.
There are several elements in a presentation, which if used carefully and creatively, can create a long lasting impact on the audience. If you need tips on creating such a presentation, you may want to read our article on Using all the Elements of a Talk. All these articles help you create the perfect presentation using PowerPoint.
You may also want to check out:
As some of the above titles involve the 2007 version, I would like to reiterate that you can use PowerPoint 2010 for achieving anything that is possible in PowerPoint 2007. In fact, you can create even better PowerPoint presentations in version 2010 as it offers many more transition and animation effects!