The Easiest Microsoft Office Word Templates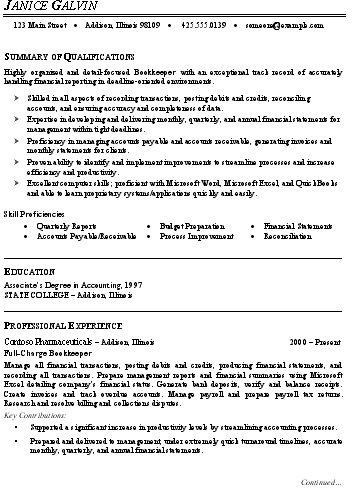 Save Time with Microsoft Word Templates
One of the best time-saving features found in Microsoft Word is templates. Microsoft Office Word templates are pre-generated examples which already have fields in which information can be added. They can be used for everything from letters to resumes to invoices, and they decrease the amount of time that you need to spend formatting.
Looking for a Microsoft Office Word template? Look no further. In this article we'll take a look at numerous Microsoft Office Word templates currently available on Bright Hub for a variety of uses.
Resume Templates
Creating a resume can be very stressful. A good resume will earn you an interview, while a poor resume will end up causing your resume to drop off the radar screen of the employers you send it to. A lot of the stress of creating a resume can be reduced, however, with the proper Microsoft Office Word template. Resume templates already have everything laid out for you in a professional manner, which means you only need to fill in your information.
Read our article "Ten Great Free Resume Templates for Microsoft Word" to gain access to ten professional resume templates.
Invoice Templates
If you are self-employed or run your own small business you will often have to invoice companies and individuals in order to keep track of who owes you money and who has paid. A professional invoice needs to be clear, concise, and easy to keep track of. Microsoft Office Word does have invoice templates which can be used.
Read our article "Create an Invoice Using a Microsoft Office Template" to find a professional Microsoft Word invoice template.
Calender Templates
Most people don't think first of Microsoft Word when thinking of calenders - it seems that Excel would be more direct. However, it is very possible to create a calender in Microsoft Word if you use the correct templates. There are a wide variety of calenders available, and they are easy to customize to suit your individual needs. There is also a calender wizard which creates new templates based on your needs.
Check out our article "Creating a Calender in Microsoft Word" to learn how to use calender templates.
Newsletter Templates
Newsletters are an excellent way to keep people in an organization informed of the latest news and events. Newsletters can be difficult to format, however, because they have to be easy to print or email and they also have to be easy for a large number of different recipients to easily understand. Thankfully, Microsoft Office Word makes this easy with built-in newsletter templates. This greatly simplifies the process.
To learn how to use newletter templates read our article "Make a Newsletter Free and Easy with a Microsoft Word Template."
Recipe Templates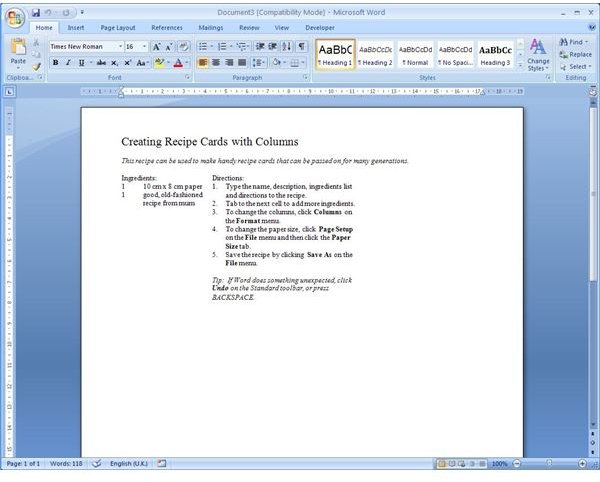 Making a recipe in Microsoft Word may seem like the easiest thing in the world to do, but that isn't always the case. If you are making the recipe only for your own use, you may be able to settle on a simple format that you understand. However, if you want to distribute a recipe to others you should take a look at the recipe templates which are already built into Microsoft Word. These templates are easy to understand and only require that you input the instructions.
Read our article "How to Choose and Use a Microsoft Word Recipe Template" to learn more.
Flyer Templates
There are hundreds of reasons you might want to create a flier. Parties, yard sales, school functions, lost pets - the list goes on and on. However, simply coming up with your own flier - at least, one which attracts attention - isn't as easy as it seems. In order to simplify the process Microsoft Word already includes templates for fliers which can be customized for your needs. These fliers are highly visible and informative.
To learn more read our article "Microsoft Word How-To: Creating a Flyer."
Invitation Templates
Do you have a wedding or other event coming up and you need to send out invitations? One of the easiest ways to create effective invitations is to use Microsoft Word with the appropriate templates. The template handles all of the formatting for you, resulting in beautiful and easy invitations which can be quickly sent out to invitees.
Check out "Invitation Templates for Free" to learn more.
Mailing Labels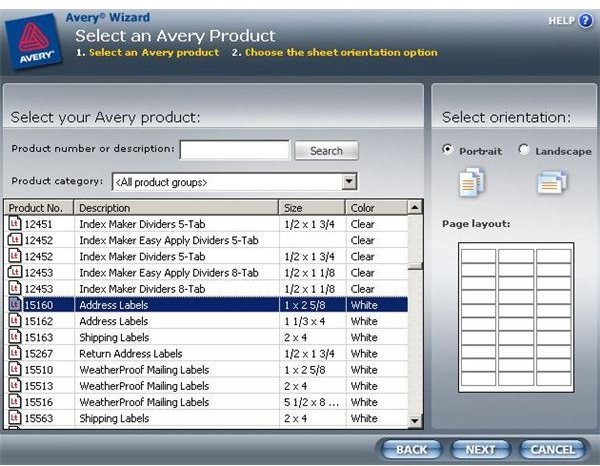 Do you still buy your mailing labels through office stores or mail order companies? If you do, you probably feel like this is a needless expensive, and it is. You can purchase your own sheets of sticky mailing labels and then use Microsoft Word's templates to create mailing labels which perfectly fit the mailing label sheets which you purchase. These mailing label sheets can be printed using any office print and they result in high-quality mailing labels for far less than what you'll pay when going through a mail-order company.
To learn more read our article "How to Use Microsoft Word Templates for Mailing Labels."